Wingdoodle Yard Sale - April 14-16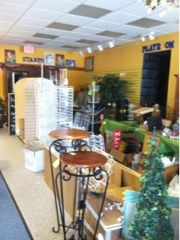 Most of you know that, in December, I closed my brick and mortar store of ten years, Wingdoodle. This weekend we are having a Yard Sale (for lack of a better description). The sale will be on April 14-16 - Saturday, Sunday and Monday from 12-3pm each day. If you are interested, but can't make it this weekend, please email kay@wingdoodle.com to schedule a time for tomorrow or Friday (or a different time this weekend).
My daughter and I started dragging things out of the attic a few weeks ago and we were amazed at all the things we found! Christmas trees, lights, twirly-slatwall fixtures, Carruth Studios sculptures, exercise/tumbling mats (Lilah is keeping those!) Actually, once we found the mats, Lilah stopped helping me and started flinging her 5 year old body all over the room - often completely missing the mats...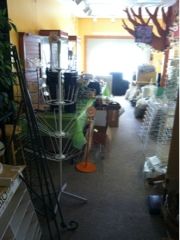 Anyway. The next week, I started on the old "stamp room" and then the storage room... and finally, I attacked the office the other night.  I dragged enough fixtures, displays and product out of hiding to open a completely new store! I have a lot of wire racks - for Mrs. Grossman stickers, Folkmanis puppets, big and little finger puppet racks, floor racks for cards, table racks for just about everything, iron display easels, a gajillion baskets, earring display stands. Shopping bags, fold-up boxes, a trillion sample cards for Outlines, Hero Arts stamps, etc. Many Klutz Day craft kits (the castle ones would make awesome goody bag surprises for a kid's birthday party!), a credit card machine, receipt printer, microwave, iMac computer, fax machine, shelving, more shelving, a computer desk, a counter, stools, paper and craft stuff, a tree... oh-forgiveness-sake... just come and look. Most larger items are priced, anything not priced, please make an offer. We really need to get this stuff off to good homes and we need to raise some cash to cover the building's expenses. My current plan (hope?) is to move my Belfry studio downstairs and take over the first floor. If we can rent the two upstairs spaces, then I think we can hold onto the building and we'll see what develops! And yes - if you have been lusting over my amazing studio space above Wingdoodle - it can be YOURS!! The other space is also very nice, but not as sunny. Both spaces each has it's own bathroom, and an extra office/room, plus storage closets. They share a "waiting room" with it's own bathroom and an entrance/stairwell covered in Zentangles! Heaven, right? :-)