UN-Tangle Retreat... the Tangled post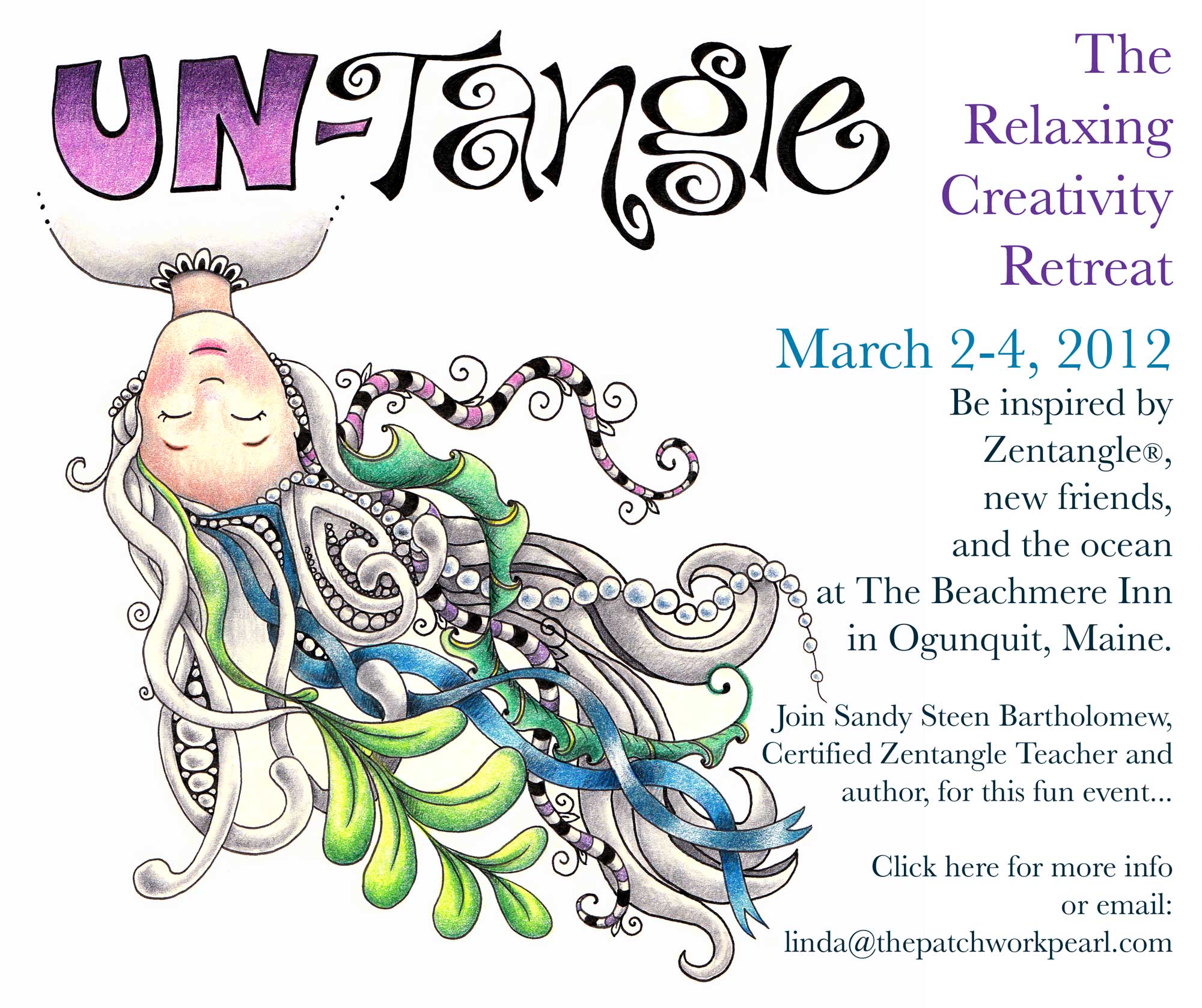 Usually the image comes before the text, but I finally came up with a graphic for the retreat - so here it is! My brain usually looks this chaotic - plus a few extra ping pong balls flying around. But when I drew this tangle, I realized... hmmm... all that chaos (ideas!!) actually looks quite appealing. So I am hoping this attracts some more unusual people to come and hang out with me for a few days in one of the most beautiful places I know.
There have been a few sign ups already (YEAH!!!) If you are thinking about coming to UN-Tangled, but have questions, please email me or Linda Pearl (she's doing all the left-brain stuff. The prices are based on single or double occupancy. If you are coming by yourself, but would like a roommate, please contact Linda about that too. I have no idea how that works, but it should work, and we will make it work! If you are annoyed that it is in Maine, and you would rather do a retreat with me in... say... Minnesota... then be patient for a few days and I'll give you some good news about that.

I've taken a whole bunch of biz classes over the past year and they all talk about formulas and email marketing and the proper way to get you to sign up for my special events and buy my books (by the way, I have more Totally Tangled books!) But I still feel really weird even thinking about making you scroll through a few pages of testimonials and benefits. Here's the important stuff:

If you like my books, you'll like the retreat.
If you like this blog, you'll like the retreat.
If you like Zentangle, you'll like the retreat.
If you have never tried Zentangle, but are craving more creativity in your life... guess what?
You'll like this retreat.
It's FOR YOU and ABOUT YOU.  I just happen to be there to help you put it all together.

We'll be silly, do some tangling, stay up too late, laugh some more, eat chocolate, more tangling, more chocolate... you get the idea! Sign up here: CLICK ME!