Here is an example of how I spent my Saturday...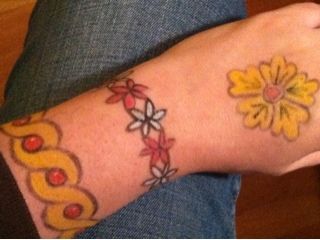 I tangled people. I thought I would offer an upscale, classy alternative to all the kitschy soccer balls and hearts being offered by my competitors. I got to chat with some very nice people too! My daughter kept visiting my booth for more Lilah Beans. I drew them standing on the tops of her socks and peeking out from under her skirt (ooo lala!), balancing on her kneecaps... I asked if I could draw some peeking out of her nose... (she said no!)

And I ate sweet waffles, apple dumplings, apple crisp, triple Mac and cheese... They should change the name of this fair to the Warner FOOD Festival! There wasn't much foliage to be seen anyway. But the food is fab. If you are hungry, stop by tomorrow.