Here are my entries for the month of March for Journal52. It's hard to keep up, but I keep pushing myself. I am a little relieved that there is no assignment in the Lilla Rogers Bootcamp class in April since I will be teaching at TangleU and really need to get focused on that... and then I realized that Sketchbook Skool also is in April. Uh-oh. "Remember, Sandy, you choose to take these classes and you enjoy them." Repeat. Again.
Week 9 - Color Swatch

I saw an ad that used the colors red, gray and a smidge of yellow. All very unusual colors for me - so I created a journal entry incorporating those colors with a song that was stuck in my head. I feel so clogged up with thoughts and words that I just can't allow myself to say out loud. Things happen and I can't react or express my views. I am so afraid of what will happen and the few times that I speak out - when something just feels so wrong to me - I am "put in my place." How can my feelings possibly be "wrong"? Opinions and actions, ok, maybe those can be wrong... but "feelings"?

This song is "Brave" by Sara Bareilles and Jack Antoff. Here is a link to the video on YouTube. I really love the words and it was actually cathartic to illustrate them moving around in these two pages.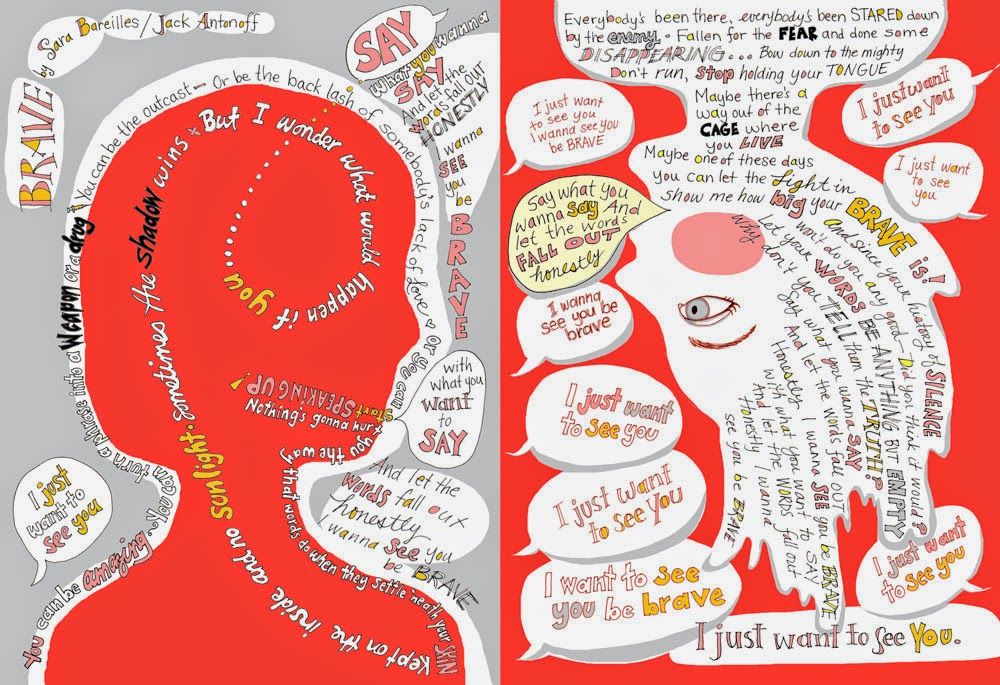 I put these words actually going into the mouth and under the skin...

Nothing's gonna hurt you the way that words do
When they settle 'neath your skin
Kept on the inside and no sunlight
Sometimes a shadow wins
But I wonder what would happen if you...

And lately I've been feeling like this...

Maybe there's a way out of the cage where you live
Maybe one of these days you can let the light in
Show me how big your brave is!

Four weeks ago when I created these two pages, I wanted to do a blog post explaining what was going on and why this song felt so important. Yep... I wasn't Brave enough to even post the journal pages.

Week 10 - Create for a Cause

My "cause" is "speaking up." No, I don't seem to actually be doing it... but maybe thinking about it compulsively is a start?  Since I had already used the perfect song for my cause the previous week, I agonized over what to do for this page, until I stumbled across this quote.

Too perfect! That's it - I'm putting you in my novel!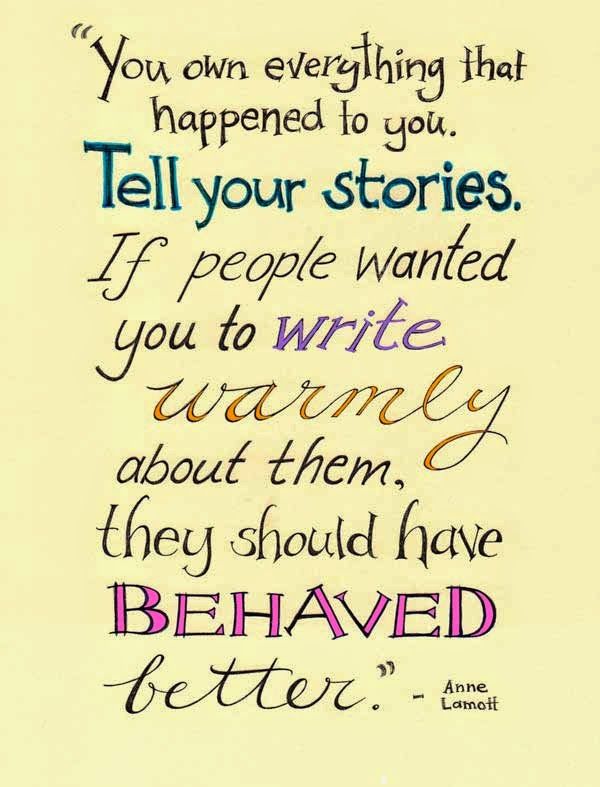 Week 11 - Stars

Ah, Something simple without so much angst. Phew.

I used crayons to draw the stars and border. Dripped, splattered and drooled watercolors all over it, then added details with a Micron and some gel pens.

Lesson learned: day-glo colors do NOT scan well.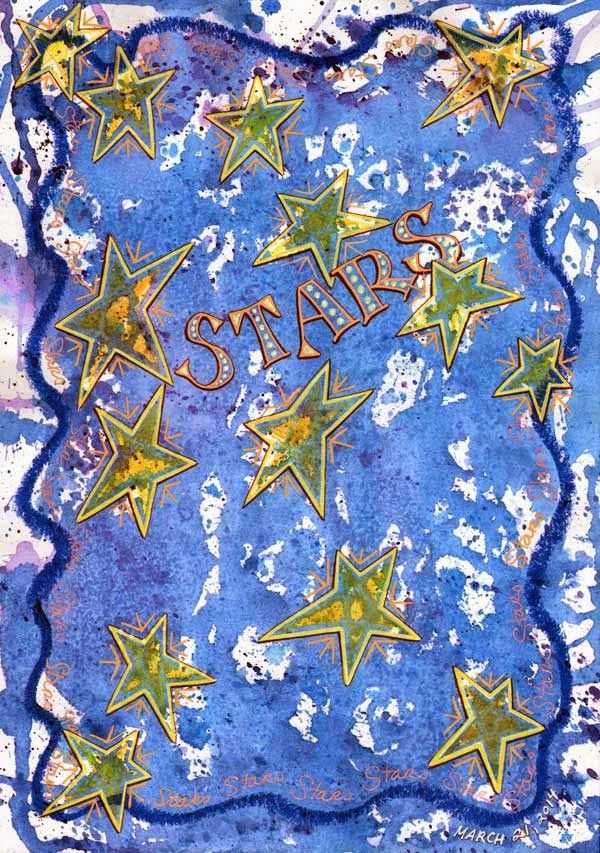 Week 12 - A Day in the Life of Me

Instead of a specific day - I generalized - and then went with something a bit more symbolic. The waves are filled with all the "stuff" I do all day. The things that overwhelm and wash over me. The sky is full of how I want to Feel. This reminds me a bit of a stained glass piece I did years ago - a self-portrait - called "Head in the Clouds, Fish Out of Water." Except that I actually fit in here.

I reread The Fire Starter Sessions: A Soulful + Practical Guide to Creating Success on Your Own Terms
by Danielle Laporte, while I organized... and reorganized.. my studio. She is an amazing person and I highly recommend the book, but the most important thing I got from her book was about GOALS. We make the mistake of setting specific goals, like "I want to earn $50,000" and then we achieve the goal. But ... so what? We are still miserable. Danielle says we have to do it backwards. Decide how we want to FEEL... and then start doing things that make us feel that way.

Duh. Right? That's why we can/will never finish our To-do lists and we never really celebrate our achievements and nothing ever truly makes us happy. Because our stated "goal" or resolution, or whatever we use for benchmarks is not our true intention.

"I want to feel rich." Is SO different than "I want to have a million dollars."  

So what do I really want to feel? I think it is definitely a work in progress, but it helps to start a list....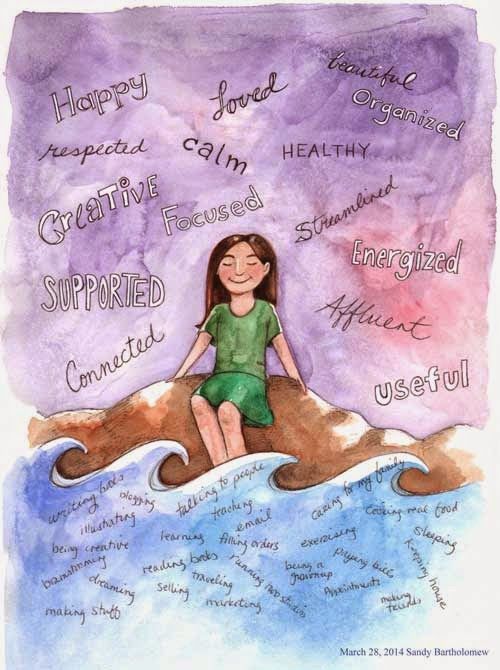 And then I can keep asking myself... "is this going to make me feel happy, connected... etc.?"

And it really made me want to go to Maine and look at the ocean!! ;-) Because looking at the ocean in Maine makes me feel humble and calm and optimistic.