What I Did (am doing) on my Summer Vacation
I have recently become aware of a really bad habit that I have. I post the "daily" stuff to Facebook - rather than my blog! Shocking, I know. Summertime seems to start so late, and end so early. It is just flying by and if I don't take time to "blog" it, it will be .... gone.
My son, Alex, is off at Music Camp for a few weeks. This year he is a teacher! We are so proud. I was actually happy that he couldn't get a local job (since he would only have been working for a few weeks) - he was able to work on projects and spend time with his little sister. Lilah (little sister) has been doing a cool online Java programming class that uses Minecraft. She loves it, but it helps to have her brother working with her. They are both more than a little addicted to Minecraft!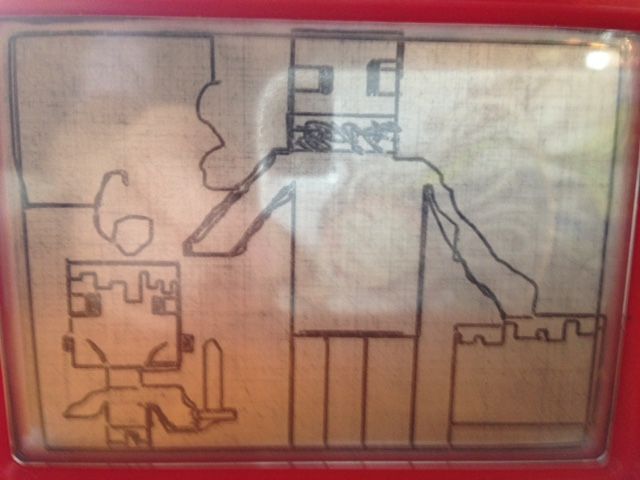 So much so that, even when she doesn't have access to a computer or iPad, she is still designing. Good thing they have Etch-a-Sketches at the Foothills restaurant!

A few weeks back, Lilah and I decided it was time to FINALLY clean out the shed and turn it into the secret clubhouse it was always meant to be. I wish I had taken "Before" photos - but imagine, if you will...

We opened the shed door and millions of little bugs (Lilah called them cockroaches, but I'm sure they were not!) went scurrying into corners and under the floor. Thick cobwebs covered the old tricycle, lawnmower, pieces of broken trellis, tent, umbrella, kite... yuck! What was I thinking?! Close the door!!!

No. We dragged everything out onto the lawn, then Alex dragged it all to the corner of the street where we put a "FREE" sign on the ground. Amazingly - every bit of junk was gone within two days! (Thanks everyone!) I even watched a neighbor, who'd been walking his dog, help a guy load an old door on top of his little car and strap it down with bungees. Heartwarming.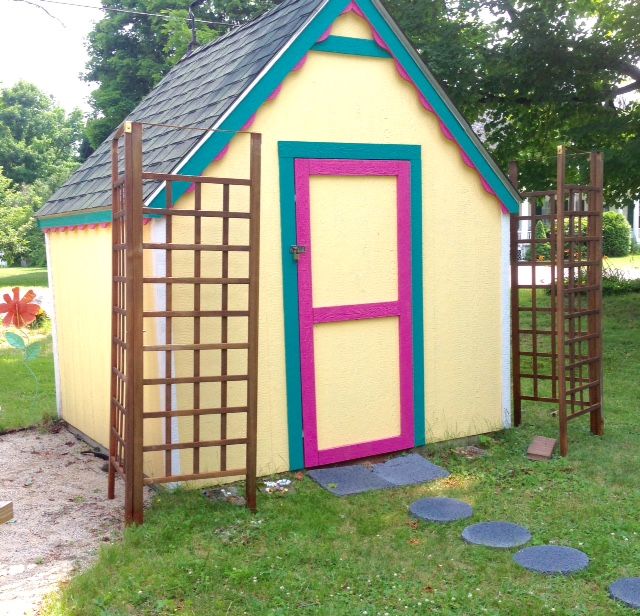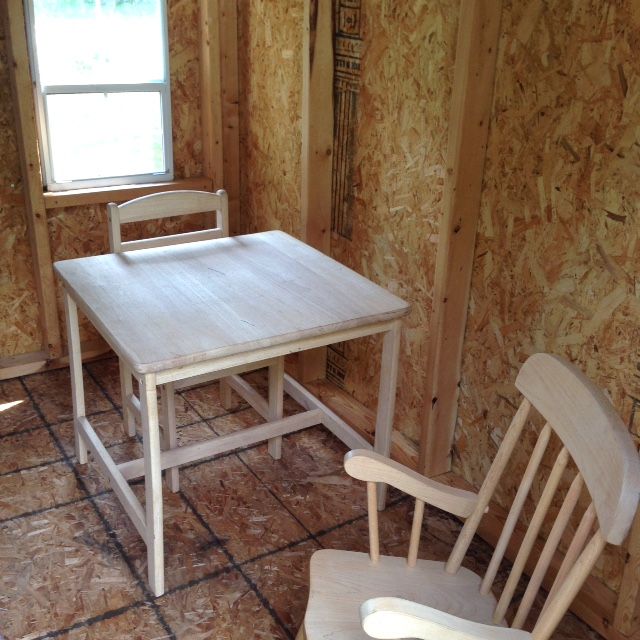 We broomed and shop-vac-ed the ceiling and corners and floor (yuck yuck YUCK!) Then the fun began. We raided the garage for carpet pieces, unpainted furniture from my remaining stash (I KNEW there was a reason I'd been holding onto them), and Lilah took apart the broken kite and hung the streamers from the ceiling with tape.

It was festive, if not elegant.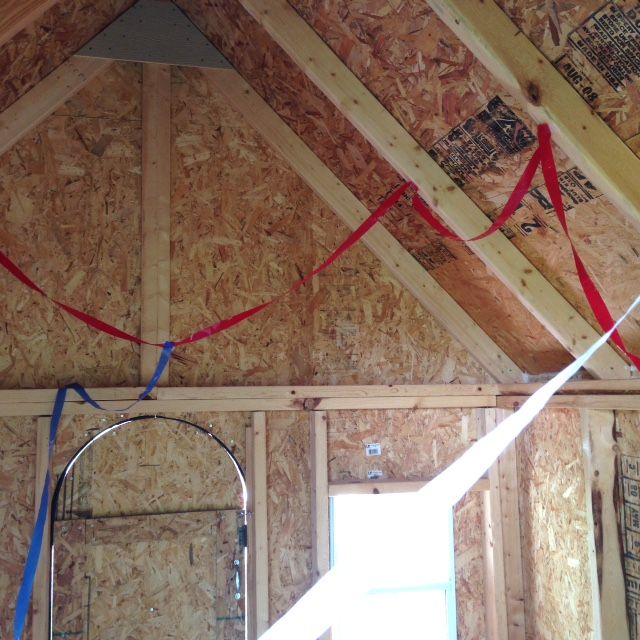 We uncovered a few ancient mosaic stepping stones from Alex's 5th birthday (Pompeii theme. Yes, he was/is an unusual kid).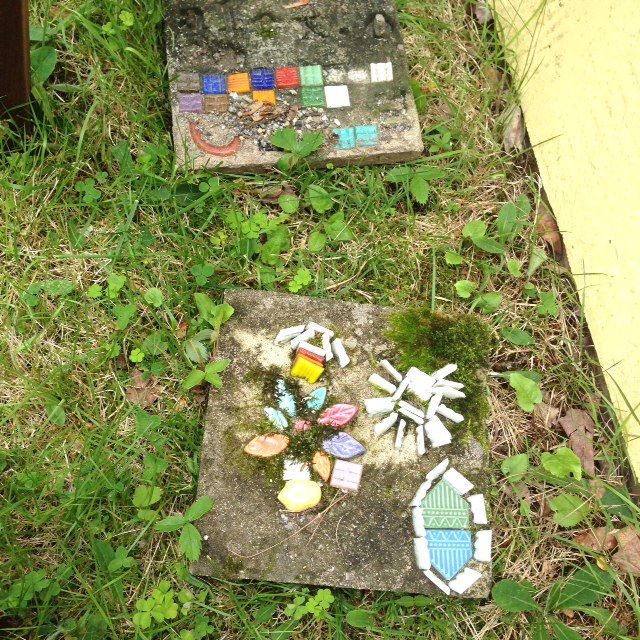 And we found some rubber stepping stones too. They made a nice front stoop. And some faded metal garden art flowers. Pretty cozy, don't you think?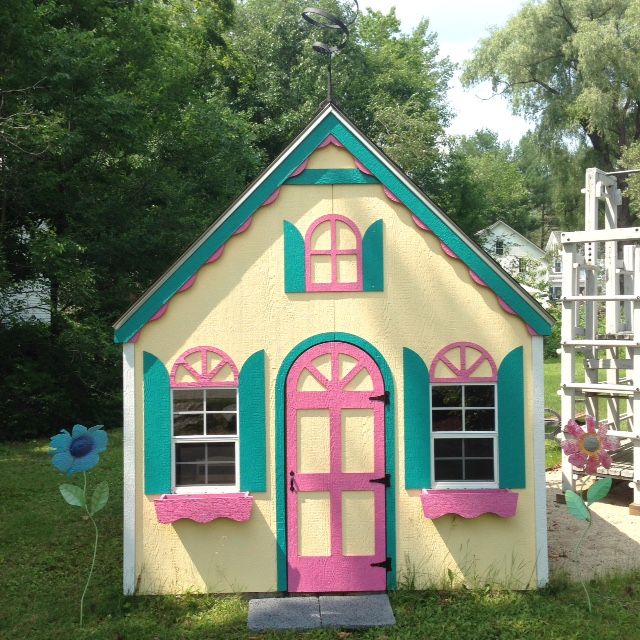 Lilah took a basket filled with her Babies, some trail mix, musical instruments, crayons and notebook, and my iPad - and spent the rest of the day playing out there.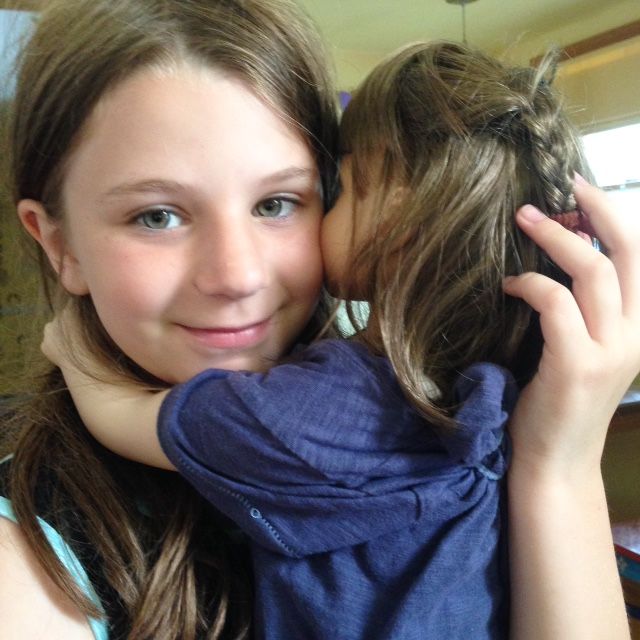 Speaking of the Babies, on another day, Amaret told Lilah it was a good day for a birthday party.

[A side note: Amaret is a MyTwinn doll so she was designed to look just like my kid. When Lilah was younger, she looked creepily similar to the doll - same hair and eye color, and Lilah had bangs too. Since Lilah's real name is "Lilah Amaret," we named her little sister "Amaret".]

Amaret has lots of cool doll clothes, but she prefers to wear Lilah's caste-offs. The biggest difference between them, other than the bangs, is Amaret LIKES to brush and braid her hair. Lilah? Not so much.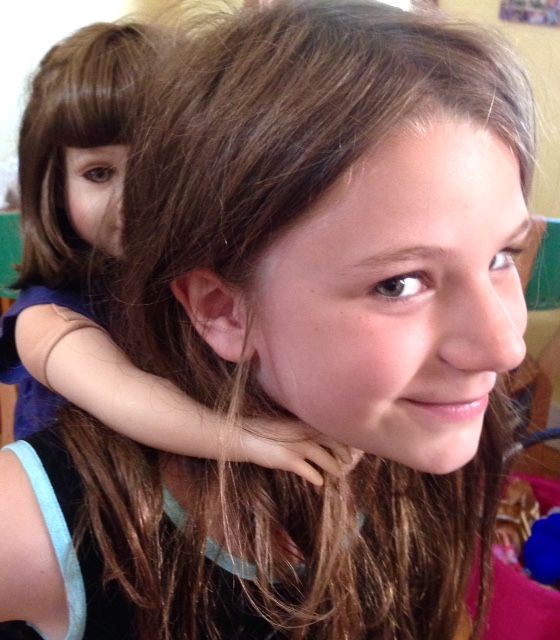 So - Amaret decided there would be a huge tea party... in my studio. And all the Babies and stuffies, including the Mythicals, would be bused (by basket) up to the party spot. The Babies took turns performing parts in "Thumbelina."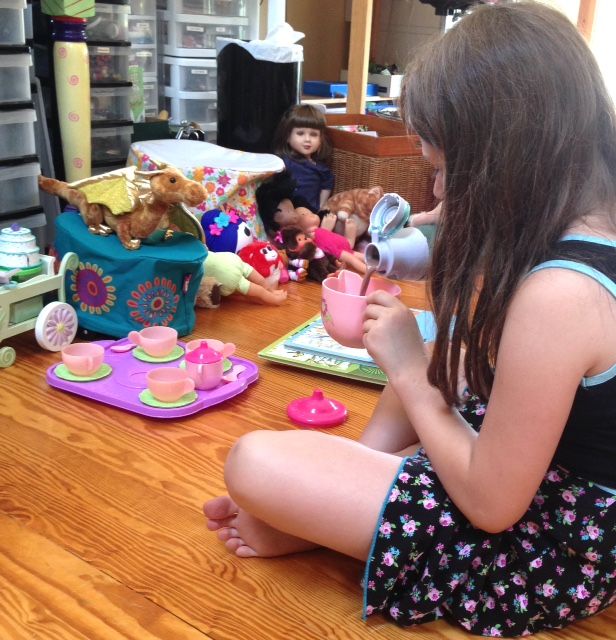 And then they required snacks. Like cheese cut into mouse and squirrel shapes...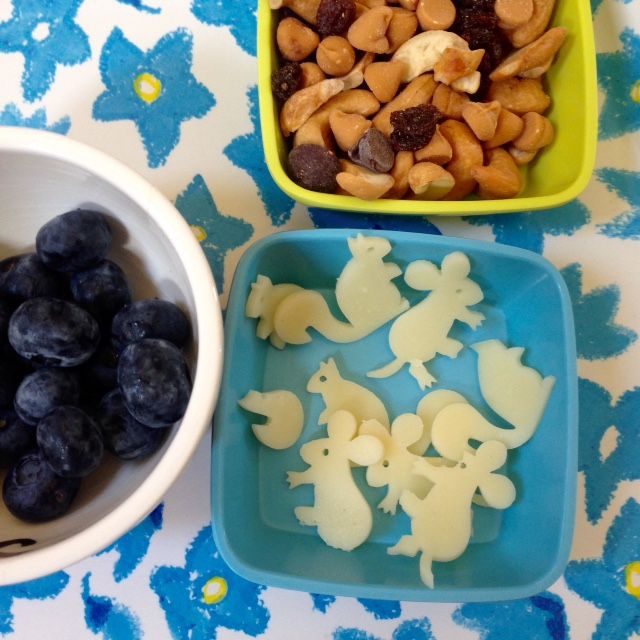 And chocolate milk.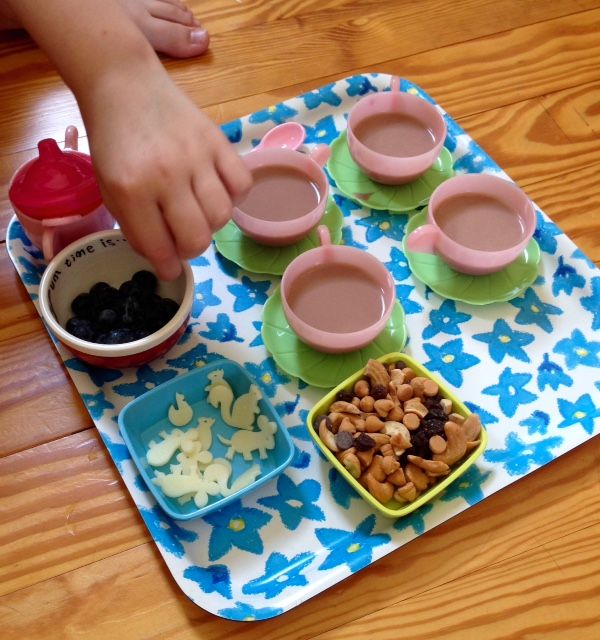 The party ended when Lilah got angry at the Babies for not drinking their milk... and then accusing ME of drinking some when she left the room. I mean, REALLY!?
It was a good party though and everyone slept well that night.
Speaking of bed... I wonder what Lilah would say if she knew that Minou, the cat, takes over her bed when she is away?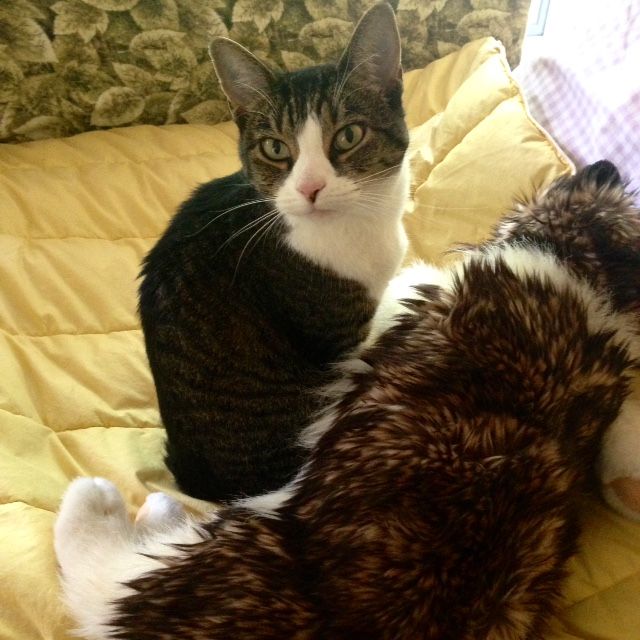 Minou has become great friends with Scruffy Kitty! I don't think she cares that SK is just a hand puppet.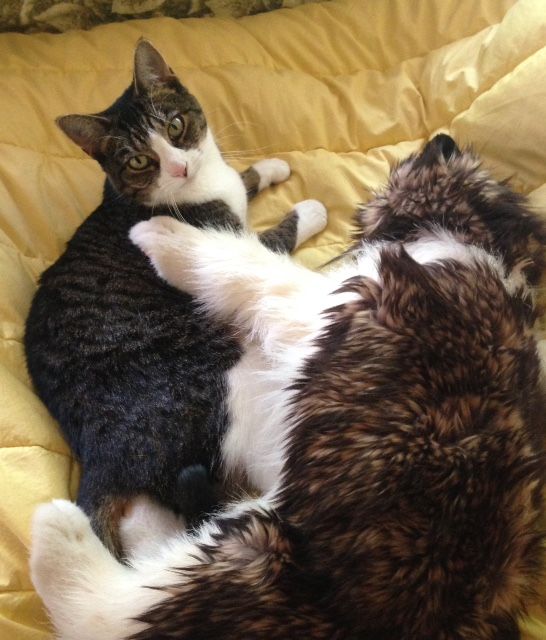 Let's throw in something completely random, but rather pretty. This is a bee? Wasp? Big scary, flying thing that was in our kitchen! Just before I opened the screen to let it out, I noticed the cool markings on its back - they reminded me of my Bumblebat logo's face.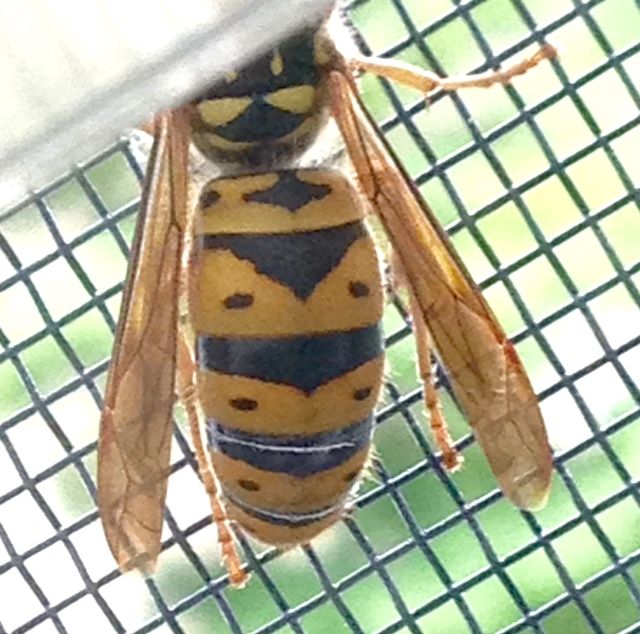 And lastly, I have been obsessed with clearing out houses and trying to sell some of them and the stuff in them and finding things I will need to furnish my apartment at school....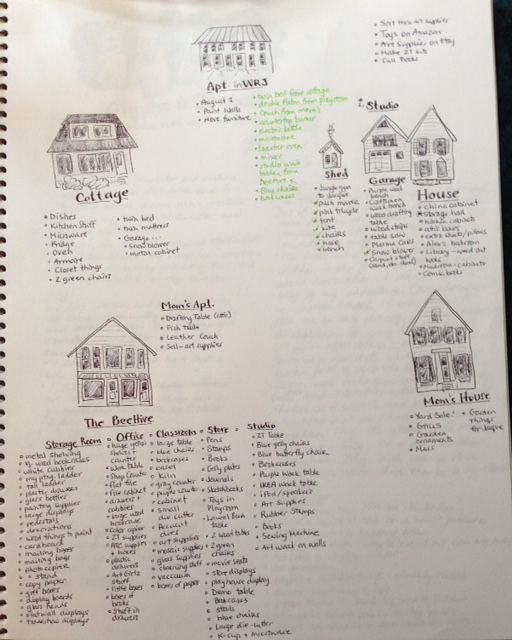 If you are looking for an amazing - HUGE - house at a ridiculously low price - to live in, turn into a restaurant or apartments, or an art center... you have been looking for my mother's house. It's right on Main Street in Warner (an adorable New England town) and next door to my BeeHive Studio - which is also for rent.

And if you have been looking for an adorable vacation cottage in New Hampshire so you can run away from home and focus on your art or your novel.... you need our cottage on Blaisdell Lake!

And did I mention I'm hoping to rent out my BeeHive studio space?
We're still holding lots of sales to clear it out. This week the sales are on Thursday and Friday from Noon till 7pm and Sunday from 11-5pm. And listing stuff on my Etsy store too.

PHEW! Inhale...exhale...

And staying up crazy late working on an idea for a Kickstarter Project. I have done so much research, even taken a class on Skillshare, and I think I have a really great idea... but I'm not sure if Kickstarter is the best way for me to raise the money I need.

I think if I were making a product, or printing an actual book, it could work well. But with the risk of not making the funding goal, the 5% Amazon takes in fees, the 3% for credit card processing... and then the rather large cost of shipping folks their rewards (at exactly the time I will be starting school). Plus, with Kickstarter, the focus is on the rewards and the intro movie - rather than on the actual idea. I think I would rather put 95% of my effort into making the IDEA the best possible, rather than making a cool campaign.

I need to do some really intense thinking, I guess, and FAST! If any of you have experience with crowd-sourced funding, I'd appreciate hearing your wisdom. If you like to support cool ideas, what do you look for? What compels you to back a project? Would you rather just click a Paypal button? Do you like to get "stuff"?

Put your opinions in the comments section below!