It is my habit to try and create some kind of art when a fur-baby dies. So I made two for Rum Tum. The first is her memorial angel-cat piece and the second is kind of like a portable mural. I will probably make a mural piece of my still-living cat, Lilo Bean, as well.
The memorial/shrine piece is mostly acrylics and the background shrine part is black gesso with colored pencils. It is much more vibrant in real life, but I ignored every rule of photographing artwork in my haste to post it here!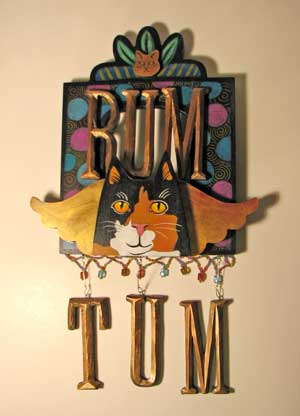 The portrait is almost 2 feet high, or so. I decided to keep the cat faces sort of folksy and graphic and just make her eyes more 3-D.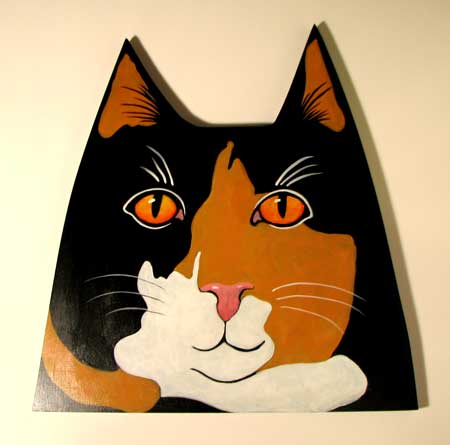 We are a two-cat family and we are all missing cat number two. Even Lilo Bean seems a bit confused and lonely. So, when I read the newsletter from W.A.G - We are Animal Guardians (we got Rum & Lilo from them) I decided to find out if they have a new fur-baby for us.

Sheila at WAG said she'd had 48 calls today - almost all wanting to turn in cats and dogs. Only one looking for a new pet. If anyone reading this lives in NH and has been thinking about a new pet, please do consider contacting them. They are a no-kill shelter and they foster out the animals. Sheila says the kittens are easy to place but there are many lovely, older pets who never get their own homes! All the animals have been checked, neutered, vaccinated, etc. And you can "test" an animal in your home to see if it is right for your family. She said they also have an amazing program for seniors who are afraid that their pet will have no where to go if the owner dies or moves to a nursing home. WAG takes the pet back, no problem. (They also need monetary donations badly right now!)

Our family has an older female cat and a toddler child, so Sheila had to do some serious thinking on what cat would fit in here. She sent us photos of three cats and we all crowded around the screen to argue the merits of each! I'm leaning toward "Charlie" who reminds me a lot of a past cat I had, named Sakhi (Sakhmet the Egyptian Goddess of War and Pestilence - she mellowed with age.) Except that he looks like he has a sweeter disposition. After all, I don't want him to eat my baby, right? "Dexter," the gray tuxedo cat looks sweet too and Lilah really liked his photo - he was sniffing a bouquet of flowers. And the B&W kitten, Phoebe.. adorable. It's hard to pick just one - I can't wait to meet them!