Rubber Band Bracelets... Behind-the-Scenes
This post was a long time in the making. It seemed like such an easy, great idea...
My kid, Lilah, came home from school one day and insisted on teaching me how to make a rubber band bracelet using tiny-tiny elastics (like the ones I remember from wearing braces) and two of my fingers. I had seen some stuff about Rainbow Looms and all that online and thought it was kind of silly. But after getting the hang of it, with Lilah's instruction, I thought "hey, this is kind of cool!" We made little bracelets for everyone at Thanksgiving too.

So when I saw that my publisher, Design Originals, had come out with a book of fancy loom patterns, I asked if I could have a few copies to play with, and give away. They now have a number of other Rubber Band Jewelry books out including one with designs for adults! I just ordered that one as I am just a little addicted... I will do a second post with pics of my favorite bracelet that I made.

I gave one of the books to Mikayla, (her mom works at The Foothills Restaurant)... she had a very impressive "studio" set up on the lunch counter.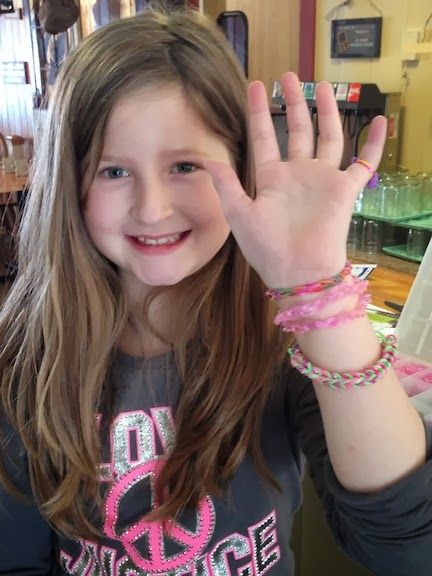 She had bracelets all over her arms, and the counter, and I admired her very clever, portable, organization system. I just LOVED the idea of having a little cubby for each color! If you have purchased rubber bands for this craft, you will note that most come in bags with lots of colors mixed together. I found I spent most of my crafting time with Lilah, just picking apart the different colors to find what we needed. Separate cubbies! Eeeeee!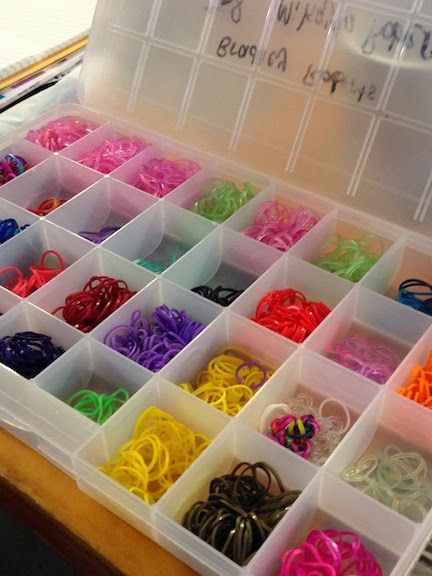 First thing I did when I got back to the studio was search for my own storage. I found this one on Amazon (Stanley 014725 25-Removable Compartment Professional Organizer
). It takes it one step better with removable cubbies! We can pull out the bins with just the colors we need.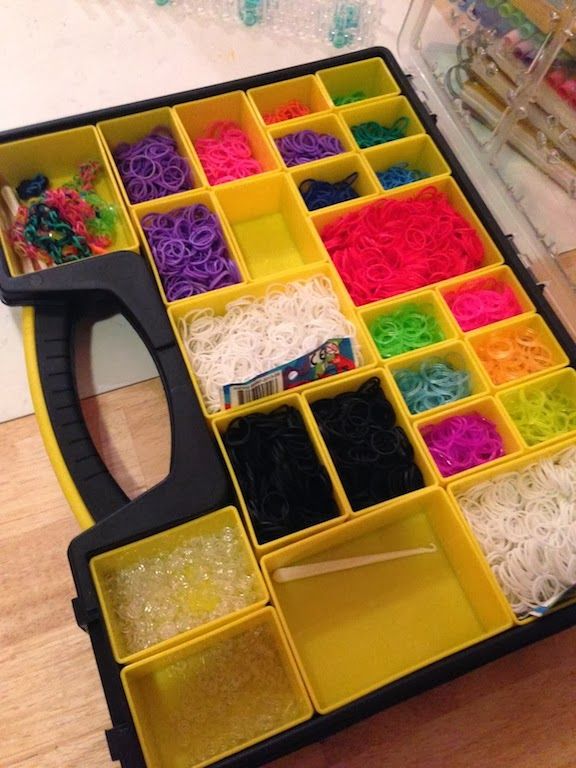 And the cubbies lock into place when the cover is closed.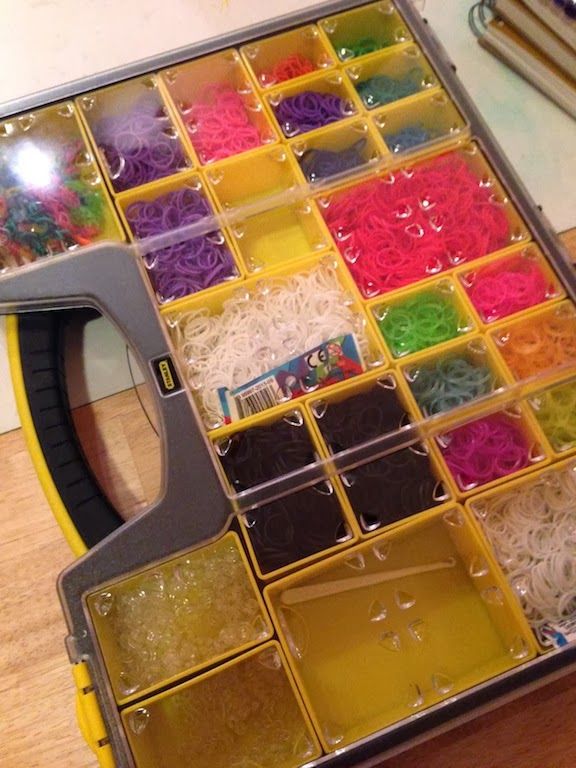 But there is more to making bracelets than just having perfect storage!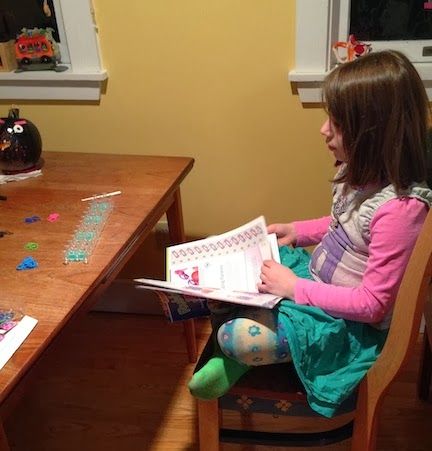 Lilah got to work studying the book and all the gorgeous designs for bracelets, hair accessories, etc. She was especially excited to see that the book was written by a kid - but then overwhelmed because she, of course, chose one of the hardest designs in the book! To start with. It made my eyes cross, so we looked on YouTube to see if we could find a video. We could. We eventually gave up and went back to the beginning of the book to try some easier designs!

BUT - again, Lilah was really impressed that the best rubber band bracelet videos - were created by kids!

She was already in the habit of snitching my iPhone so she could film her stories and her dolls talking to each other... so I should not have been surprised when I discovered some very large video files when I downloaded my pics.

I cleaned them up a bit - removed the long stretches where she is off camera, the nose rubbing and scratching, odd bits of songs - well, watch it if you are in the mood for some silly, cute kid stuff...
If you can't see it here, this is the YouTube link.
Keep in mind, she did that on her own - we didn't even know she was filming.

She wanted it to look more professional and kept asking to use my stuff to prop the camera, etc. So I suggested she try it in my studio where it is nice and bright, use my tripod so the camera wouldn't shake... and brush her hair, cut her nails... hee hee.  But still, she did this on her own. I only handed her a little "C" hook. (That's actually one of my favorite parts).
And this video will actually teach you how to make a bracelet!


Here is the YouTube Link.
It took quite a while to go through all the videos she made and put them together! There were some very funny things that I took out... like one part where she gets so frustrated with the little hooks, that she gives up and throws it! I say it's "funny" because I did the same thing the first time I tried to do the hooks! That's why having a book with tips and tricks and variations is so wonderful. Some people might love the loom - Lilah and I hate it. Some might like using their fingers, some might prefer using crochet hooks. It's nice to have options!

The next time Suzanne McNeill asks me to do a video, I think I will refer her to Lilah!

Check out the next post to see the bracelet that I made using Lilah's instructions.