Much Needed Stress Relief
Reading this email made my heart race and my palms sweaty! All that radiation and fear in my own past... but I can't imagine it from a mother's point of view - and all your kids, too. Oh-what a year! Ok, breathe deeply and read this letter from Bobbe. I promise you'll be cheering by the end. You go girl! (Well, "girl" is the wrong word, but you get the idea.)
Hi, Sandy ... a couple of years ago I received my first Zentangle.  It was a postcard from Nina Owens.  I loved it but didn't pursue it until ...


(I'll try to be brief.)

My youngest child had Stage 1V metastic melanoma, origin on his lower right eyelid.  Many surgeries, and ultimately, an acceptance into a clinical trial at NCI in Bethesda, MD, beginning at the first of the year 2012.  There were months of angst, of course. He is miraculously cancer free.The middle kid has an elevated PSA (non-cancerous?) and has had to have radiation for a 'cyst' on his forehead.  What's with that?
His sister, the first born, and a free spirit, almost exactly a year later, had a diagnosis of Stage IV breast cancer metastasized to her lung. She has responded well to chemo .... prognosis?  who knows?


At that point, I was pretty much distraught, as you can imagine.  I started playing with Zentangle and found it truly relaxing.  Which brings me (finally) to you, through Jessica, whose Cre8it blog I had been reading for several years.  I followed her link to you and ...

So.... Life is amazing!!!!

I will never be really good at it... He!!, I'm 86 ... macular degeneration and shaky hands .... but thanks to you and Jessica, I'm getting better and enjoying.

Bobbe

Here's what I did today.  It will go to  Operation Write Home: Helping heroes keep in touch with home, so is regulation quarter fold size and has used 2 rubber stamps.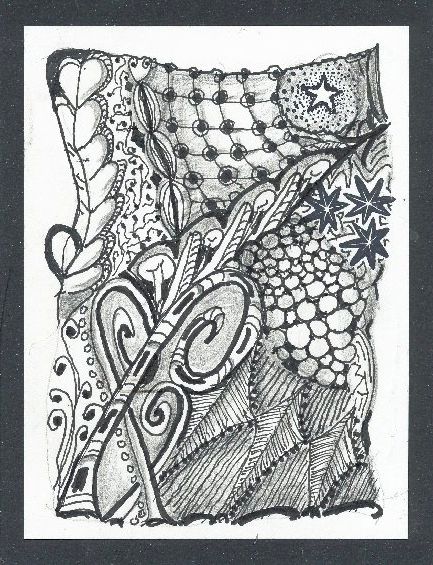 Editor's Note: My favorite-est part of Bobbe's Zentangle is the bottom right with the diamond shapes. For some reason, it reminds me of a chenille bedspread my Gramma X had. Maybe it's the lines and the texture? And the little dots make me think of the puff-ball trim too. :-)