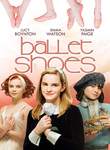 I just watched a wonderful movie called "Ballet Shoes". Here's the short description from Netflix:
An unusual explorer named Gum (Richard Griffiths) and his kindly niece (Emilia Fox) adopt three orphans -- Pauline (Emma Watson), Petrova (Yasmin Paige) and Posy (Lucy Boynton) -- and raise them as sisters in 1930s London. But when Gum doesn't return from one of his adventures, the girls must fend for themselves. Together they nurture their respective acting, aviation and ballet dreams in this charming adaptation of the Noel Streatfeild novel.

Emma Watson is the actress who played Hermione in Harry Potter and Richard Griffiths was Uncle Dursley. They are both wonderful in this film. This is one of those rare films that can be watched by any age and enjoyed - no violence, sex or drugs. (And, yet, still has a plot - go figure!) After Gum is forced to take in his niece, her Nanny makes him remove a lot of his skeletons and fossils to make room for the new family members. She forbids him to bring back new fossils from his adventures. So, when he starts bringing home orphaned babies (!?), they are all surnamed "Fossil". ie: Posy Fossil! Very funny! I really love movies about women beating the odds to pursue their dreams, but I really love when they incorporate family loyalty as an obstacle. Who of us doesn't wonder "what would I do today if I didn't have to worry about my (husband, kids, sick mother)...?" What if you could have your dream AND your family was happy about it? Ahh...