I didn't expect to take as many online classes this year, but I have already signed up for at least two and I'm trying to decide on the Sketchbook Skool class too. Lilla Rogers' MATS Bootcamp starts on Monday... and I have been doing my best to keep up with Journal52.
Accountability seems to be the key to my actually keeping up with a class or finishing any project I start. Accountability to you all gets me out of bed most days! I will post my journal pages for Journal52 here on the blog at the end of each month. If I don't - you all should feel free to make a fuss. OK?

It's not too late to join if you want to play along. It's an easy-going group with Chelle posting one prompt each week with some cool ideas to try. If you are also doing Journal52, please feel free to put a link to your own art in the comments below. We'd all love to see!

I used a lot of Sheer Heaven in these pages. The first week, "Up Up and Away" - was based on a steampunk-tangle piece I did for the book The Beauty of Zentangle. I did a pale transfer of just the girl and her skirt, turned her into a hot air balloon and painted over the whole thing with watercolor, and Inktense pencils.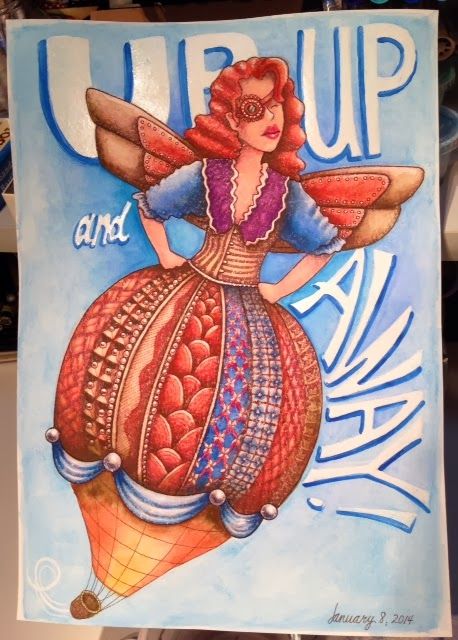 For week two, "Somewhere, A Simple Place," I transferred a photograph I had taken of a fairy house my kids and I built on a beach in Maine. I drew the text (lyrics from a song by Phillip Phillips) with Micron pen, and painted over the pale photo with watercolors and colored pencils.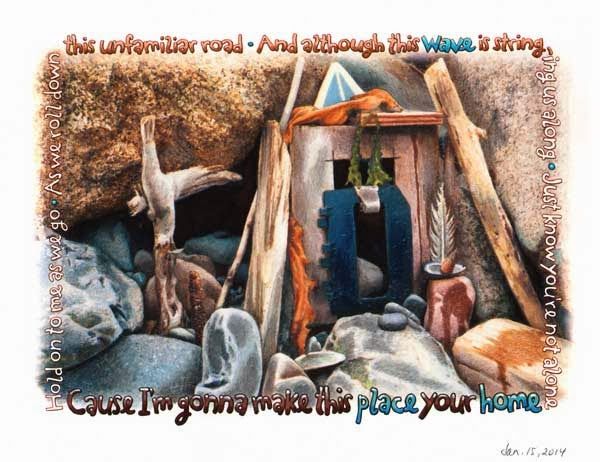 Week Three, "You Make Me Smile" - again, started with a transfer of my favorite photo of my kids. Then Microns, acrylic paint, pencils, and paint pens. I wanted to express not only that my kids make me smile, but how happy it makes me that they make each other happy. Complicated, right? Alex had been away at summer camp and we finally arrived at family visiting day. Lilah was beside herself with anticipation. We knew that she had missed her brother, but as soon as she saw him walking towards us up the dirt path, she flew at him on her little legs. She "launched" herself at him actually, knocking him down, and attaching herself like a barnacle. A happy barnacle. Alex obviously had missed her too. :-)

Lilah art directed this piece. She insisted the word "SMILE" be a rainbow. I think she was right.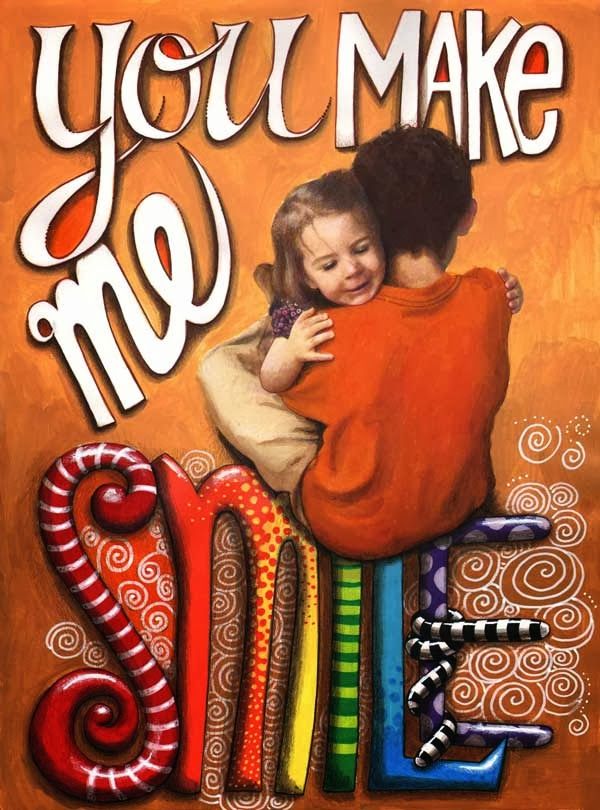 Week Four, "Building Character," took an interesting turn. I have been using this workshop as a way to push myself to draw the way I "used to". Or rather, to get back to working the way that I used to, when I loved making art, before I started drawing the way I "had to" for work. (Very complicated.)

I am usually inspired by something, an image, a quote, that leads to my own artwork. I don't just draw. I have to start somewhere. Quite often something pops into my head - which is why I really love prompts.

This is a piece I had done last year. I made it into a poster on Zazzle...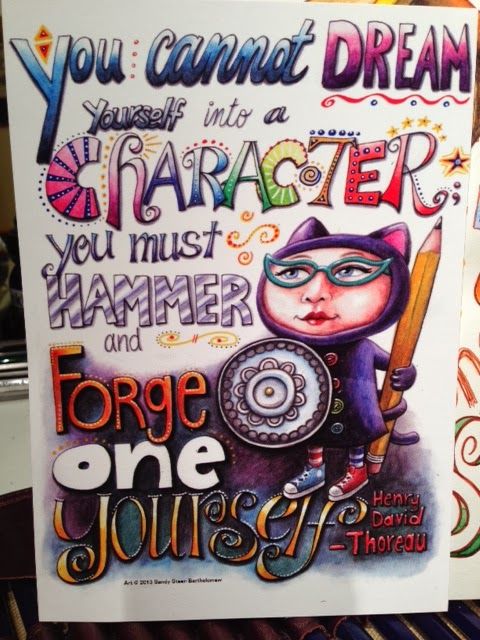 I thought the quote went really well with this assignment, but I had a "better" idea of what I wanted the art to look like. My girl looks a bit... defensive. So I redrew it from scratch. As I worked, my little character's outfit changed as I added my Bumblebat's wings and dress, and the whole thing took a bit of a steampunk turn...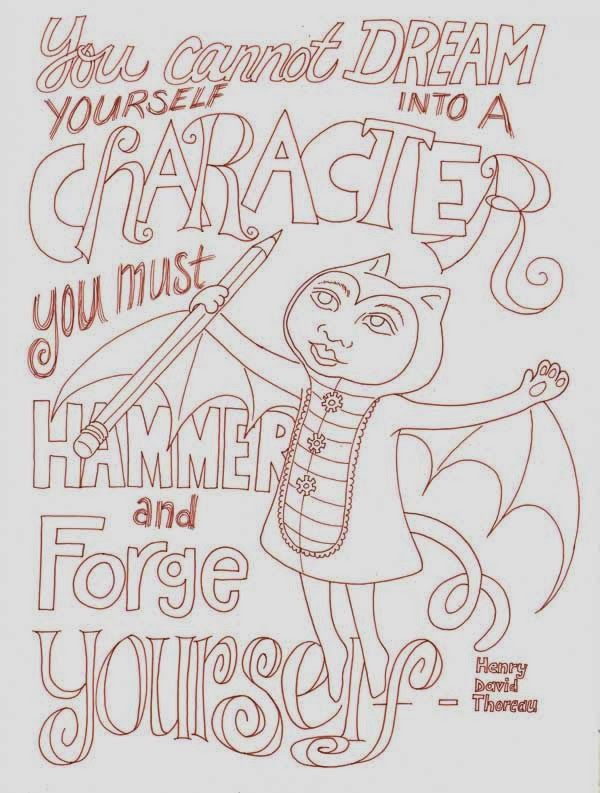 I drew it with a brown Micron pen, then colored it with watercolor and Inktense pencils.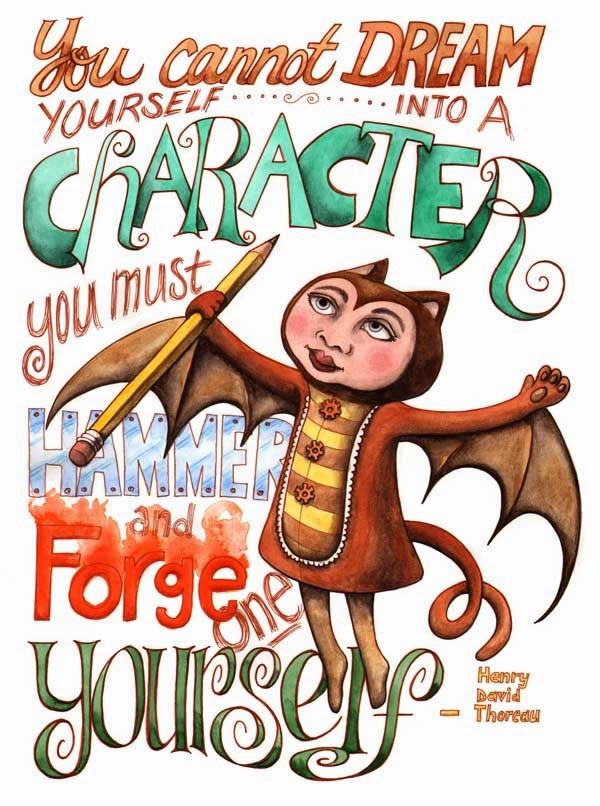 I liked the finished piece a lot! But, I had an image in my mind of an architect's drawing... sort of a sepia-blueprint. Like a design or patent sketch. I know I accuse my daughter of being a little Art Director, but I think I have another one inside my head... yes, I did it over again!

I'm not completely crazy... I started with a Sheer Heaven transfer so I wouldn't have to do all the work again.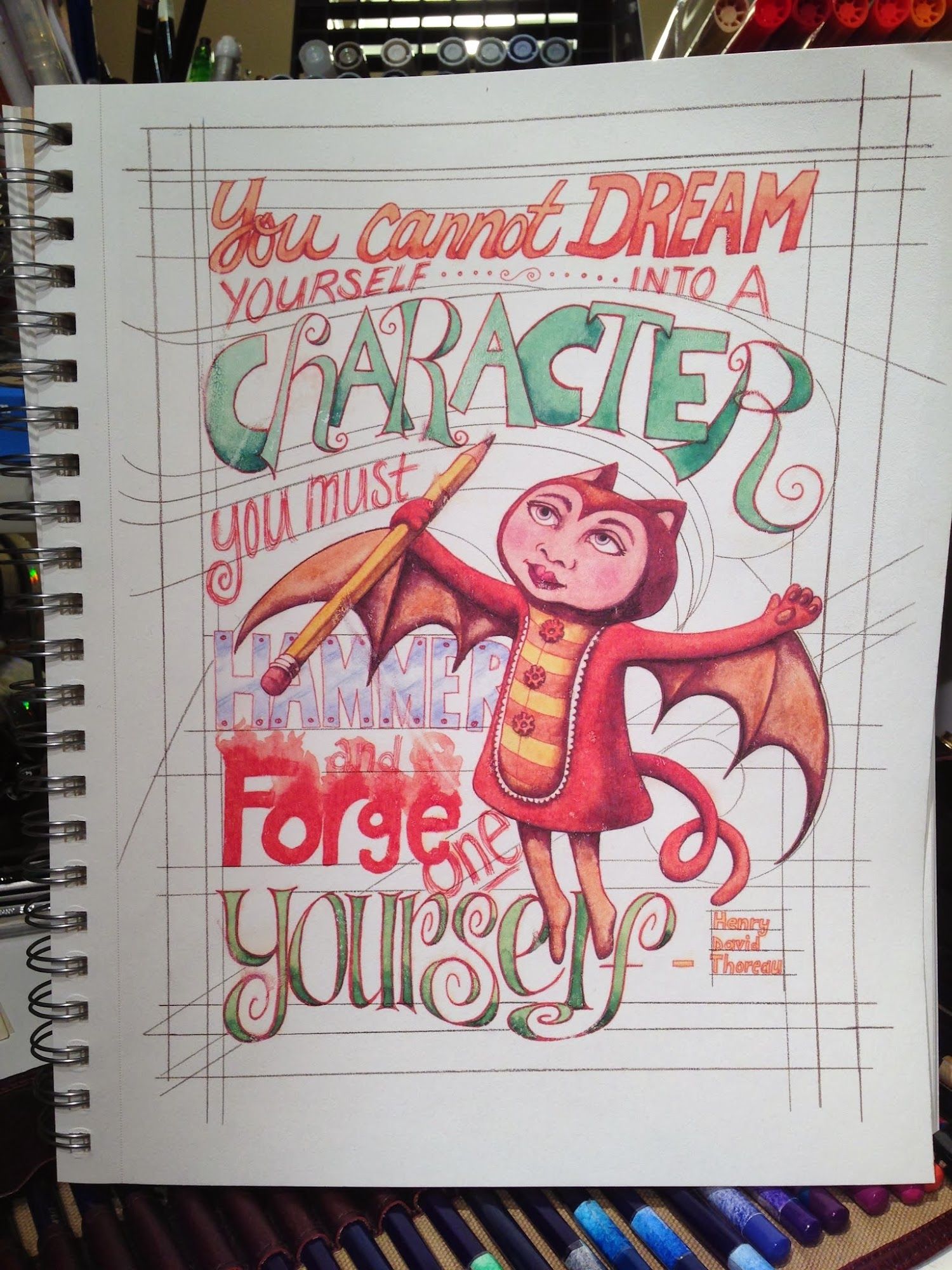 I like to draw with a Col-erase brown pencil when I intend on leaving the lines (not erasing them). I went through the drawing putting back in all the straight lines and curves. Again, the image in my head changed... so here is what it all ended up becoming...

Now that I think back on the process of creating this character, the quote seems really appropriate. I spent two full days (and late nights) working on this journal prompt. It's not real "work" - I don't get paid. It's not even created for someone - as a gift or a dare. It was just an idea. Something that was rattling around in my head and it needed to get out.
Hammer and forge, indeed