Global Talent Search Winners
The winners of Lilla Rogers' Global Talent Search - Round 1 - were announced today.
No, I'm not in the group.
Yes, I am very sad.
But, part of my brain is a teeeeeeeny bit relieved since I can't imagine how I would have found time to do the second and final challenge since it is getting a bit busy here in my studio. Sometimes (always?) the Universe has other plans...
Another part of my brain is feeling incredible sympathy for Lilla - she had to choose 50 semi-finalists from over 1500 entries. Eeegads! I have a hard enough time choosing from your entries for the Tangle Card Challenges!! (BTW - I will post this week's later today)

If you would like to see the beautiful pieces that were selected for the Global Talent Search - Round 1 - you can see them all at Lilla's blog, HERE. Just scroll down a bit in the post to see the pics.

And I will console myself by posting my entry here and you all can tell me how I should have won and deserved to win... I'll believe it all, gratefully. :-) hee hee
[If you say I suck and should get a real job - I will delete you! Aaaahhhhaahaahhaaaa!]
No, seriously, I was very happy with the work I did and will find a way to produce it for real.

The challenge/assignment was to create a journal for the company Paperchase incorporating vintage playground equipment, in any way we wished. In any medium or style. And it had to have the word "Journal."

Ok, here is what I created...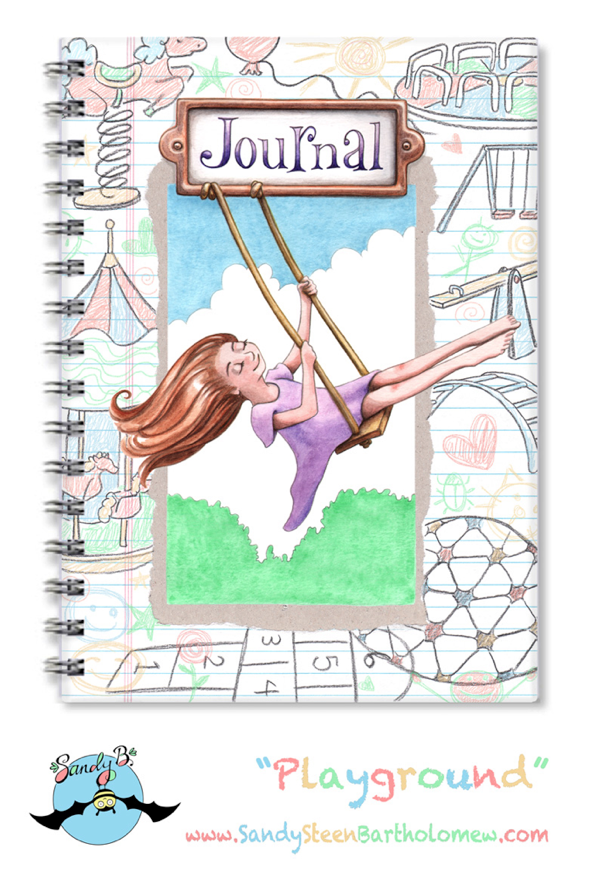 I created the girl and the label using Inktense pencils. I drew the the playground elements in black colored pencil on lined paper, tore the hole in the paper, and scanned it. I added the colored crayon bits on the computer and then layered it all together. It took about three days. I should show you what the original image looked like before I got some great feedback from Sherry London, a fellow classmate and a "Photoshop Expert and a Bead and Fiber Artist"...
First draft...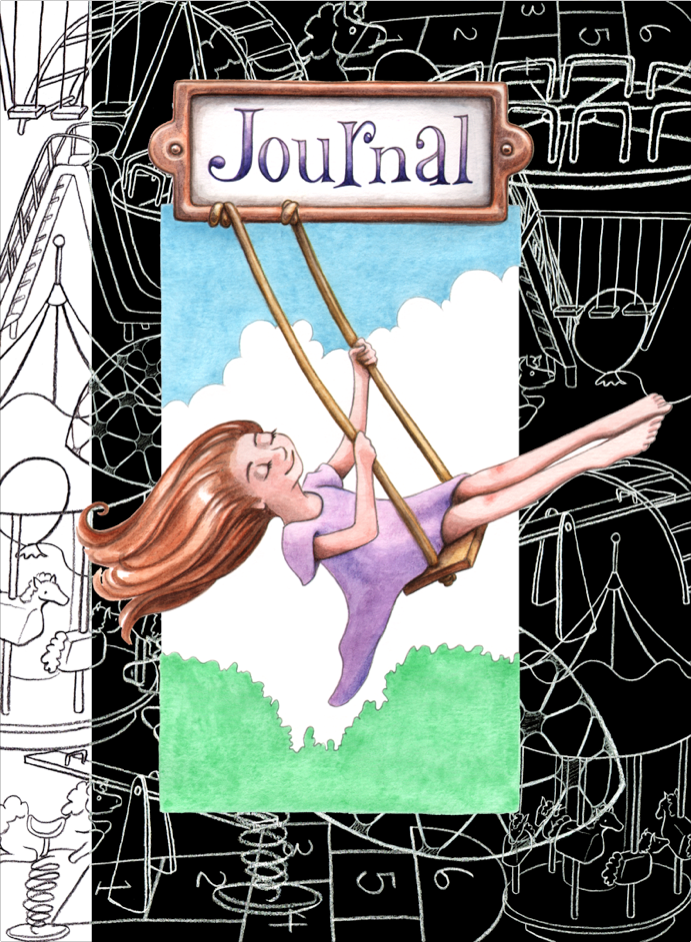 I had been working towards a chalkboard kind of look...

anyway - I really liked the final journal and I will let you know if I make some "real" ones!

One last bit of Universe-y stuff... normally, I would have found out I didn't win in the usual way - I would have looked at the site and discovered I was not included. As usual. But I had such a wonderfully distracting day yesterday, that I had actually managed to forget that all my hopes for my future rested on today's announcement! So when I sat down at my computer, I looked first at my email. And there was one from a fellow student offering commiseration because she hadn't been picked either. That IS a great way to find out you have lost something... but the student was Judith Moffat who is an incredible illustrator and has written a gajillion books. Somehow, getting the news from HER and that even SHE didn't get selected... seriously, can you see how that took the edge off?

My only feeling of regret concerning this project, right now, is that I don't have a real swing like that in my own backyard. :-)