And now I... BEGIN AGAIN!
Kickstarter blog... Done!
Masters of Applied Cartooning... Done!
Moved back to New Hampshire... Done!
New Art Studio... Done!
I'm going to show you the behind the scenes of the new studio, in just a second, but just in case you don't read the whole post - I'm inviting you to come see the new (tiny) Studio and help me celebrate my Birthday!
OPEN STUDIOSeptember 15th from 6-8 at 40 Thorndike Street in Concord.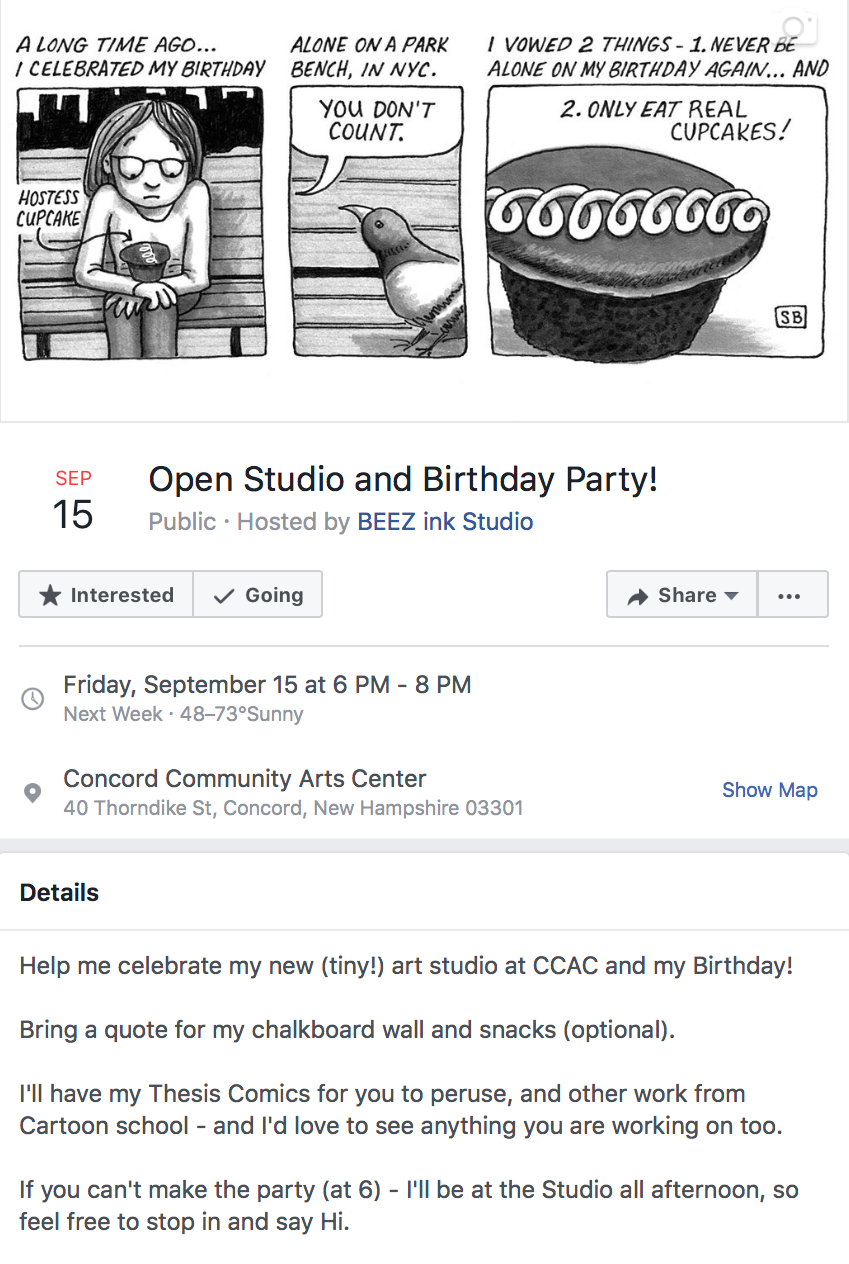 This part of the story starts with me looking for a new Studio space.
(I'm going to try and sell the Wingdoodle building). I found this teeny tiny space at the Concord Community Art Center (Concord, NH) which was being used by a potter. Seriously! That's a pottery wheel in there! The potter was moving to the basement, to a much larger space.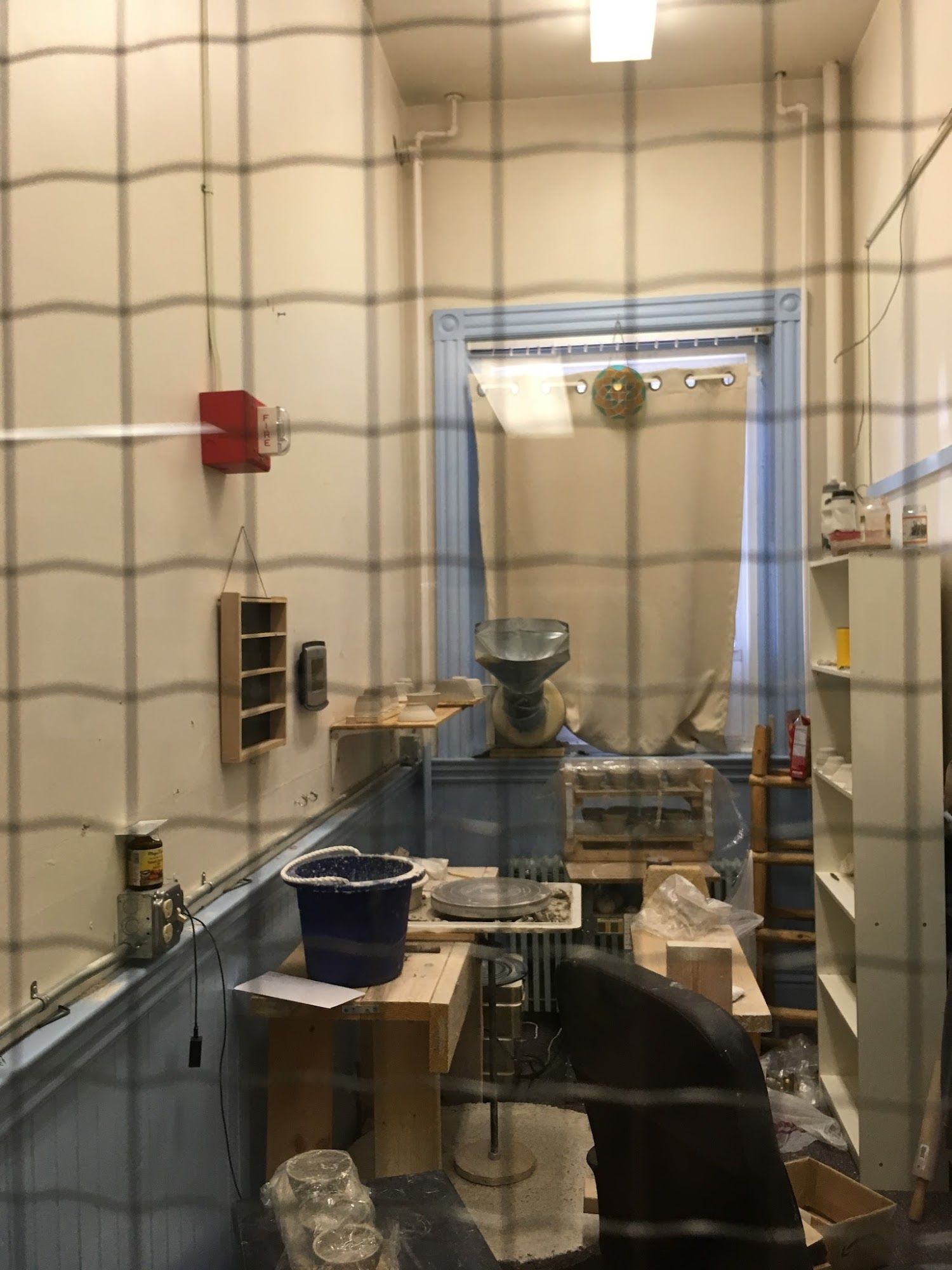 The space looked SO much larger when it was emptied out... (tiny bit of sarcasm). But I loved the idea of having a space - away from my house - to just work on comics and books. And I have always wanted to be part of an arts center.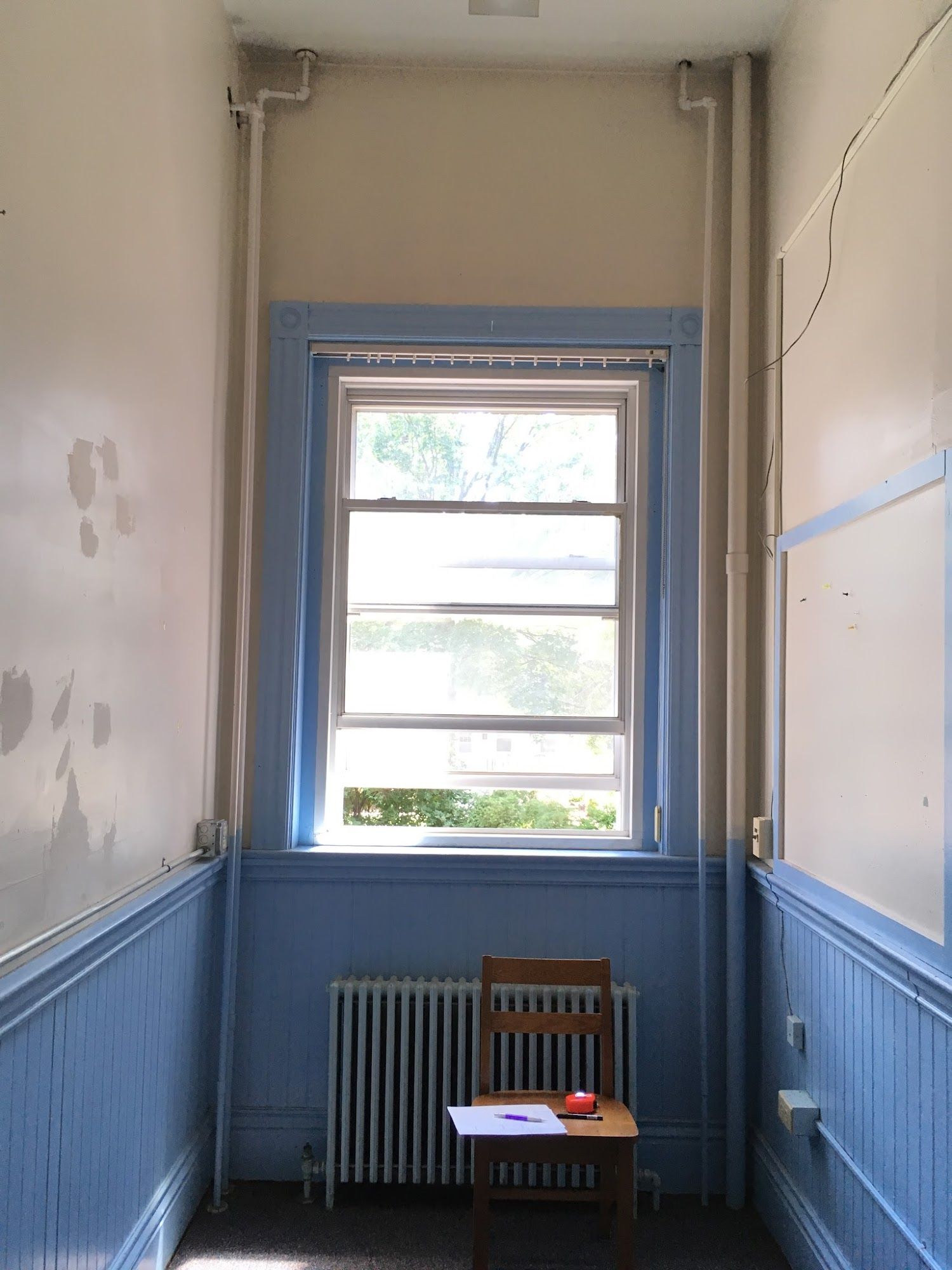 What to do with a 6 foot by 13 foot art closet?!

I started by painting chalkboard paint - as high as I could reach with the roller - all the way around the room.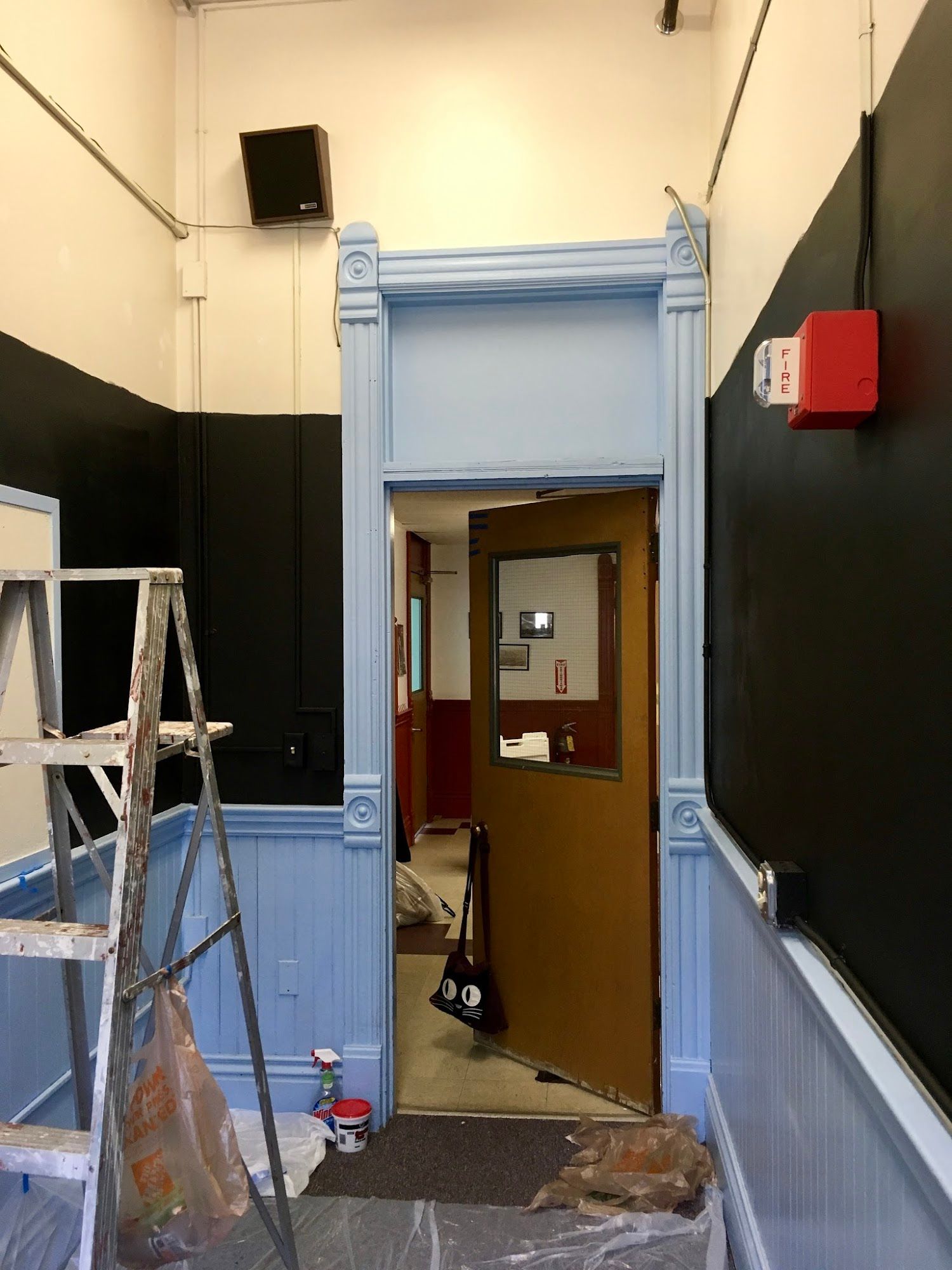 There was JUST enough space for the ladder, but it was difficult moving it around to draw the murals. And at the end of each day, I couldn't feel my legs and feet - from balancing weirdly on the skinny steps. I really need to invest in a taller ladder with wide steps!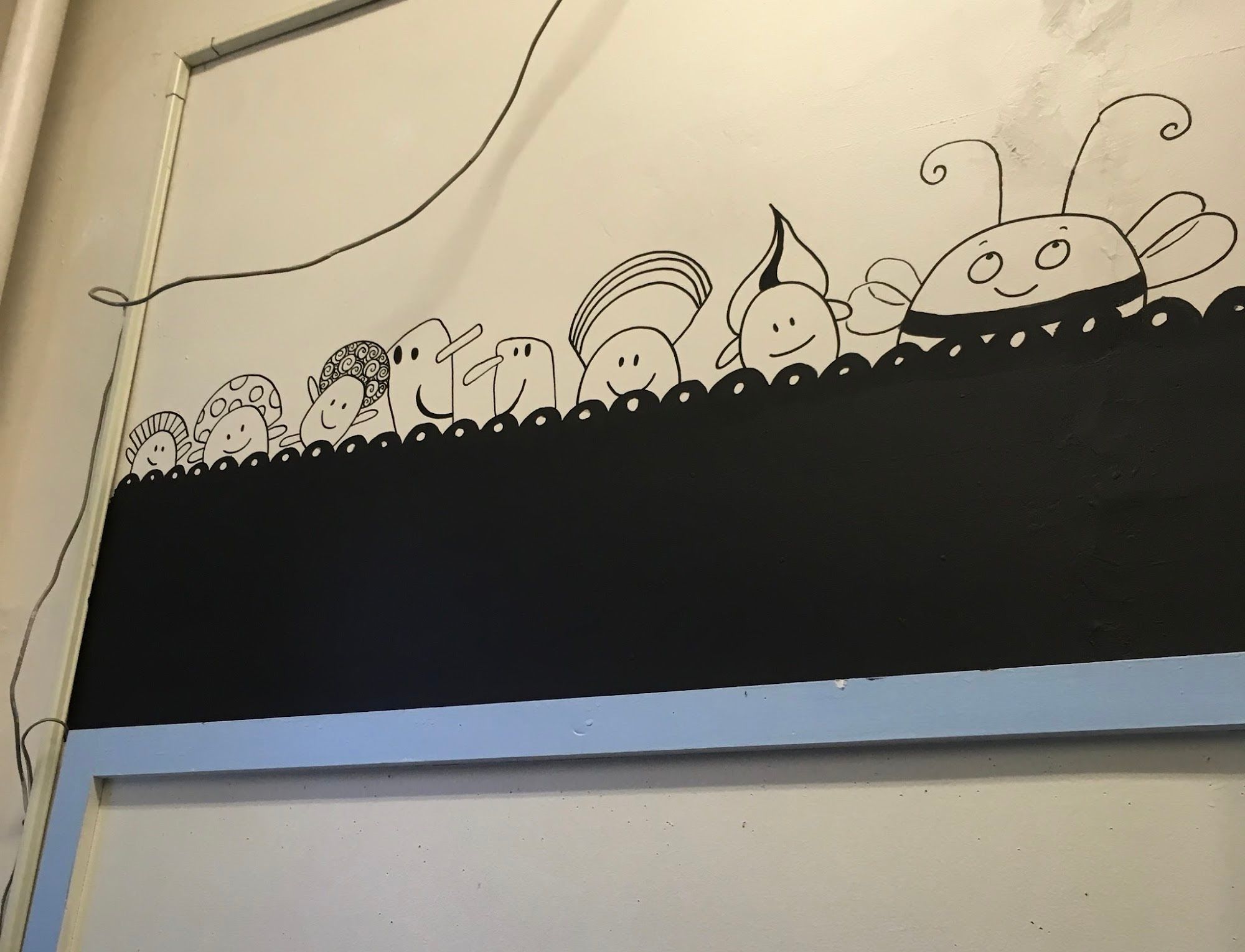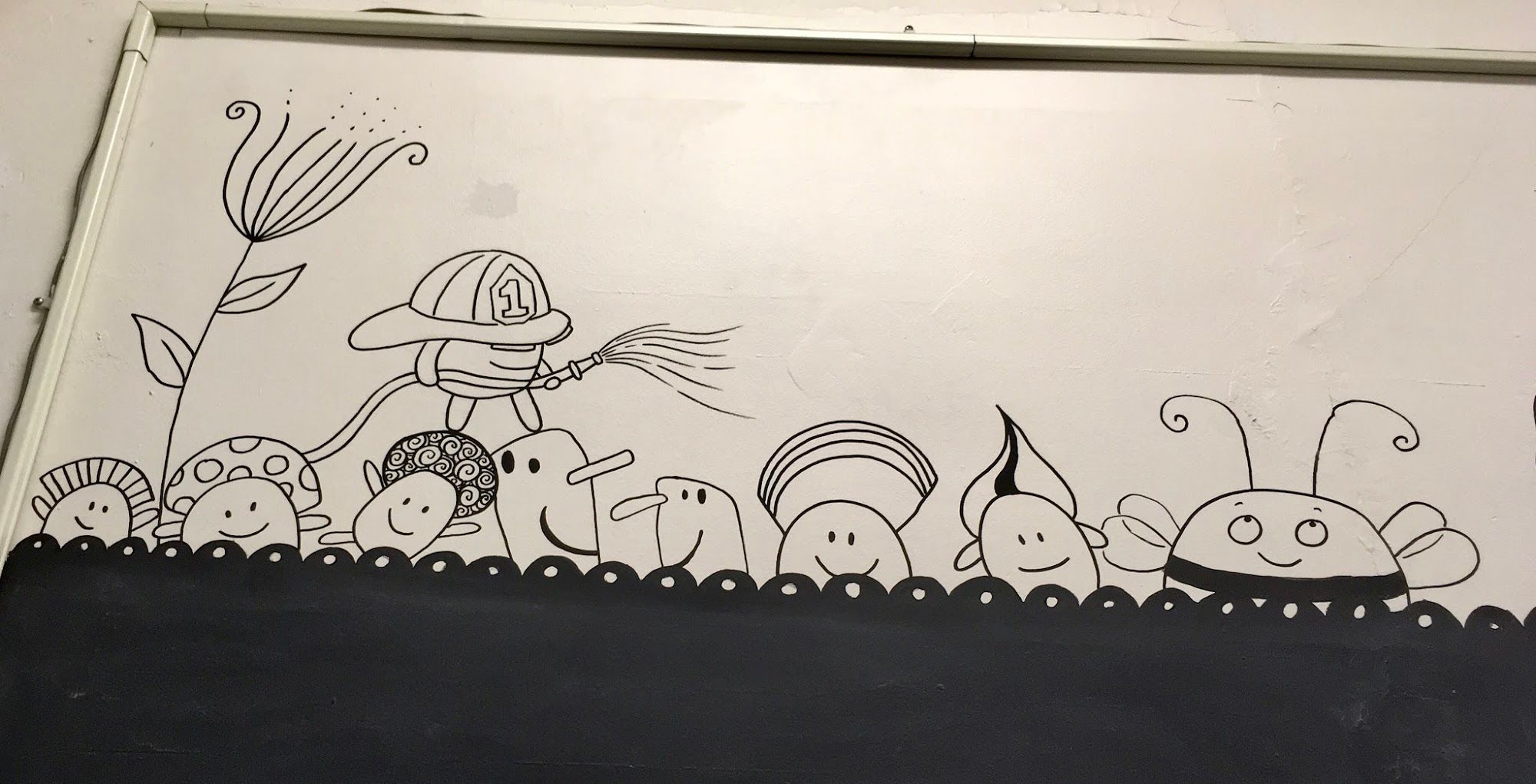 I drew the murals just above the chalkboards. I would have loved to have painted the walls above them with a warm orangey color (to hide all the cracks) but the walls were just too high!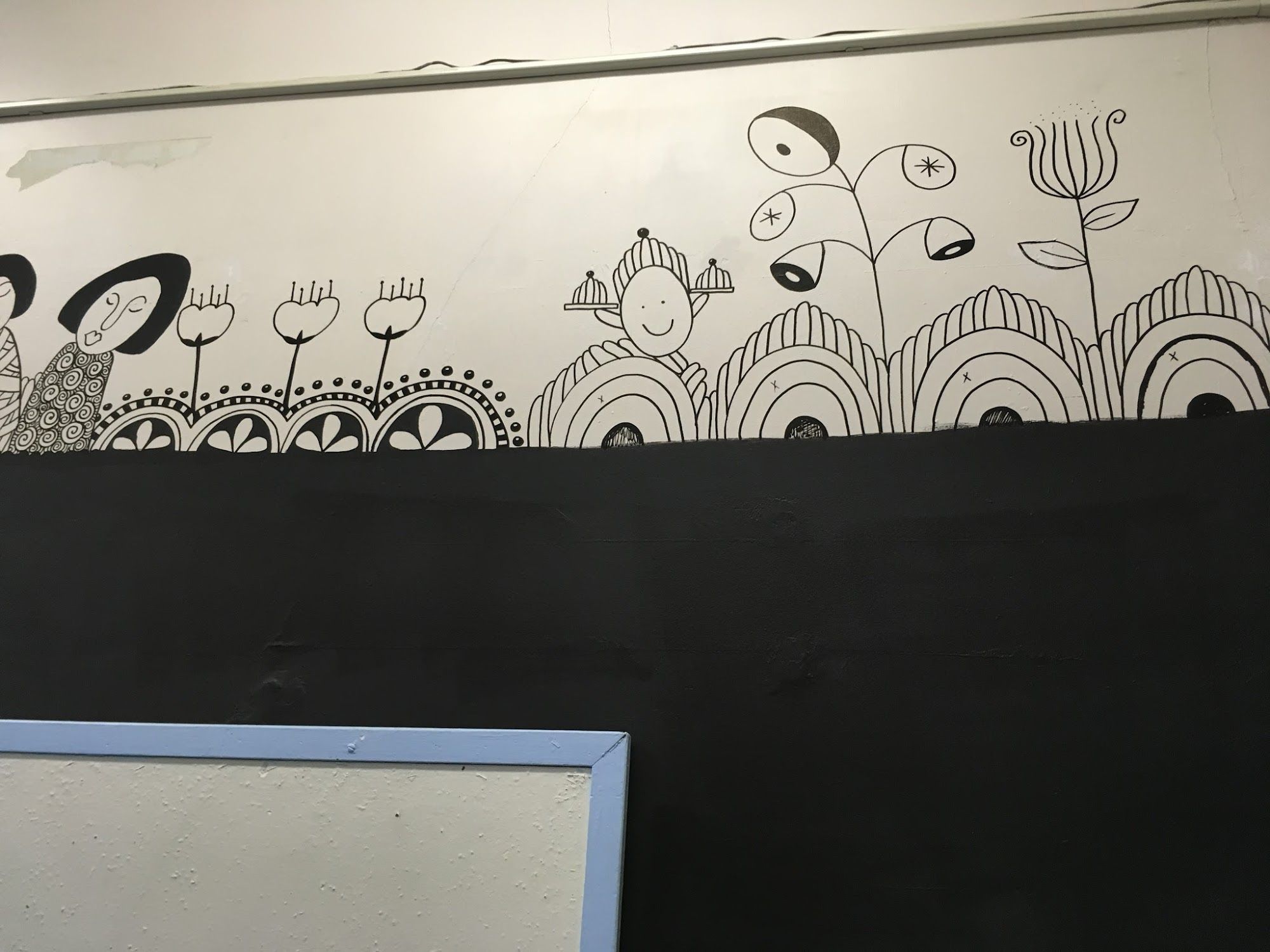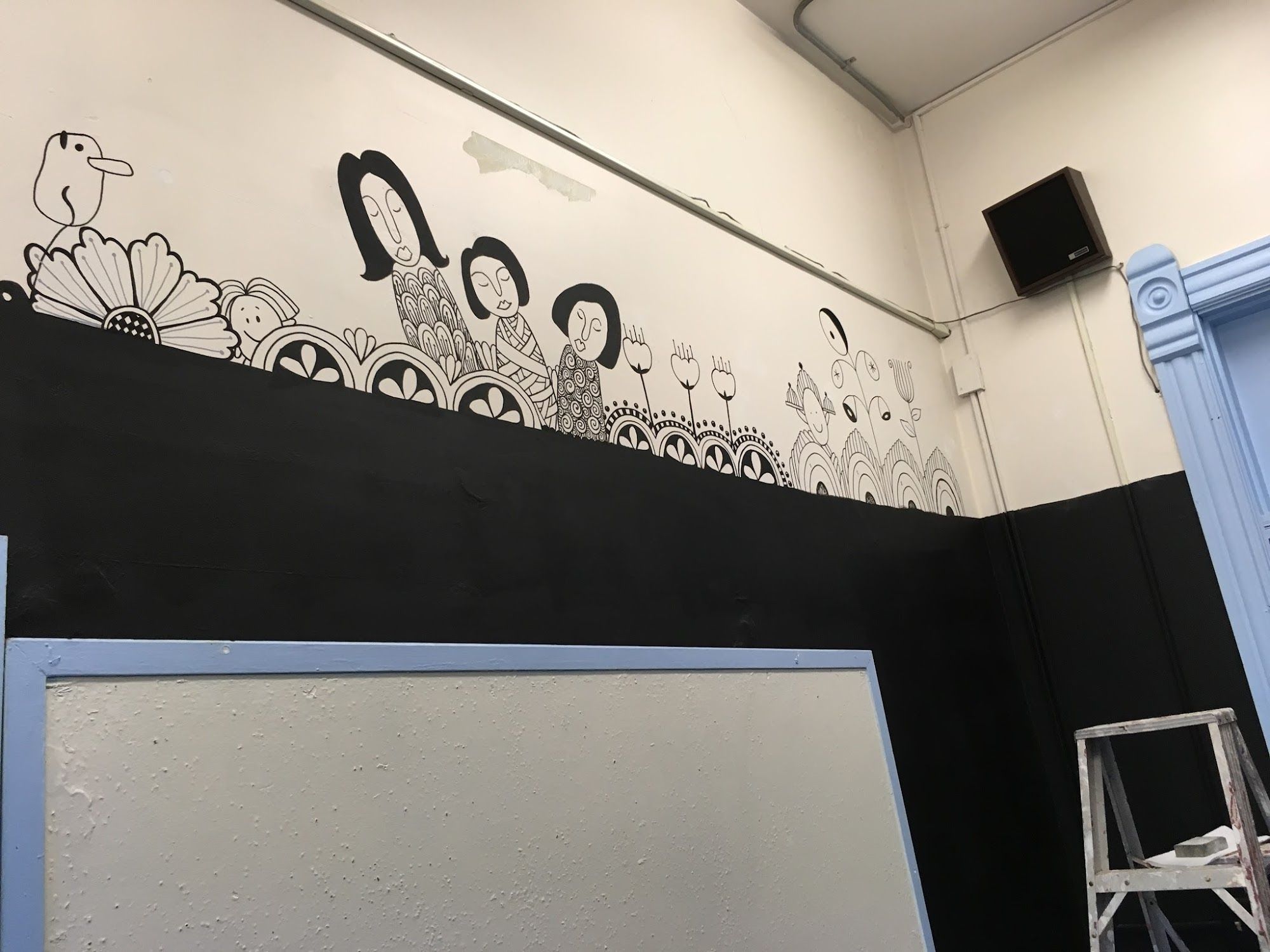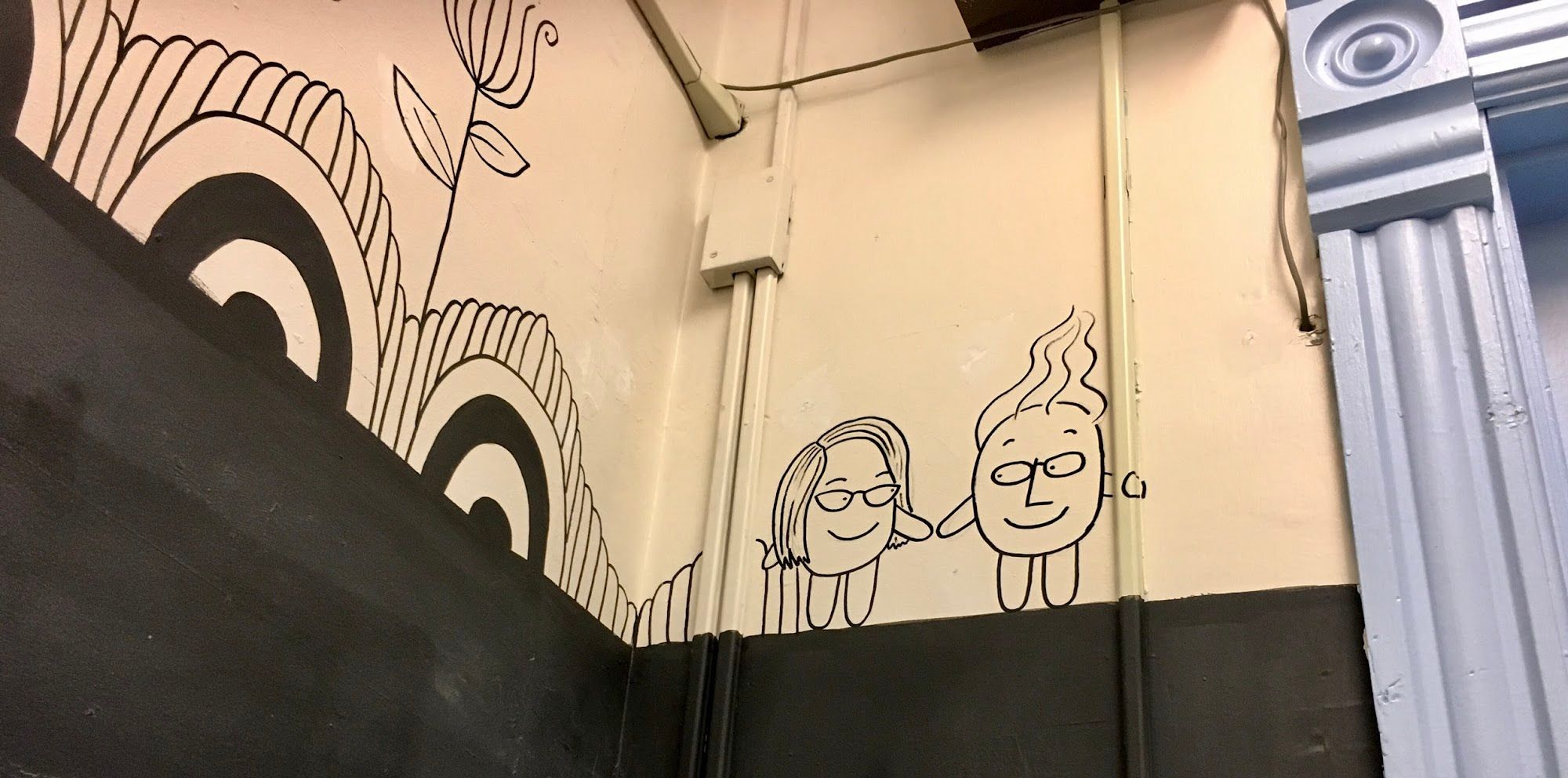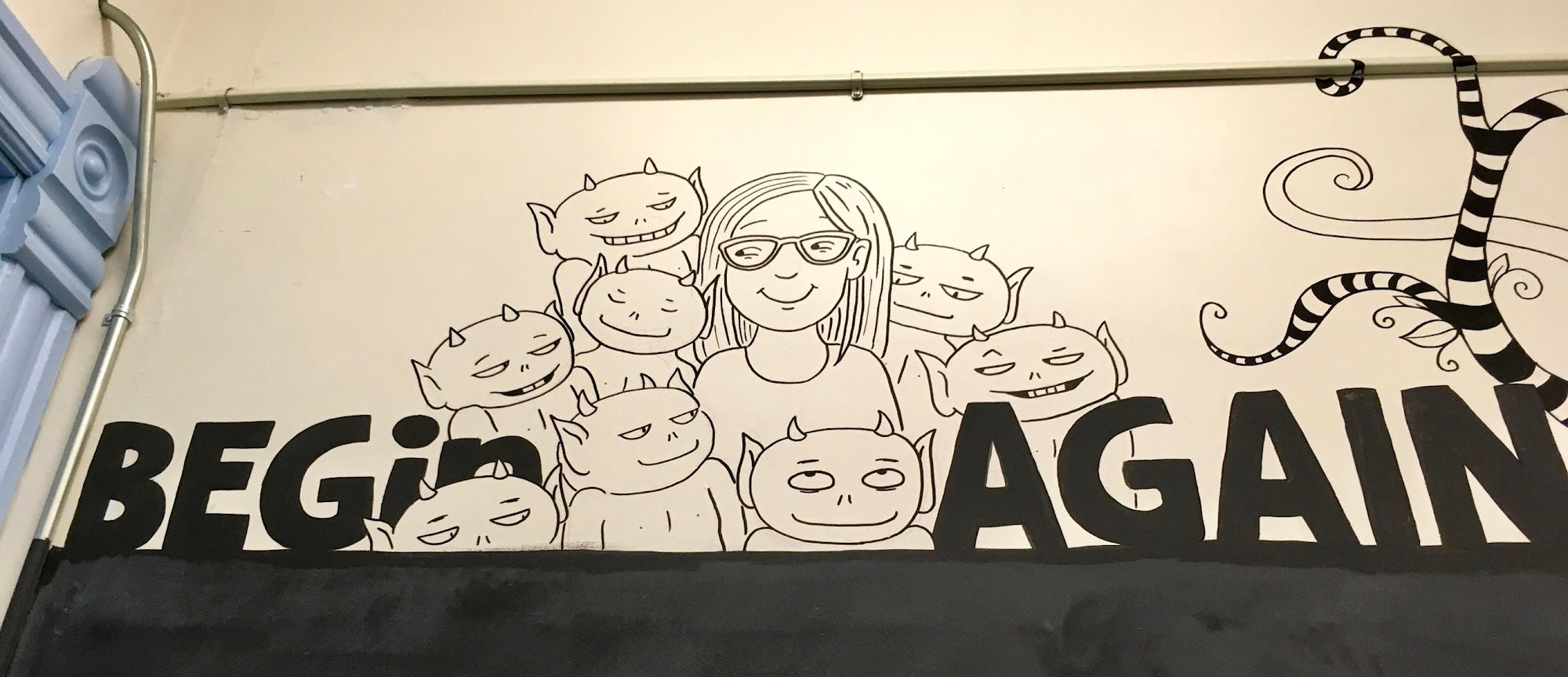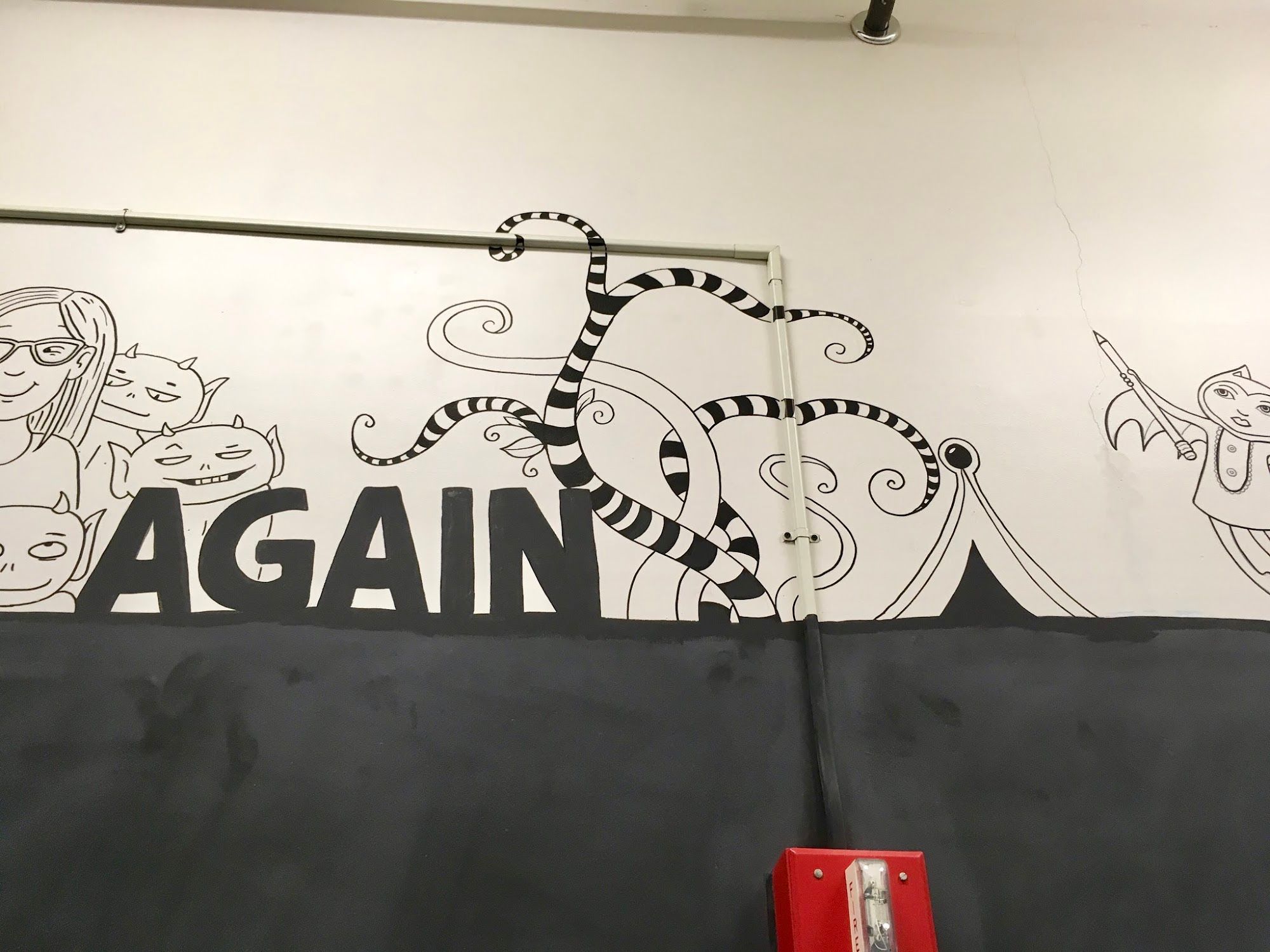 What to do about the big crack in the wall? Hmmmmm.... ha ha!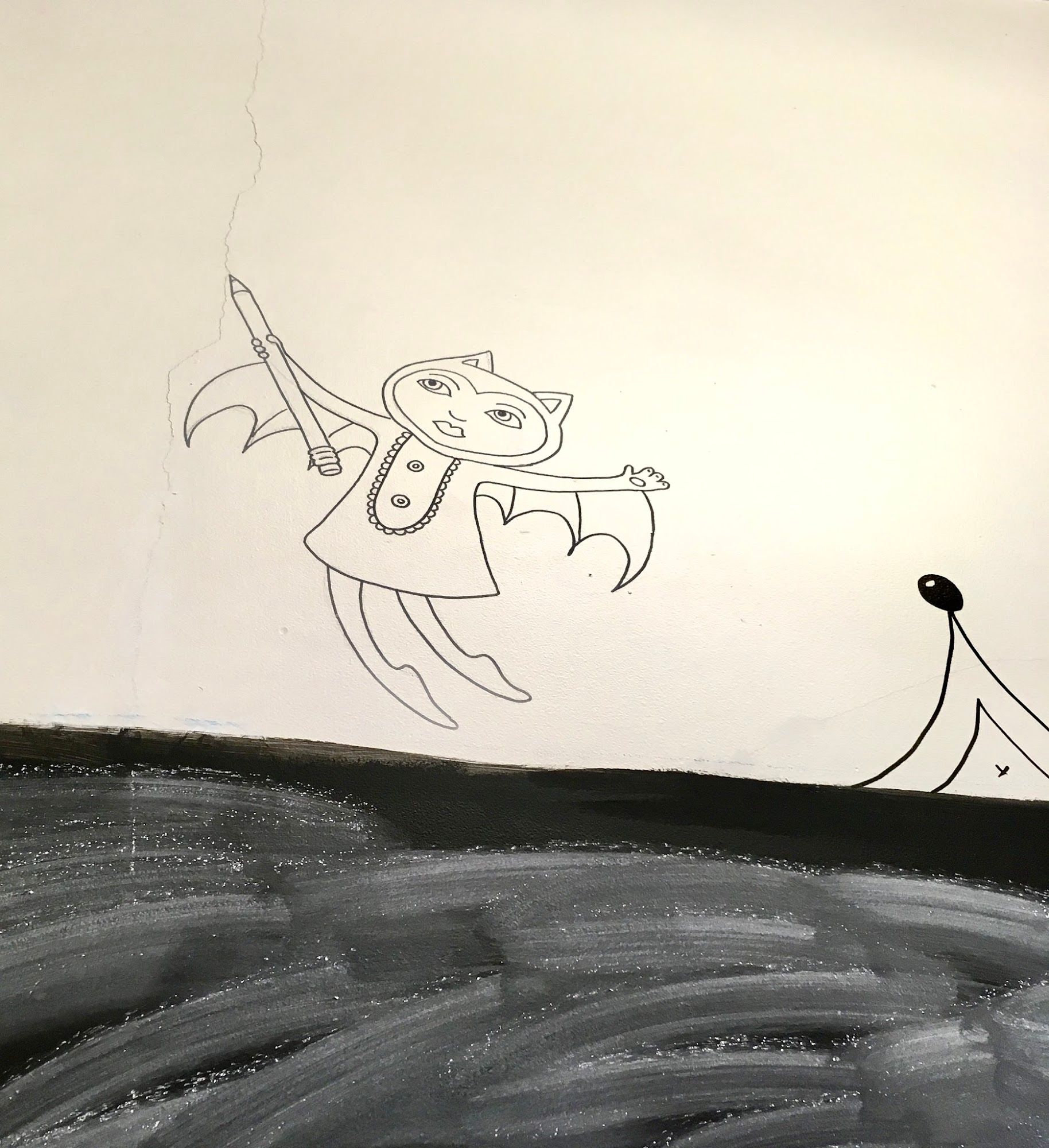 And the fire alarm! If I can't remove it, or hide it... then it gets some character.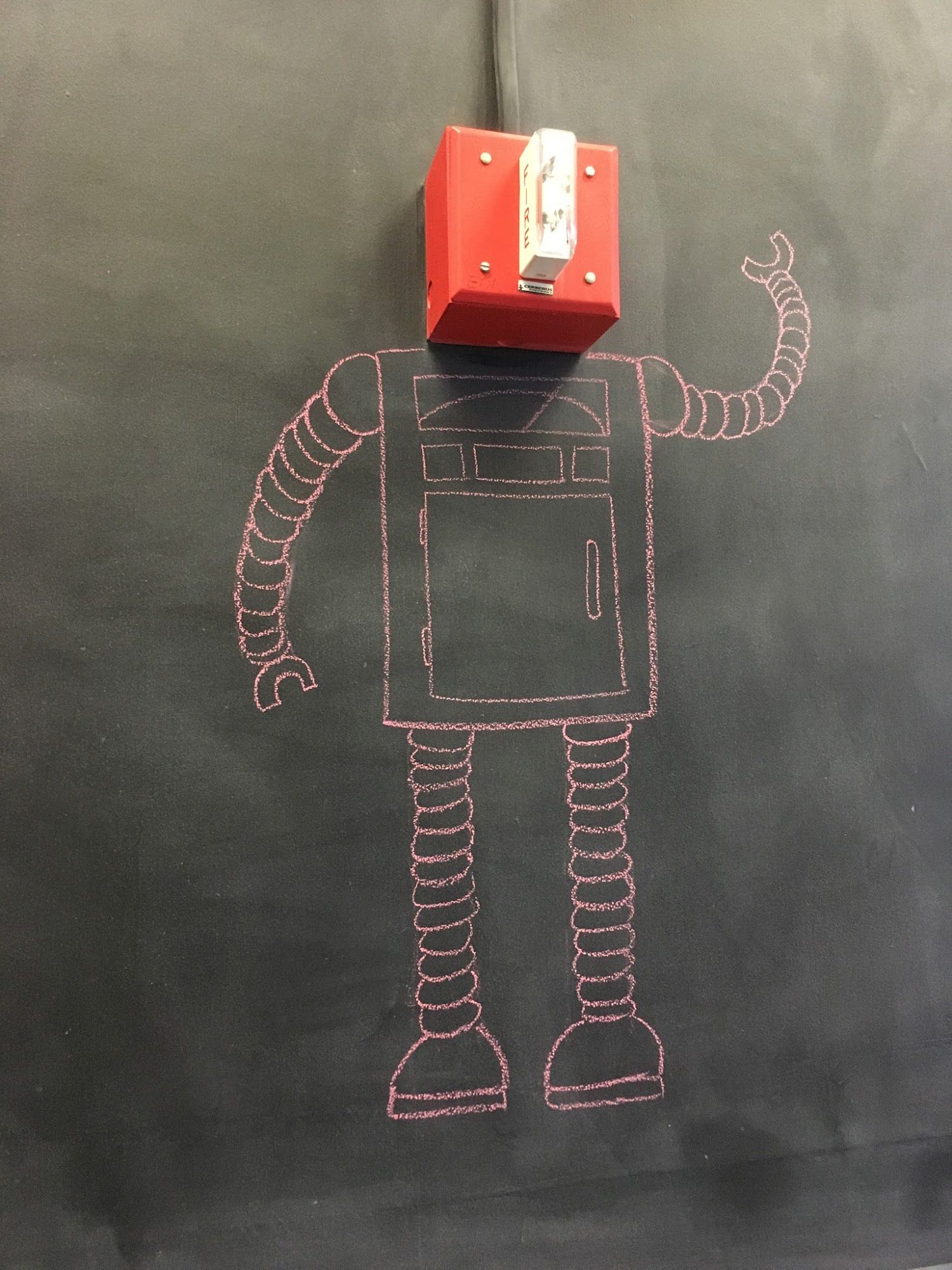 The window got some blue paint and a new curtain and a screen...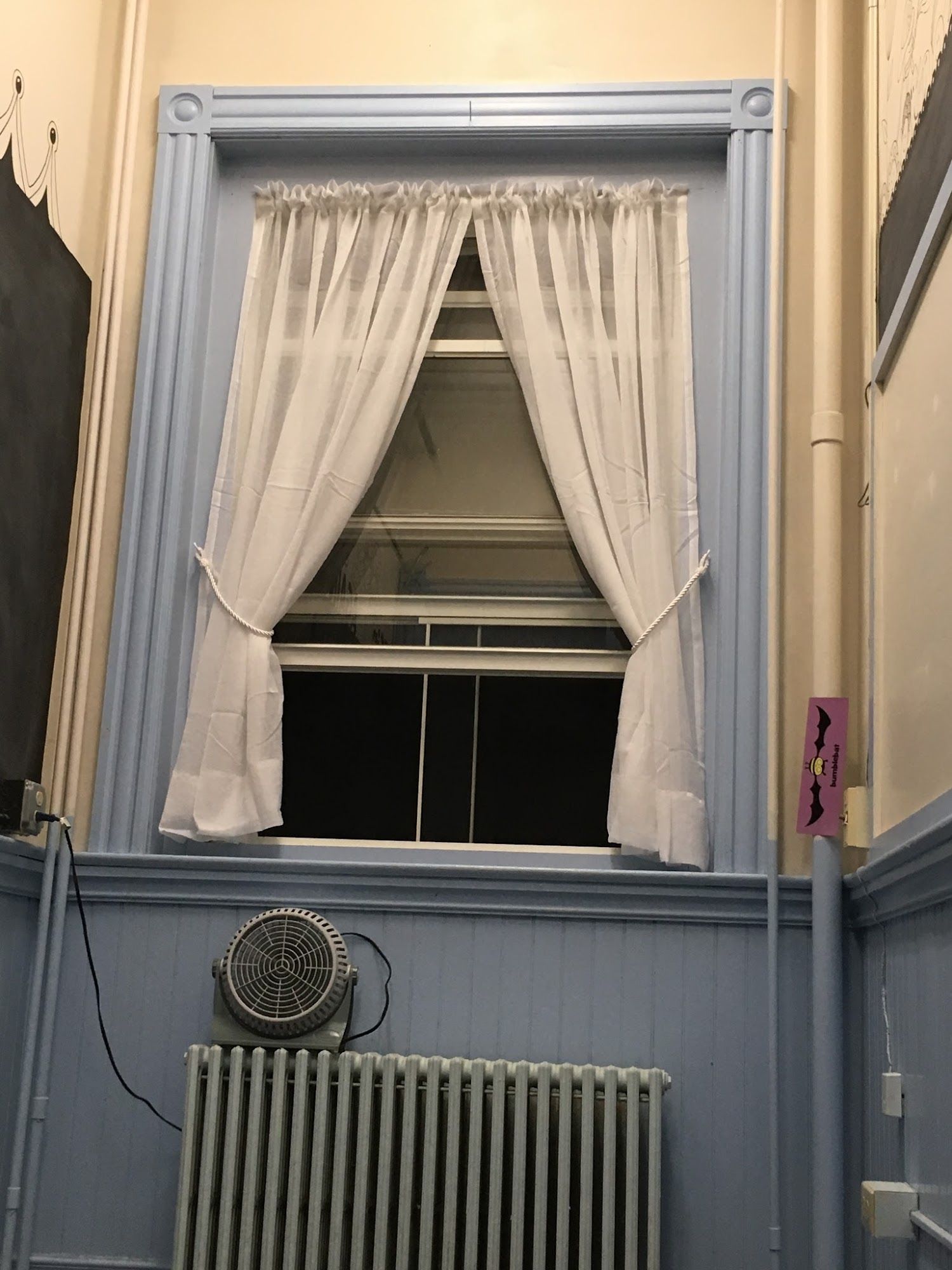 Then I started adding color... and details like tangles ON the letters (see the "B").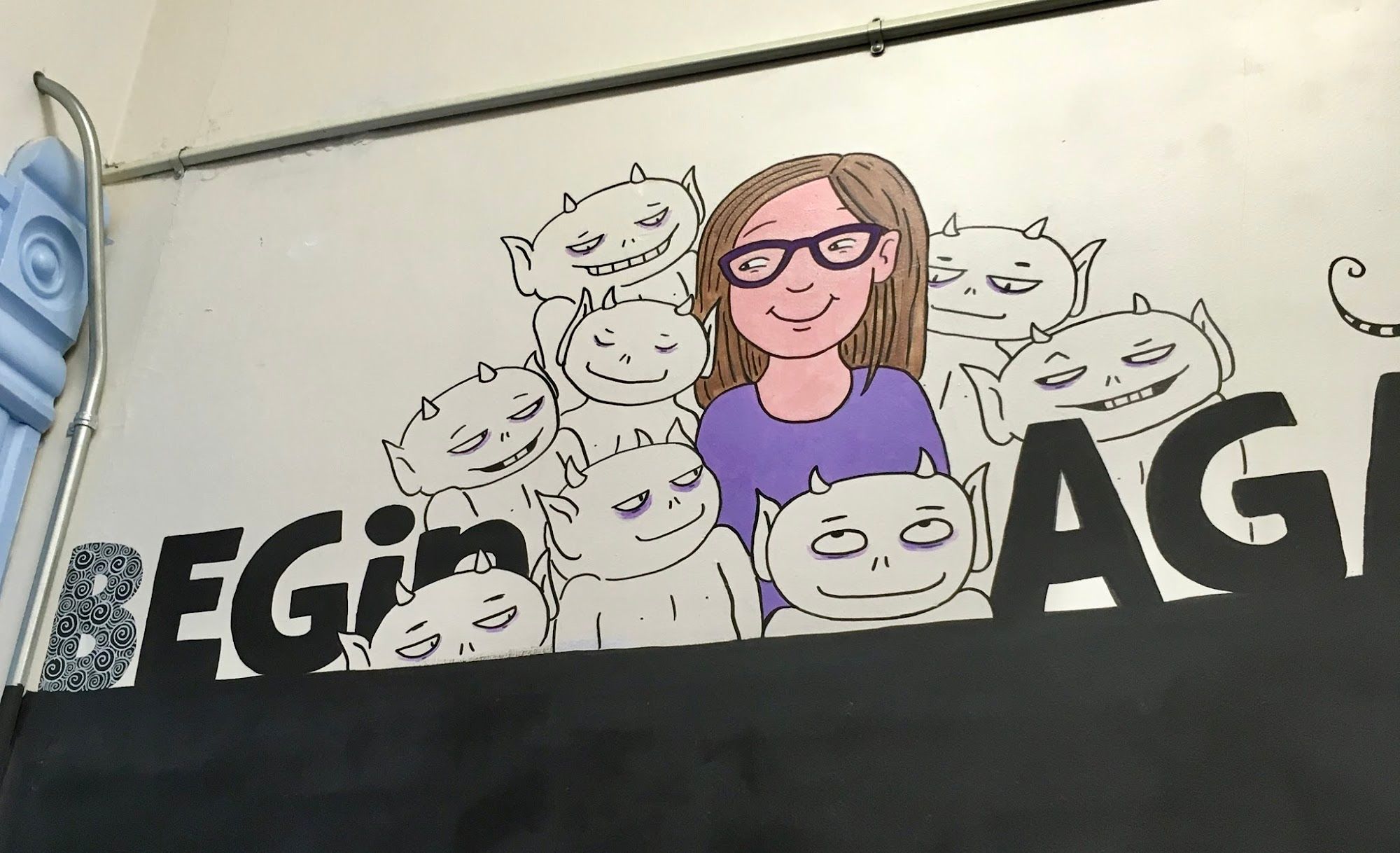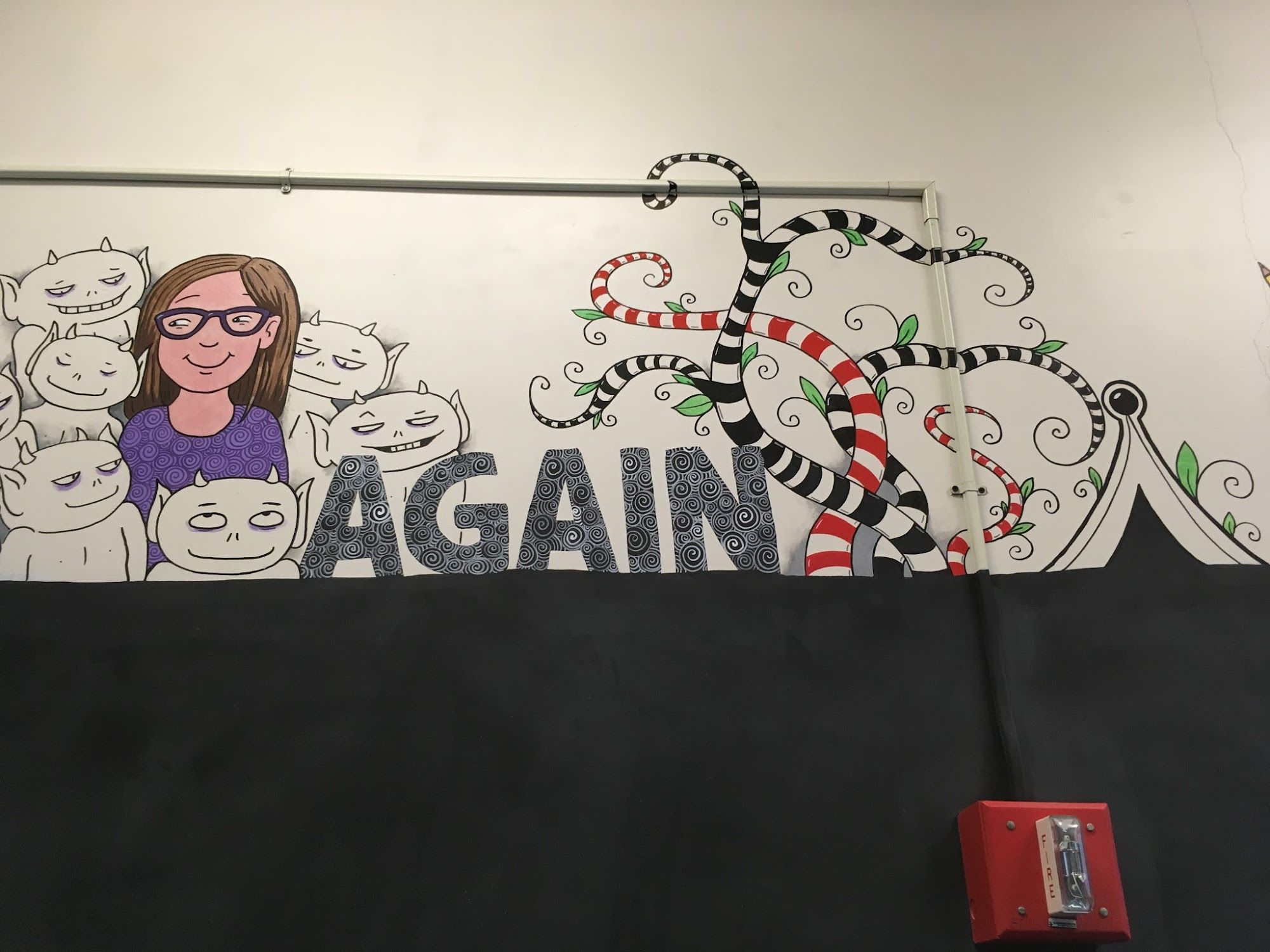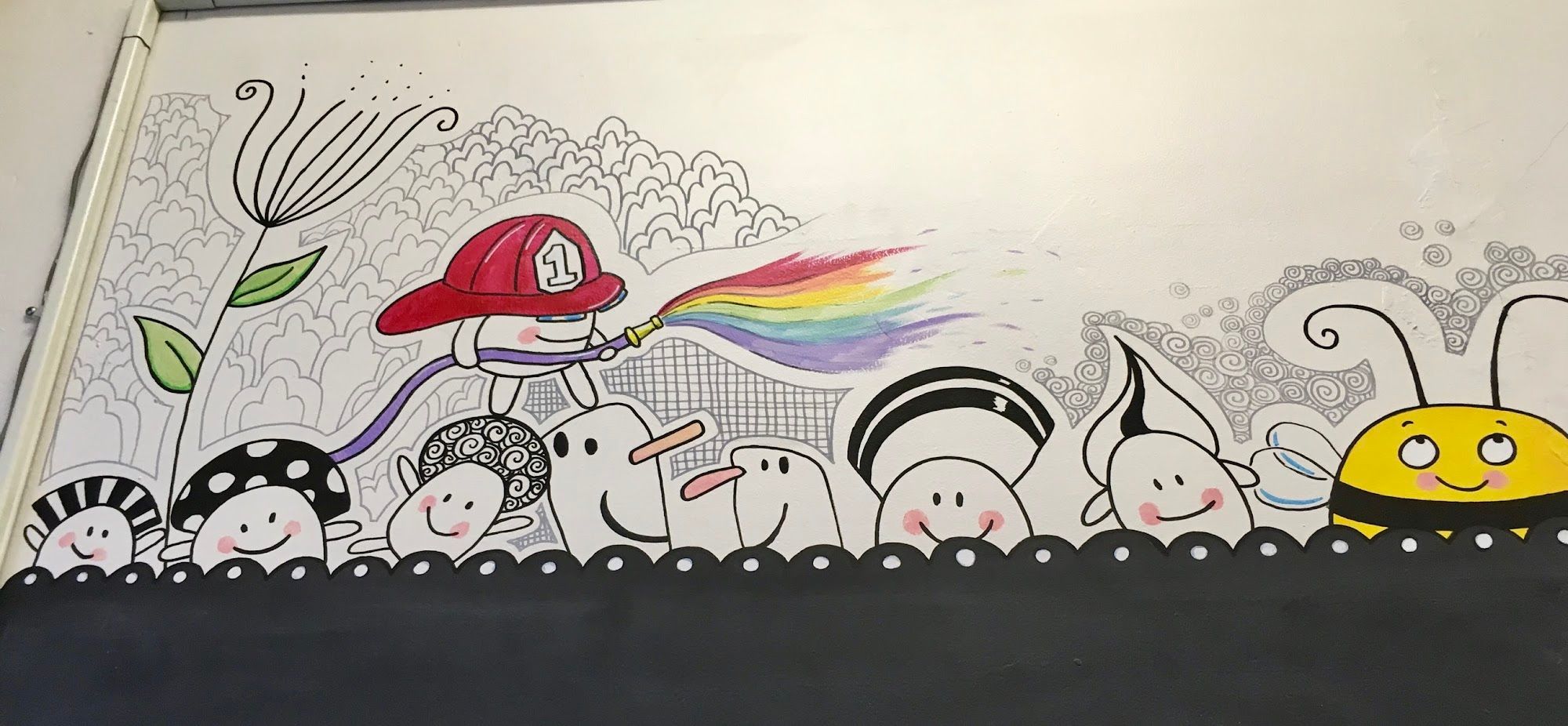 Christa from The Place (upstairs studio) cut a vinyl sign for my door!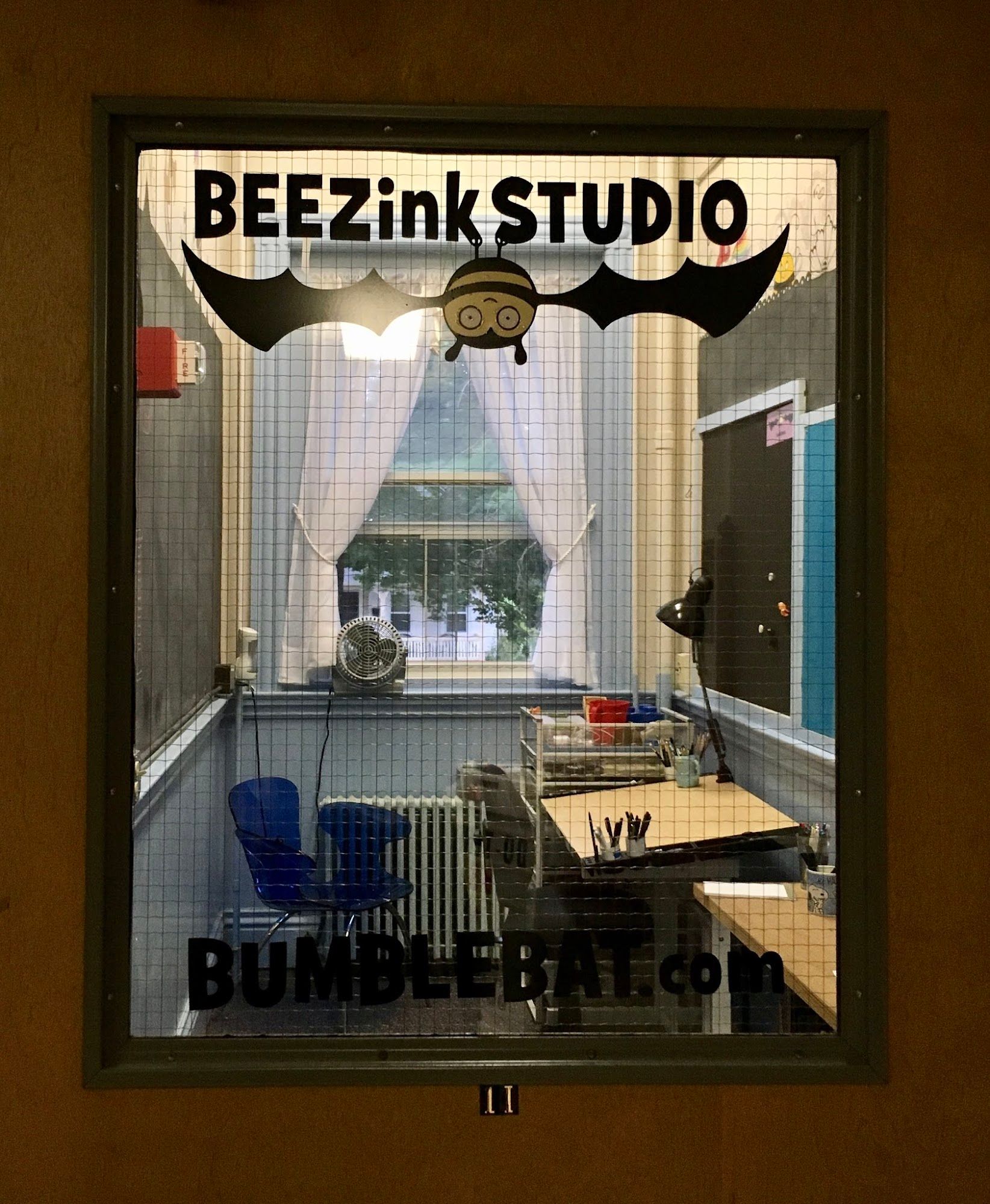 I covered one of the old bulletin boards with felt and the other with magnetic paint. And brought some furniture.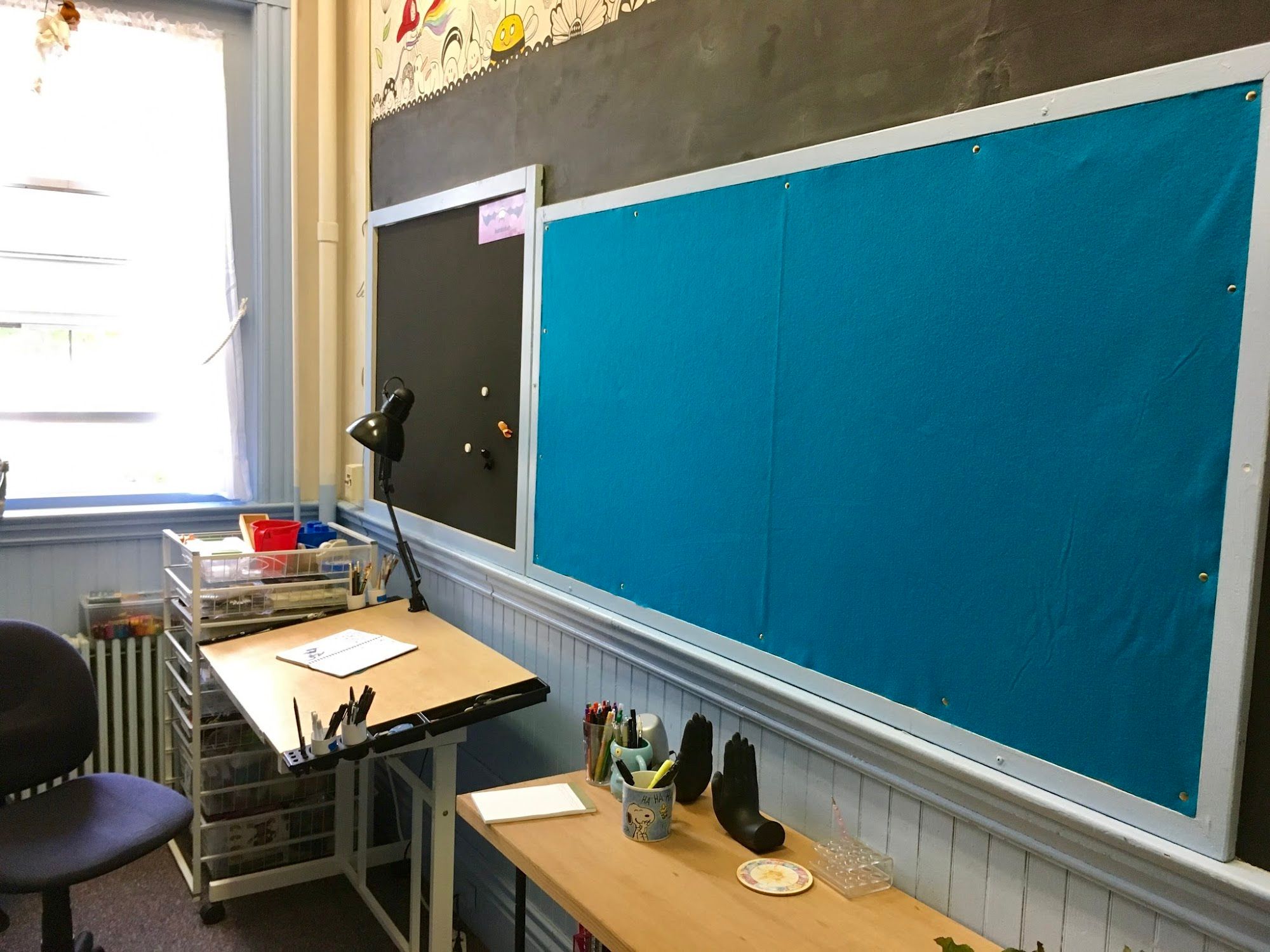 Lights! And flowers on the window...

Notice the empty chalkboard above? I need some good quotes for it! If you come to the Open Studio - bring QUOTES!

I wrote a big quote over my work table.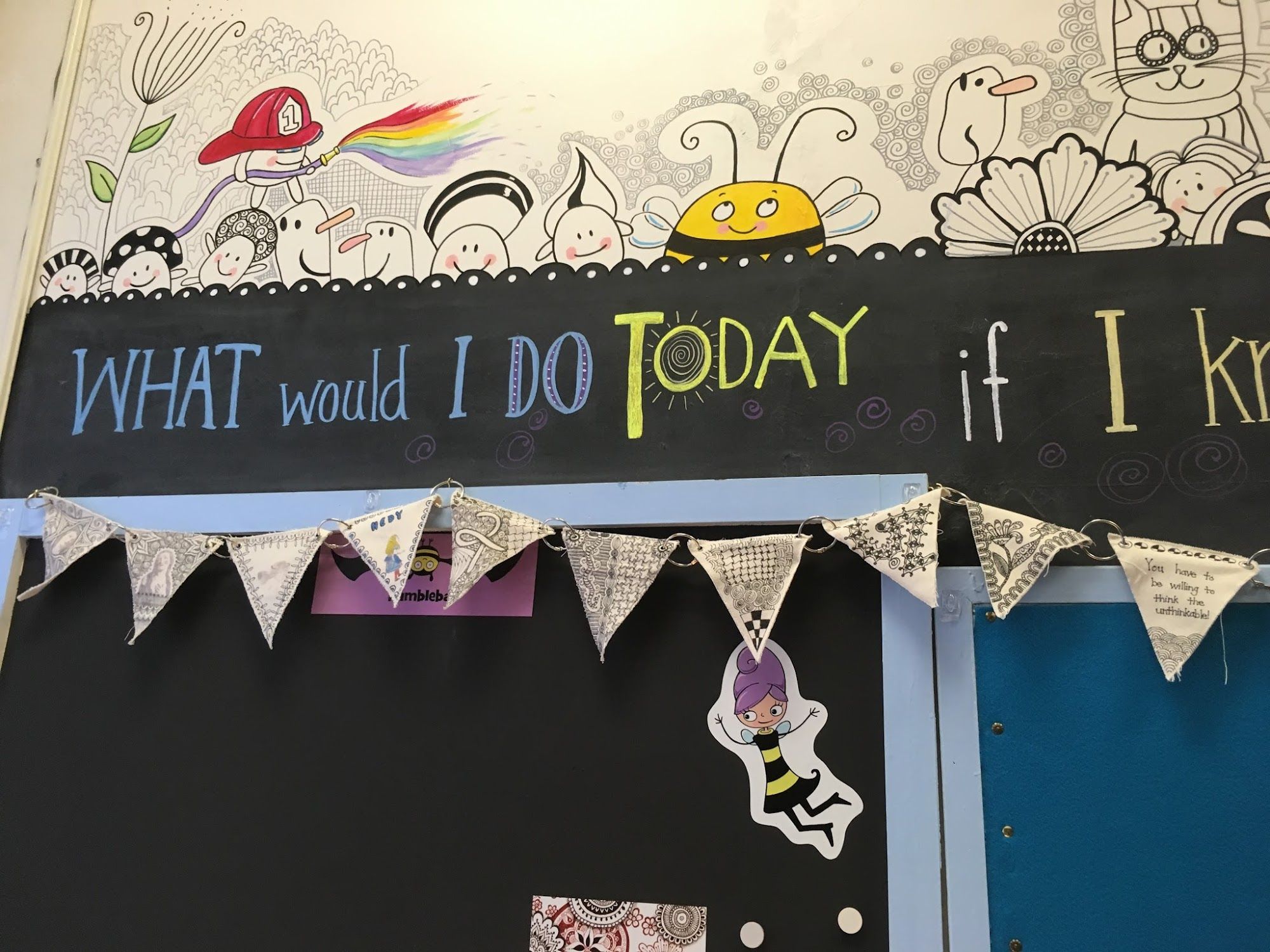 And I stuck in some needle-felted creatures...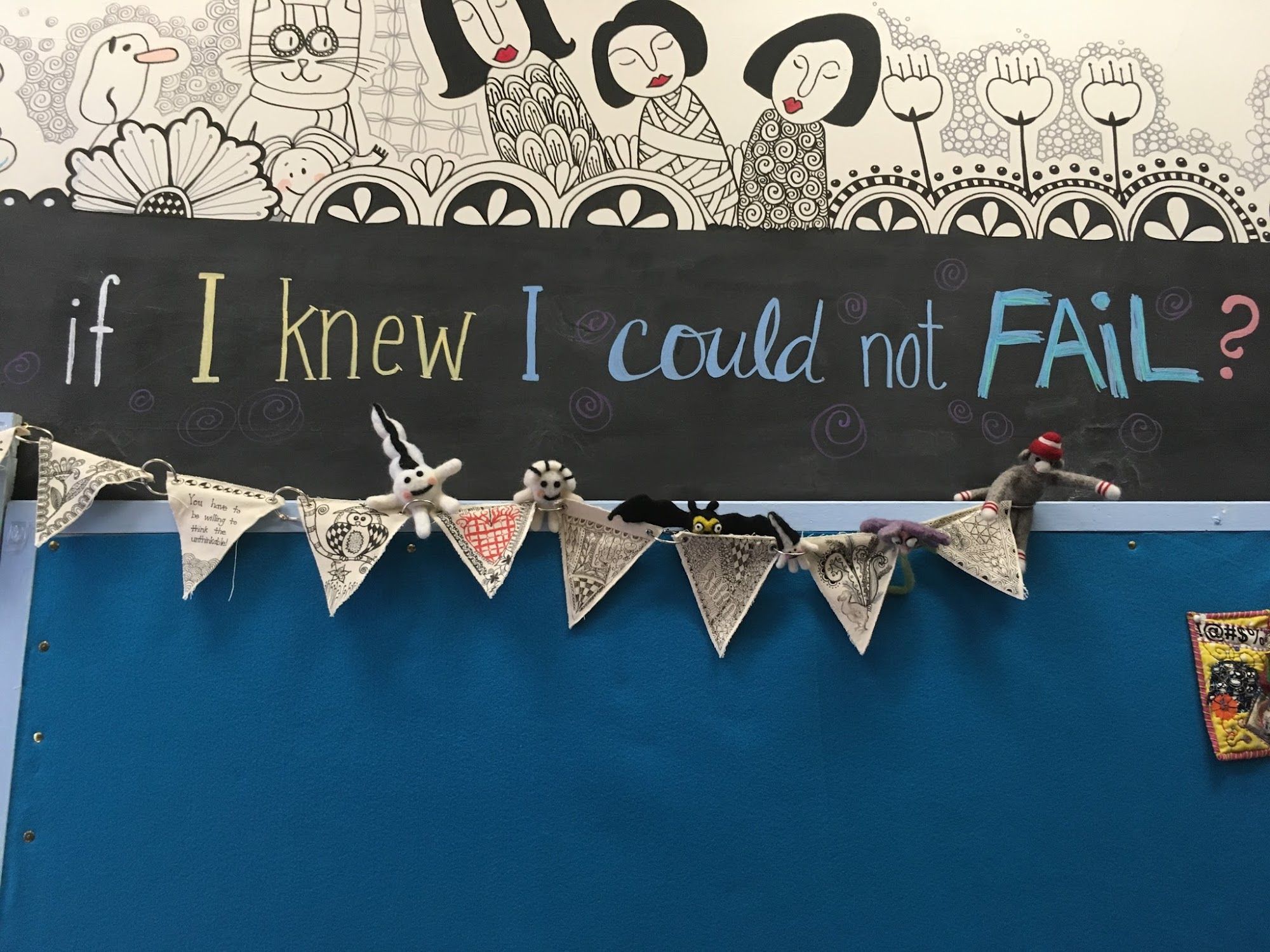 And this is where I have been drawing my comics for the last few weeks! I'll write another post about the comics next week (when I get internet for real, yeah!)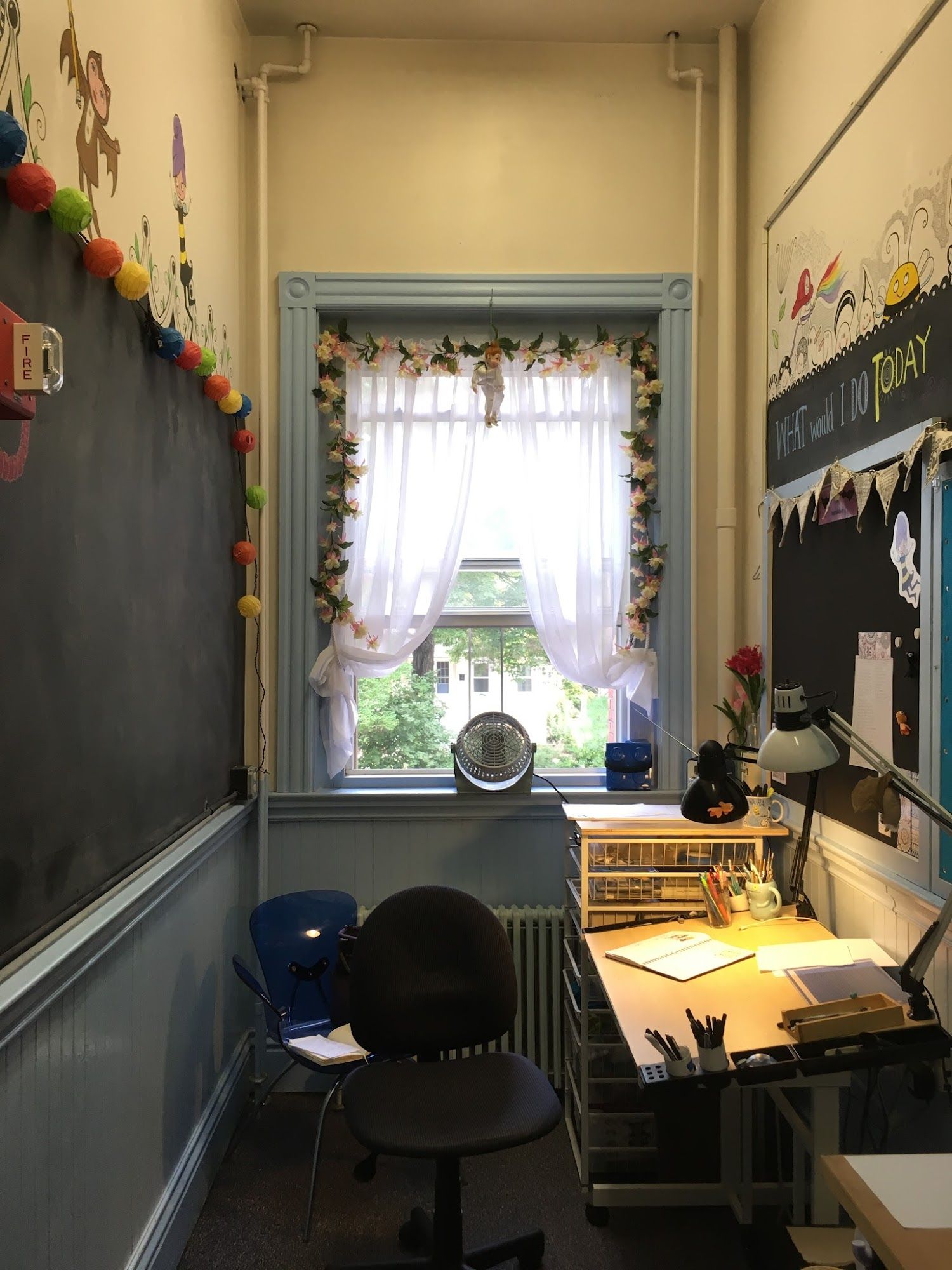 Oh - and Deb from Sew Sisters (studio next to mine) made me a curtain that I can close when I'm trying to concentrate!