Visiting Artist - Bill Griffith
Our Visiting Artist today was Zippy the Pinhead! Well, Bill Griffith actually, but he IS a cartoon character in his own comics. This was one of those visits where, even though I had heard of the famous cartoon, I was not much of a fan. But after hearing the story of its creation, and the back-story - I found a new admiration and understanding for the characters.
It was interesting to hear stories of his "boring" childhood in Levittown. In a town of sameness, he lucked out living next to the only Beatnik/artist... who used Bill and his family as models for his science fiction book cover illustrations!

It was probably not a coincidence, but on Monday, in Comics History, we studied Underground Comix - and THIS artist - was part of THAT movement.

Zippy the Pinhead was based on a circus "freak" known as "Schlitzie". Bill Griffith's current project is a book about the real person. Zippy, Mr. The Toad, and Griffy are the three main characters of the strip - each playing a part of Bill's personality.  Zippy, and all the other Pinheads, live in the city of Dingburg. Bill showed us a detailed map he'd drawn of the entire city! And, my favorite quote from today is:

"Going too far is half the pleasure of not getting anywhere." - Dingburg City Motto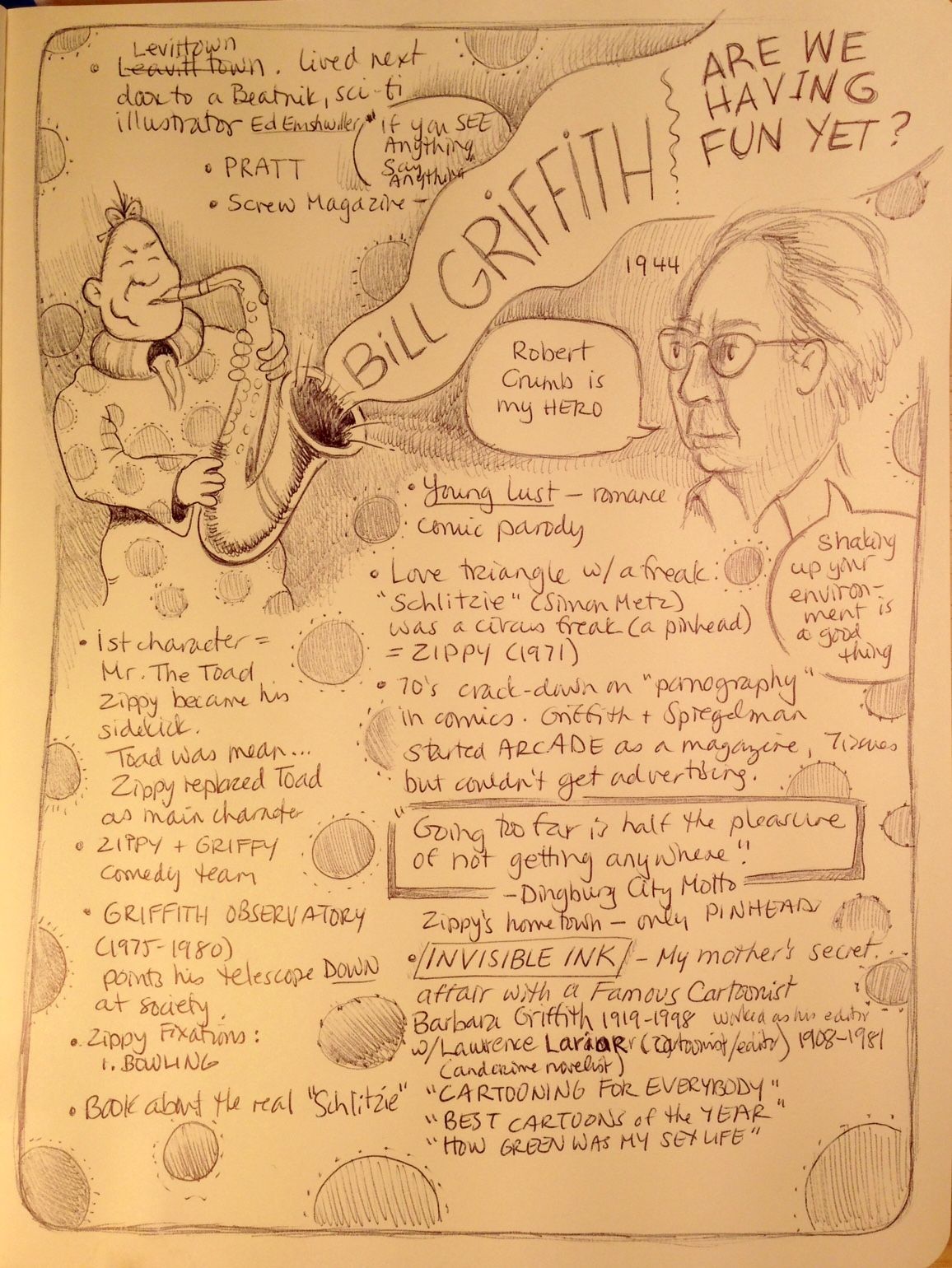 Bill Griffith's latest book is called "Invisible Ink - My Mother's Secret Love Affair with a Famous Cartoonist". It's a true story pieced together from letters, family stories, his mother's diary and her novel. The Famous Cartoonist was Lawrence Lariar who was prolific and popular... and completely forgotten today. BUT! I was weirdly excited to realize I own one of his Cartooning books "Cartooning for Everybody". How cool is that!?