The Middlebury Diary, Part 2
I updated the first blog post with the photos, so take a look at that one HERE.
Saturday was the BIG event! The Non-fiction Comics Mini-Fest at the Vermont Folklife Center in Middlebury, VT. I was surrounded by amazing cartoonists!

Marek Bennett (in the hat) was responsible for telling me (MANY years ago) that there was a little school in Vermont devoted to teaching comic creation, and I should go there... Steve Bissette, in the center, was one of my favorite teachers there (at the Center for Cartoon Studies), and Andy Kolovos, on the right, invited me to the Vermont Folklife Center for the mini-fest!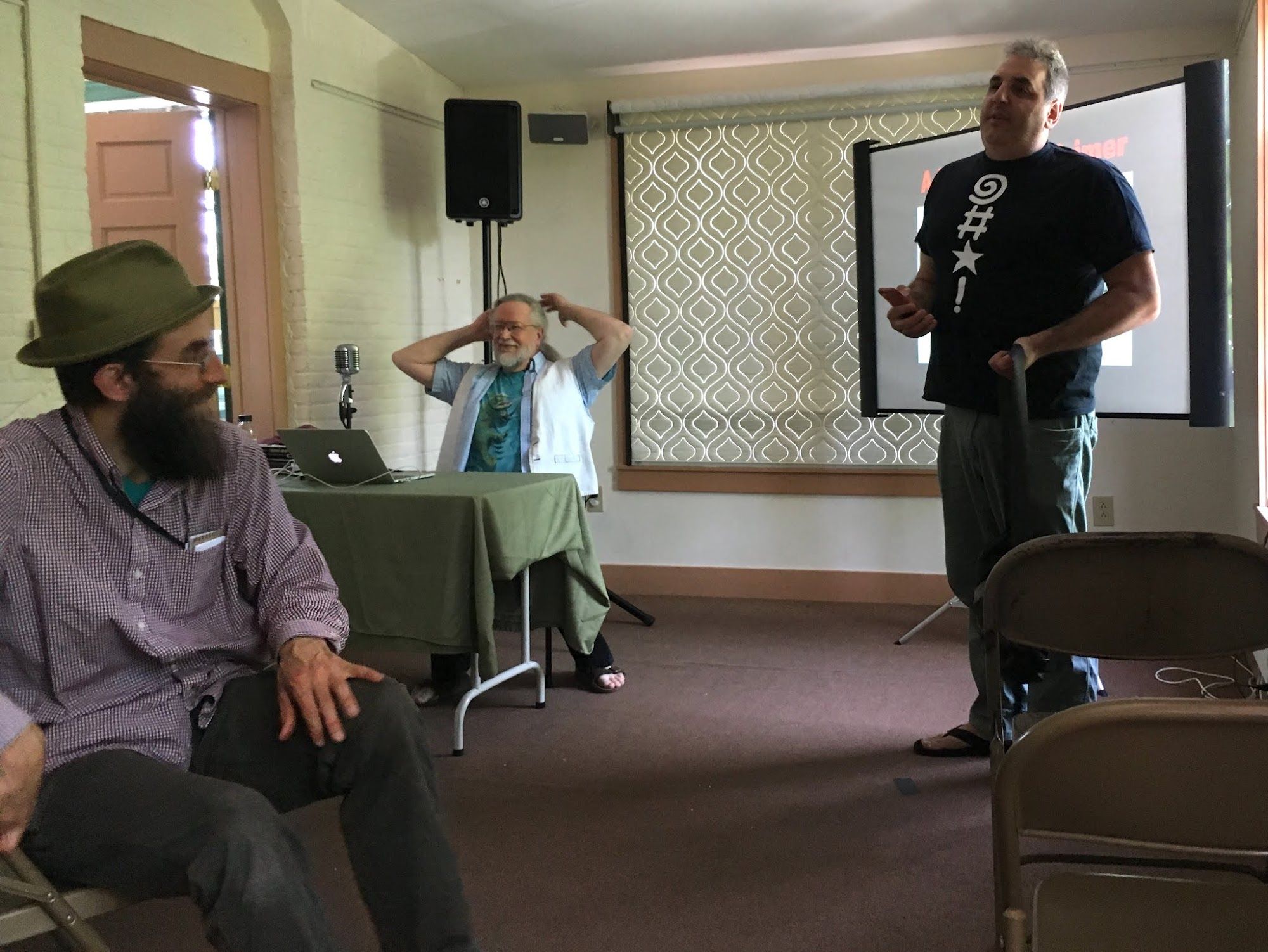 Steve signing his new dinosaur books...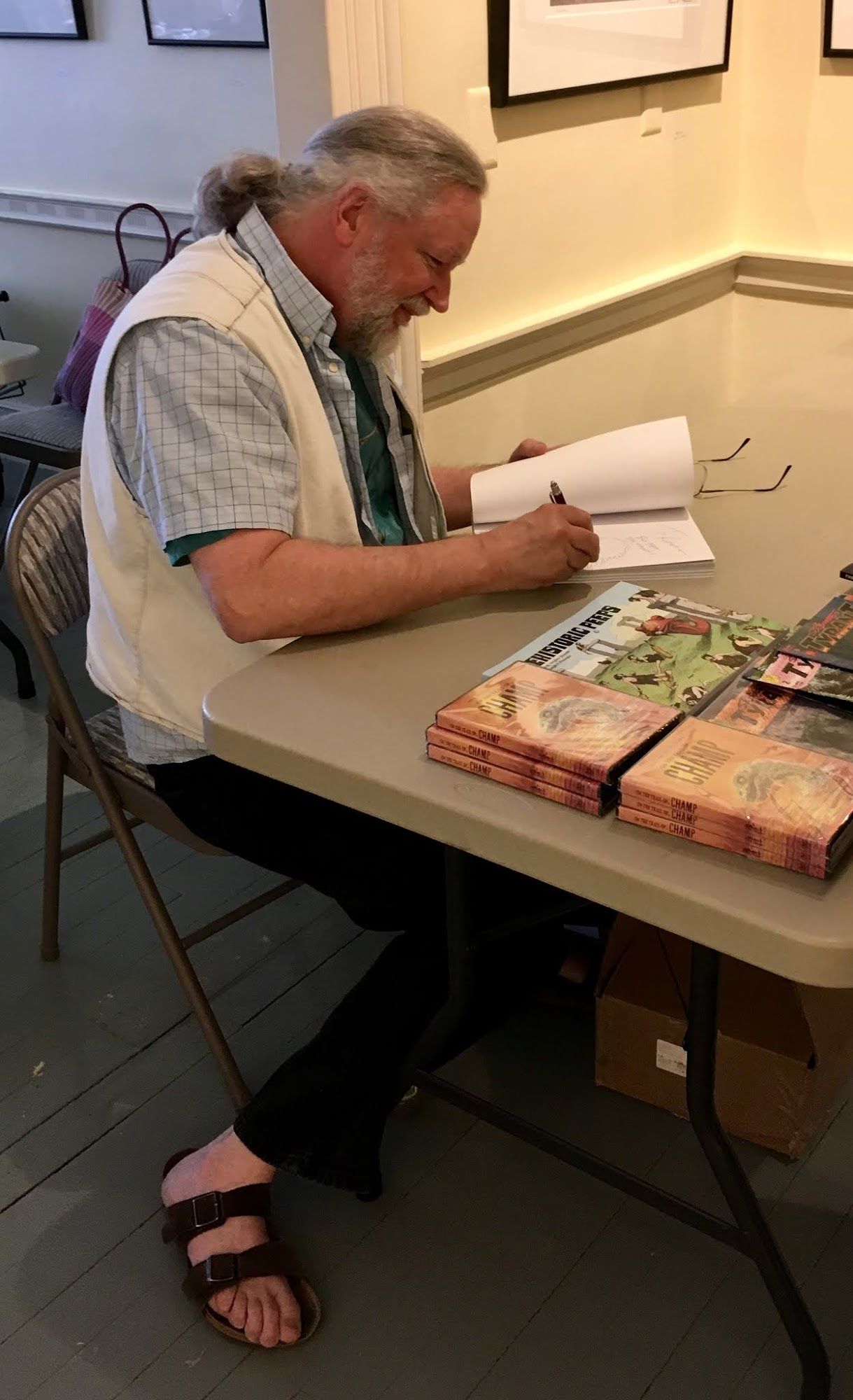 Isaac Cates - oy! If you haven't seen the Cartozia series, they are AMAZING! Literally, some have mazes. And maps. a whole mess of amazing cartoonists creating a round robin type of comic - working off each others characters and story lines.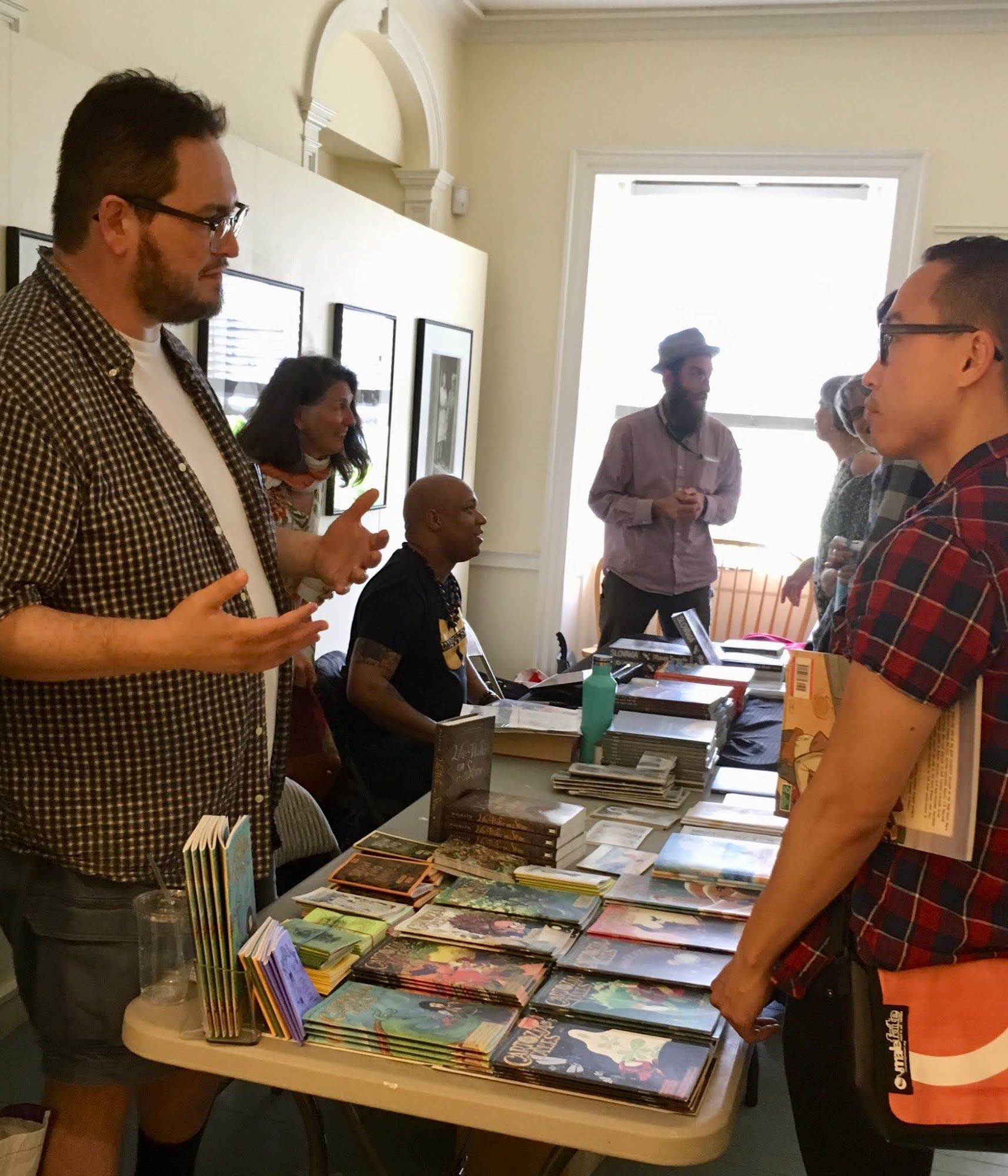 To the right of Isaac is Dana Walrath. She was a visiting artist at the cartoon school and is known for her book "Aliceheimer's: Alzheimers Through the Looking Glass".

Seated is Joel Christian Gill who was also a visiting artist at the cartoon school. He creates a comic of "Uncelebrated Narratives from Black History" called "Strange Fruit".

Sarah Rosedahl (left) is ALL about chicken comics - comics ABOUT chickens... not FOR chickens. "What the Cluck?" love the title! And Stefanie Zuppo (right) - juggling comics, The Ladybroad Ledger comics newspaper, AND a new collaborative art studio in Essex Junction, Words and Pictures. Whoa. Superhero.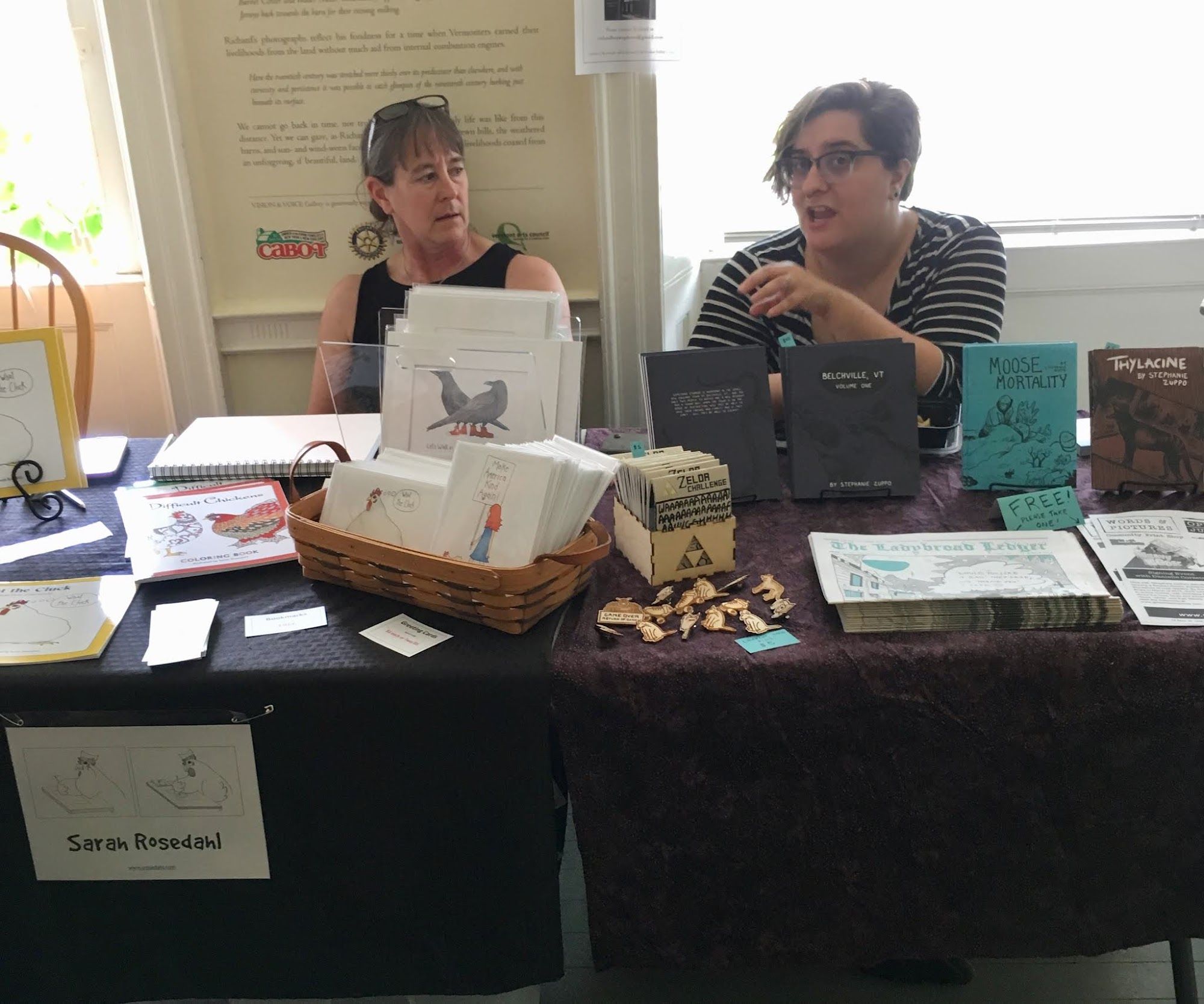 Robert Waldo Brunelle Jr. - his comics Explain it All!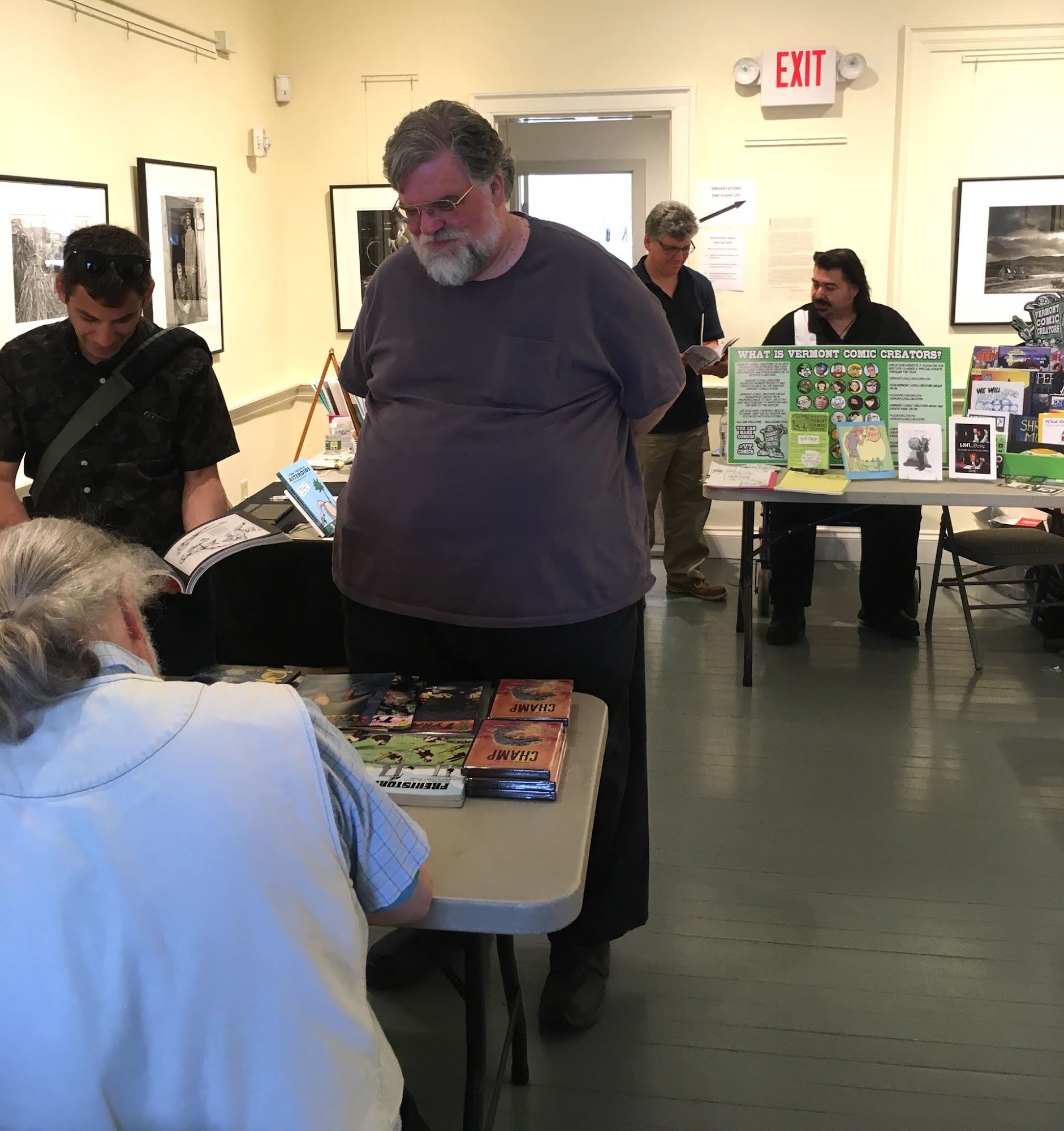 Below: Kevin Kite (left) was my tablemate - he does science comics with very cute characters.  And Gregory Giordano - with the cool mustache - who created the Vermont Comic Creators group (I'm a member!)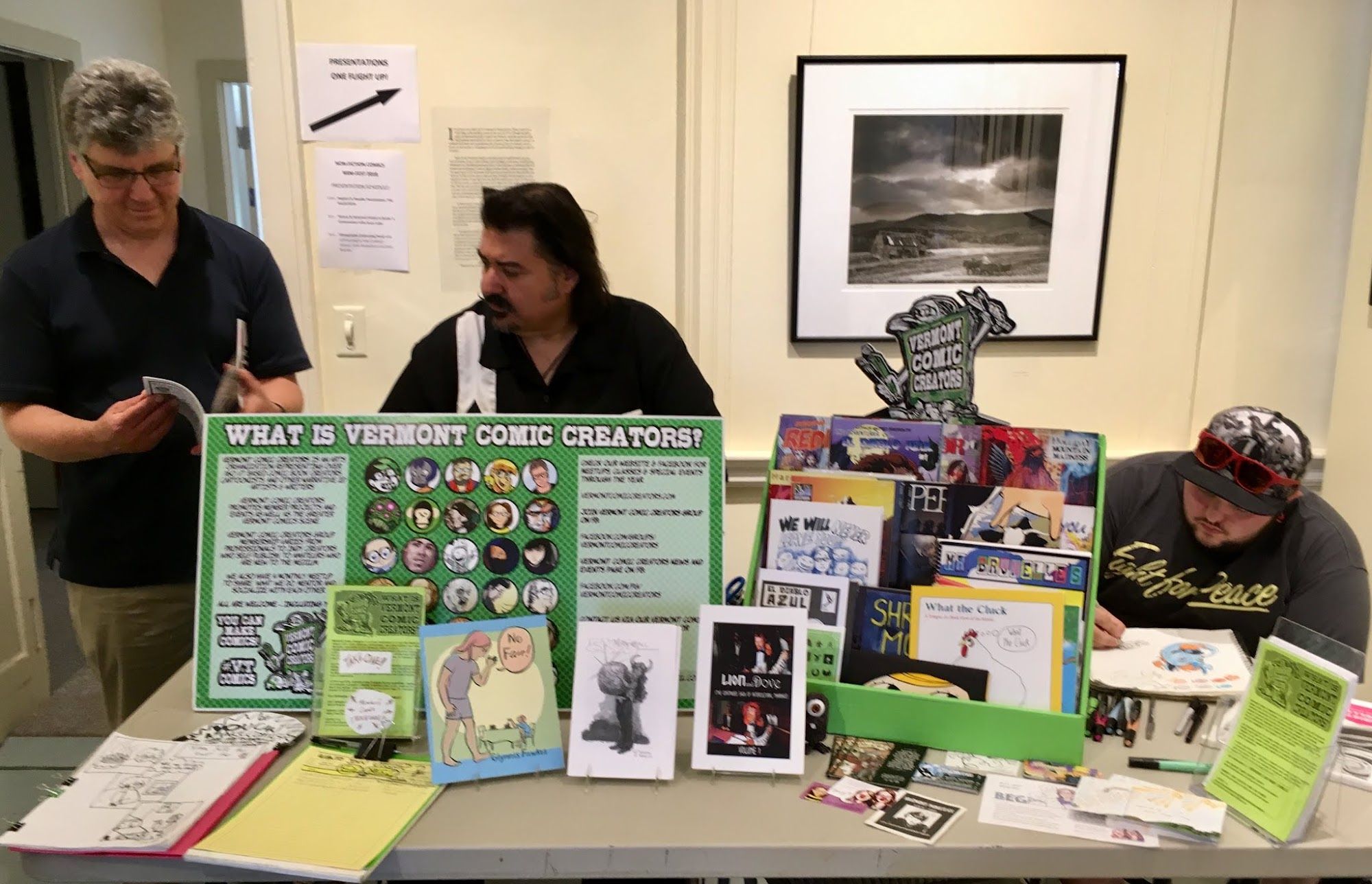 Not pictured, but also awesome, is Bryan Stone - who has been emailing me advice on how my daughter can get started in the world of Dungeons and Dragons! It was fun to finally meet in person.

Oh yeh, and then there was ME! Yes - I know I look a little... perplexed...
I brought my dummy for the picture book I just finished, "Ready, Set, Gorilla!" and the new science comics - also JUST finished.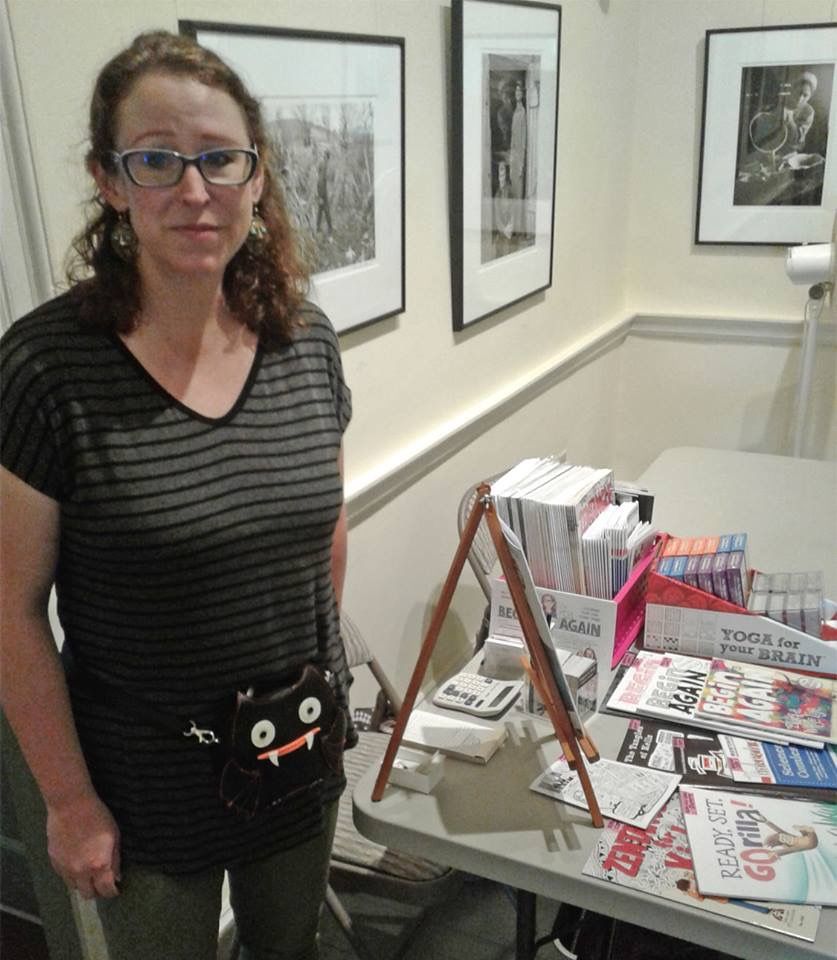 I want to take this house home with me!! It's so quirky - looks like the house of a cartoonist, right? Or a tiny house for the Addams Family. One of the best parts of driving through these Vermont towns is seeing the amazing houses! I would never be able to choose just one.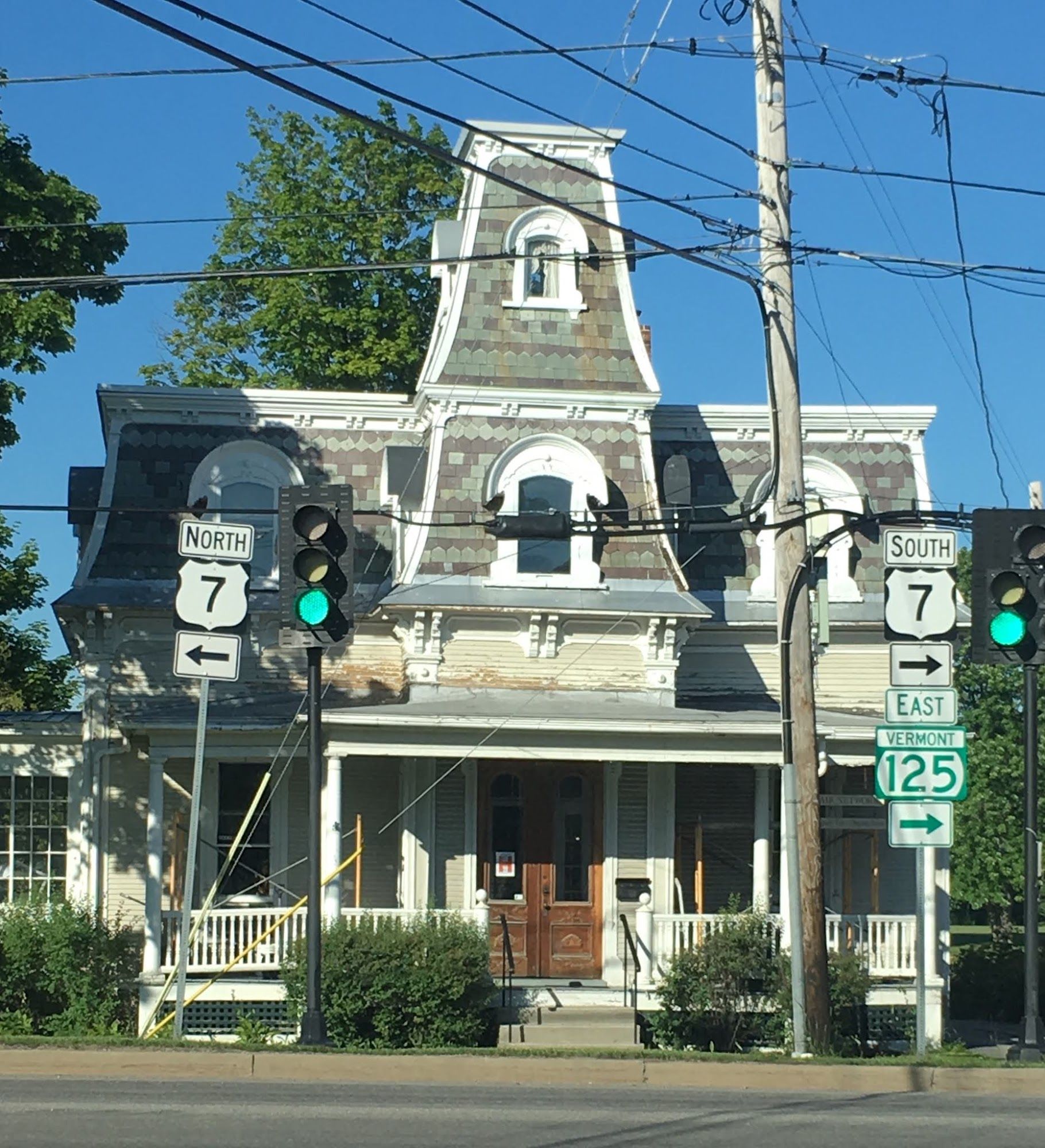 As you can imagine - my brain was fried. By Sunday morning, the social hangover was kicking in hard! I slept through 8 alarm snoozes and decided to go "walk it off" at The Montshire Museum of Science.

It was nice and quiet there until later in the afternoon when folks realized that 90 degree weather is the perfect reason to take advantage of the science waterpark. I walked out to the other water features...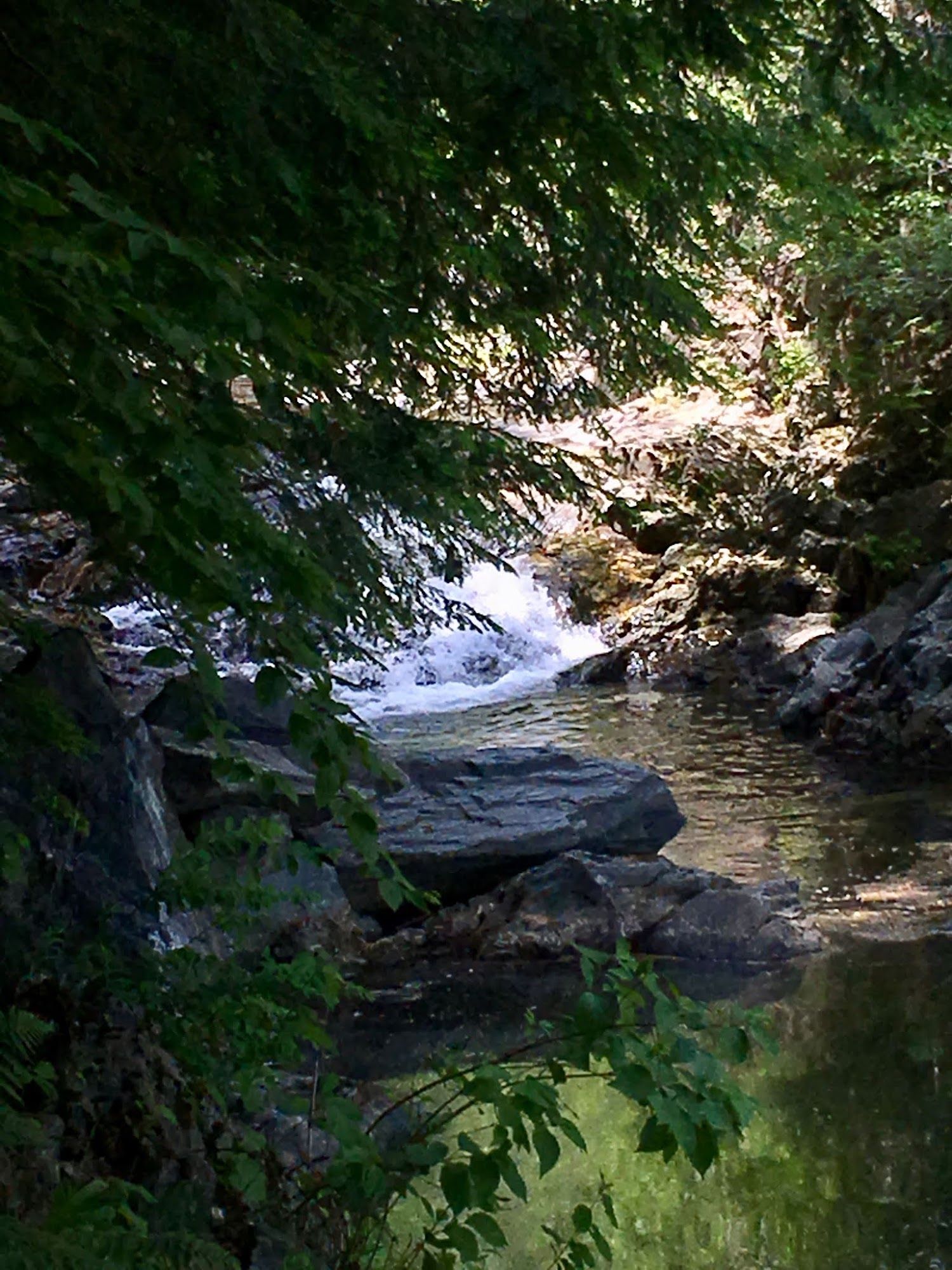 I'd walk for a while, then sit and "think". I usually do this by the ocean, but this waterfall had to do the job. And then a lake... I'd think of a subject that was giving me trouble, and ask for a sign. The Studio? Money? The Fireman? Etc. I had no answers, but I was feeling a lot calmer than I had in...months.

I was deep in the forest when my phone buzzed - with a text from The Fireman. Seriously? Does that count as a sign? What does it mean?

I turned my phone off. And kept walking.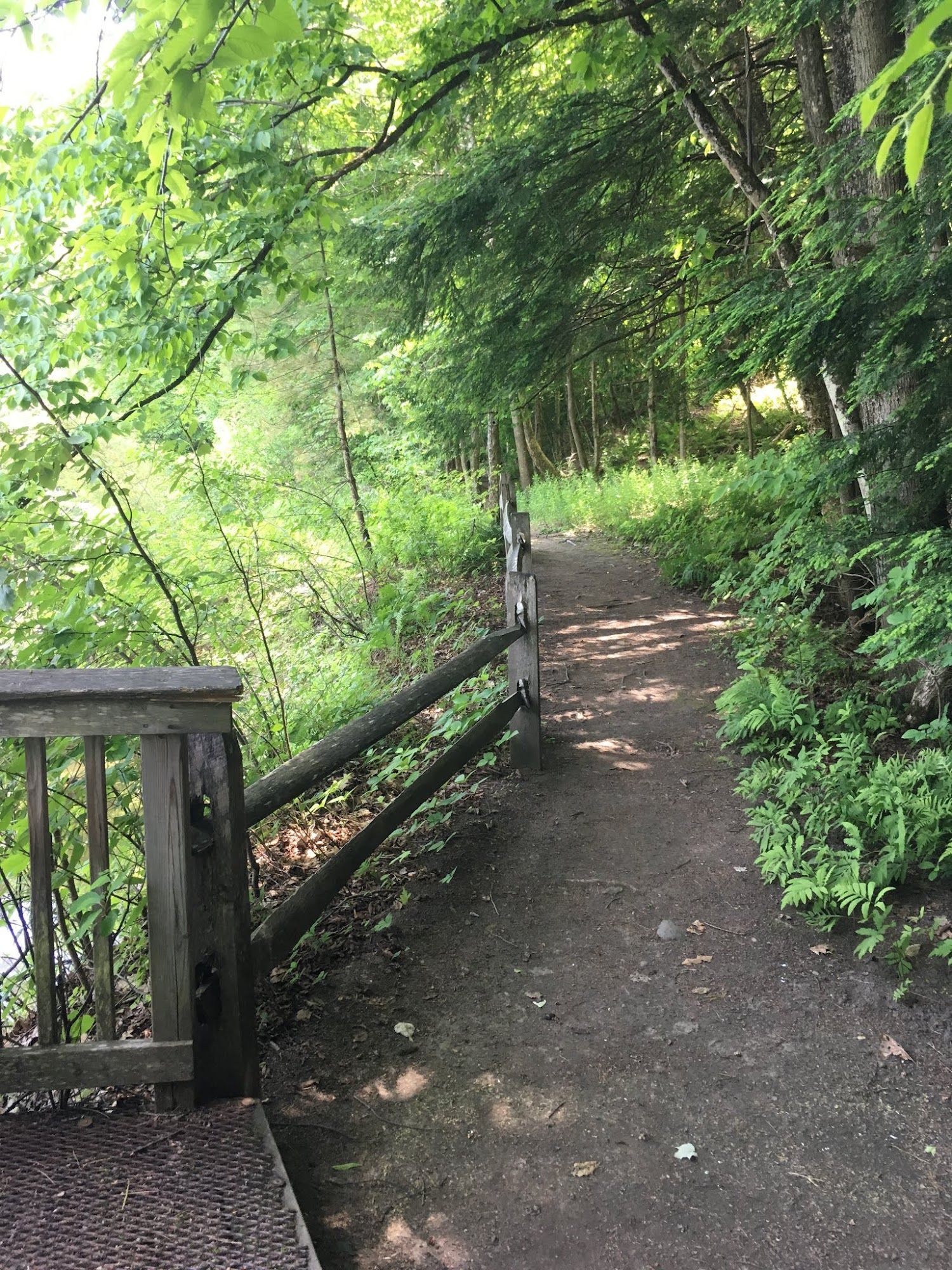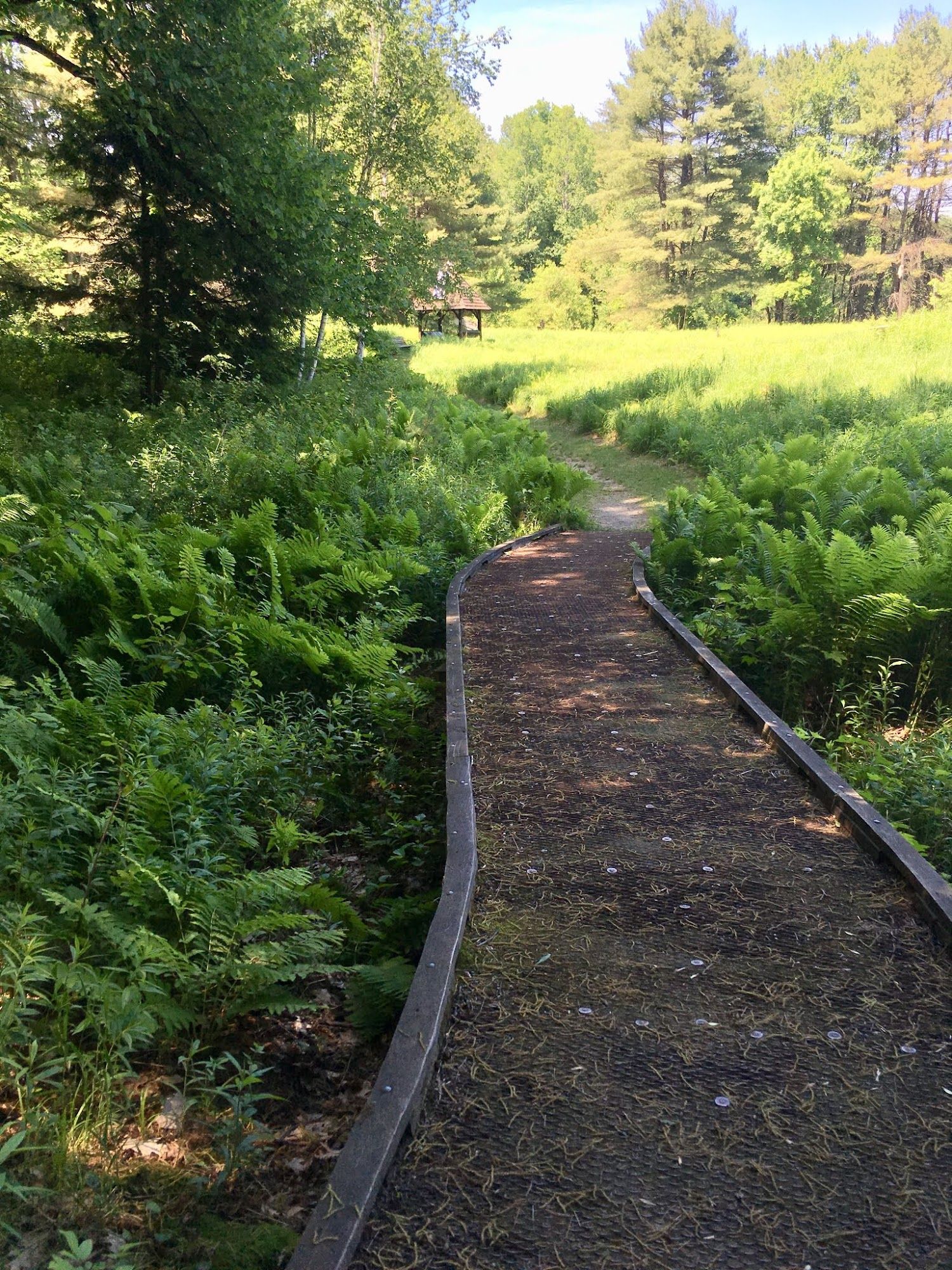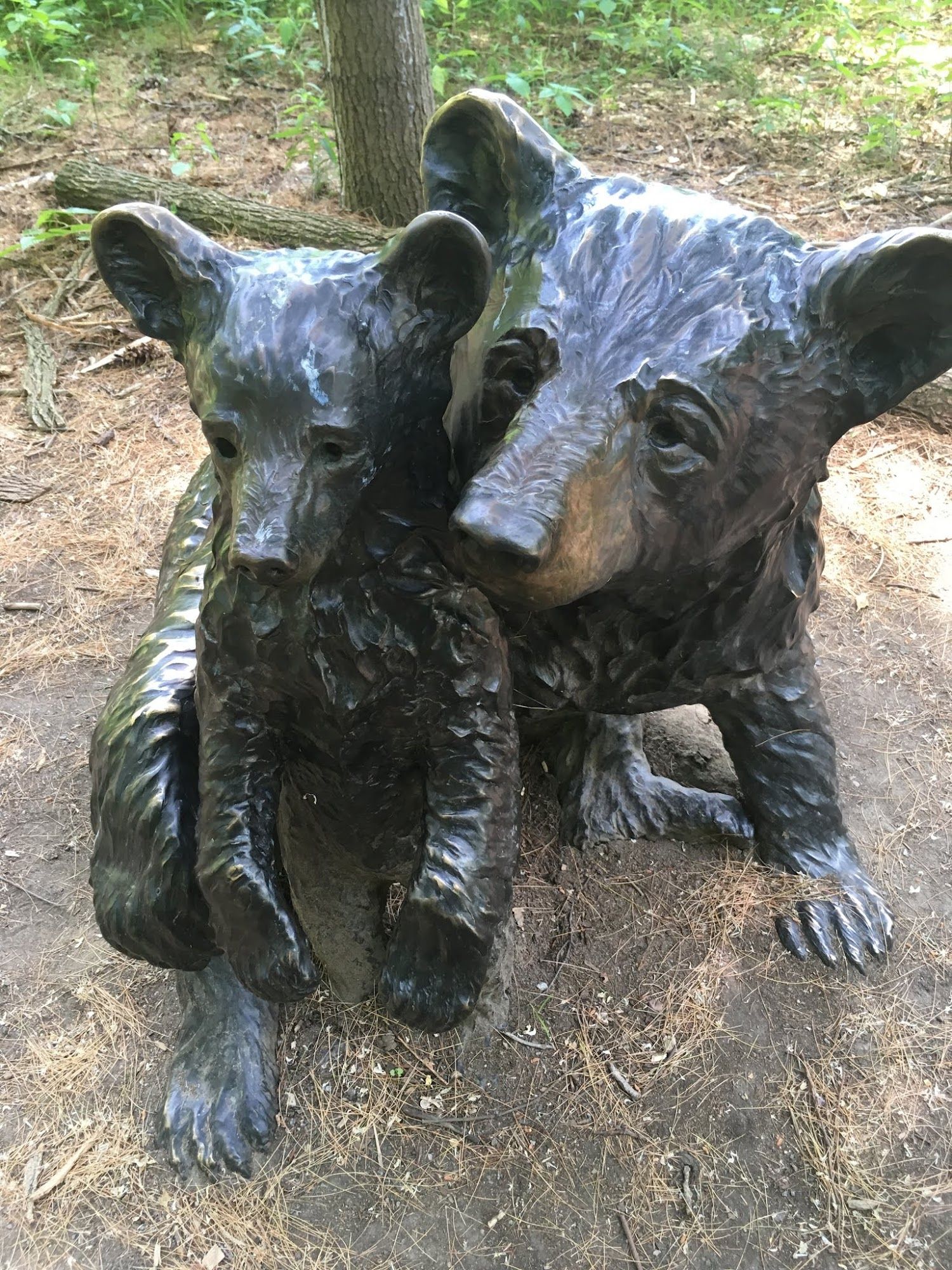 I had my lunch under a tree and when I couldn't put it off any longer... I finally drove home.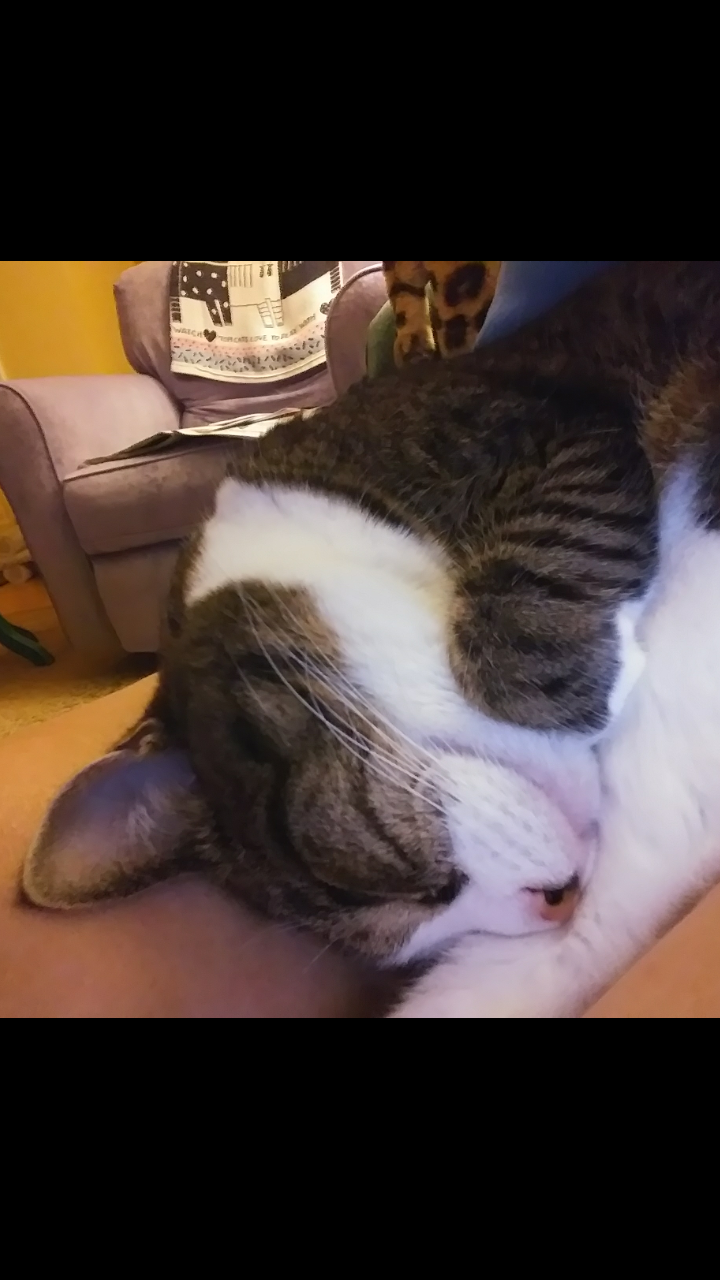 Minou let me know that she had been very well taken care of by Laurie - and I admit - for a minute or two - I thought about getting back in my car, and returning to Vermont!