Tangled Fashionista Review!
Run. Don't walk (actually just click this link...) over to Sandra Strait's blog Life Imitates Doodles!! She just posted a review of my new book, Tangled Fashionista. Yes, yes, that is exciting, and it is a very nice review, BUT her artwork...OH! Under the guise of "testing" the book's paper, she did pages with Copic markers, some with watercolor pencils, even a ballpoint pen... and every single "sample" is a masterpiece. Don't believe me? Go look RIGHT NOW, then come back and leave a comment here and tell me if I am wrong!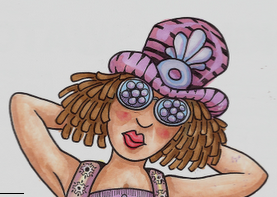 And here's her shortened link: http://bit.ly/I2AOyh  put it in your Twitter and Facebook messages, OK?