Tangle of the Week - Pane & Beedle
I got a bit behind with patterns, so here's a two-fer - Pane and Beedle.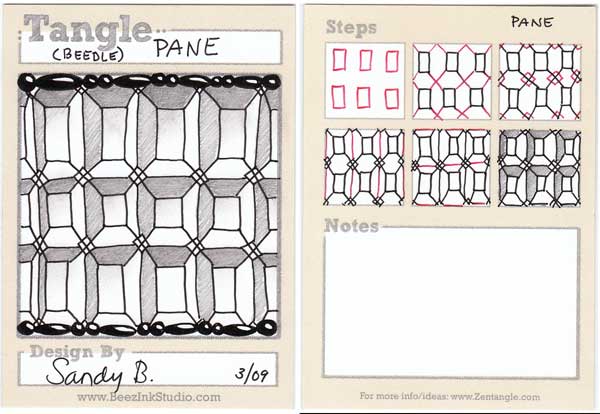 I think they look rather Holiday-ish. Good background for a wreath or a cozy fire... These two tangles are ones I designed based on some carved woodwork (Beedle) and a stained glass window (Pane). Although Pane also looks like a coffered ceiling or wood paneling. To make it look more dimensional - after you shade the top and left sides of each section, try smudging (with your finger) across the upper left corner of the back square (or rectangle).
Beedle doesn't need step-outs to draw. It's just like Pearlz - a row of circles - but you can alternate circles with ovals. To have white beads, just add a little crescent of shading near the bottom of each bead. For black beads, draw a little circle (or oval) at the top of each bead. Leave that part white and color in the rest. Easy. Remember, to make something look like it is in front of the picture - draw it FIRST. Everything else goes behind it.

Oh - and Happy Holidays! If you are feeling a bit bah-humbuggy (I admit I am) and stressed by all this... stuff... right now. Take a break and do a Zentangle. Look around at the beautiful lights, candles, wrapping paper and create your own new tangles. Appreciate the spirit of the holidays. Then you can use the resulting tile as a gift card or stocking stuffer. Very practical. :-)