Tangle Cards Another Update
As an aside: Lilah (my 6 year old) is watching Harry Potter and the Sorcerer's Stone and Hermione (my favorite character) has just frozen Neville.
Ron looks at her and says "You're scary! Brilliant. But scary."
I like that version of being called "scary." I could do worse than have Hermione as my role-model, right?
I have had a bunch of inquiries about the really cool POP display I posted a while back.  Troy, the art director at Fox Chapel, sent me the picture of the final display...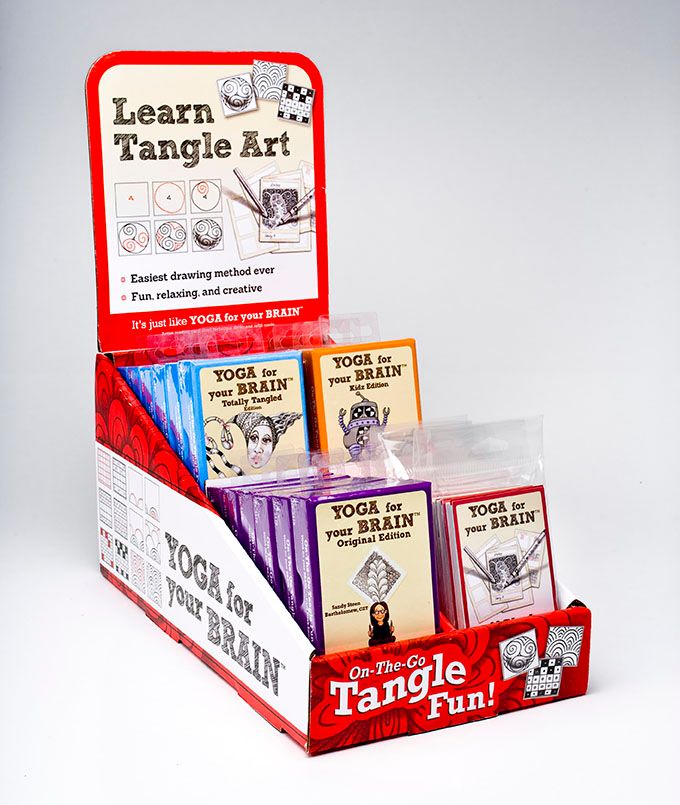 It's beautiful isn't it? sigh.
Right now, there are only a limited number of them available and they only come filled with product. If you are a CZT and want to order it, you will need to contact Jennifer Vasko at Fox Chapel Publishing.

If you are looking for smaller quantities of the Tangle Cards at wholesale, to resell to your students or in your shop, you can get them through me in an Assortment of three packs each in my Wazala shop along with any of my books. They are also available there for retail (that's for "regular" folks). And remember, my Tangle Card packs come with special "prizes" that you can't get if you order on Amazon or from the publisher. ;-D

Normally, I am happy to sign any books (or card packs) that CZTs order from me, but I am going to Santa Fe on Wed. to teach at the Art Journal Retreat - I'll be back on Sept. 23rd.
Bonnie B. - my Studio Manager Minion - will be holding down the fort... er... BeeHive - and she is very uncomfortable about my asking her to forge my autograph. So if you really need something signed, order it right now and I'll try to do it before I go. If you just want cards or books without graffiti, Bonnie will mail those out to you. And she is very generous with the tattoos when I'm not looking! ;-)