Quo Vadis Journal (Comic!) Review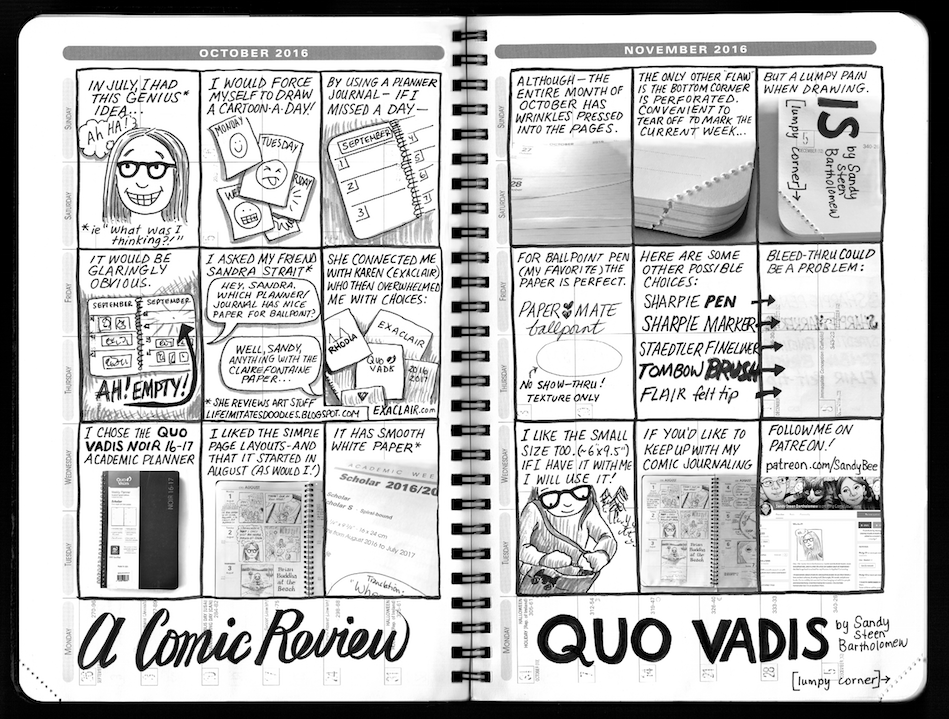 The pages are reproduced much larger below and I'll transcribe the comic's text too in case you are visually challenged. ;-)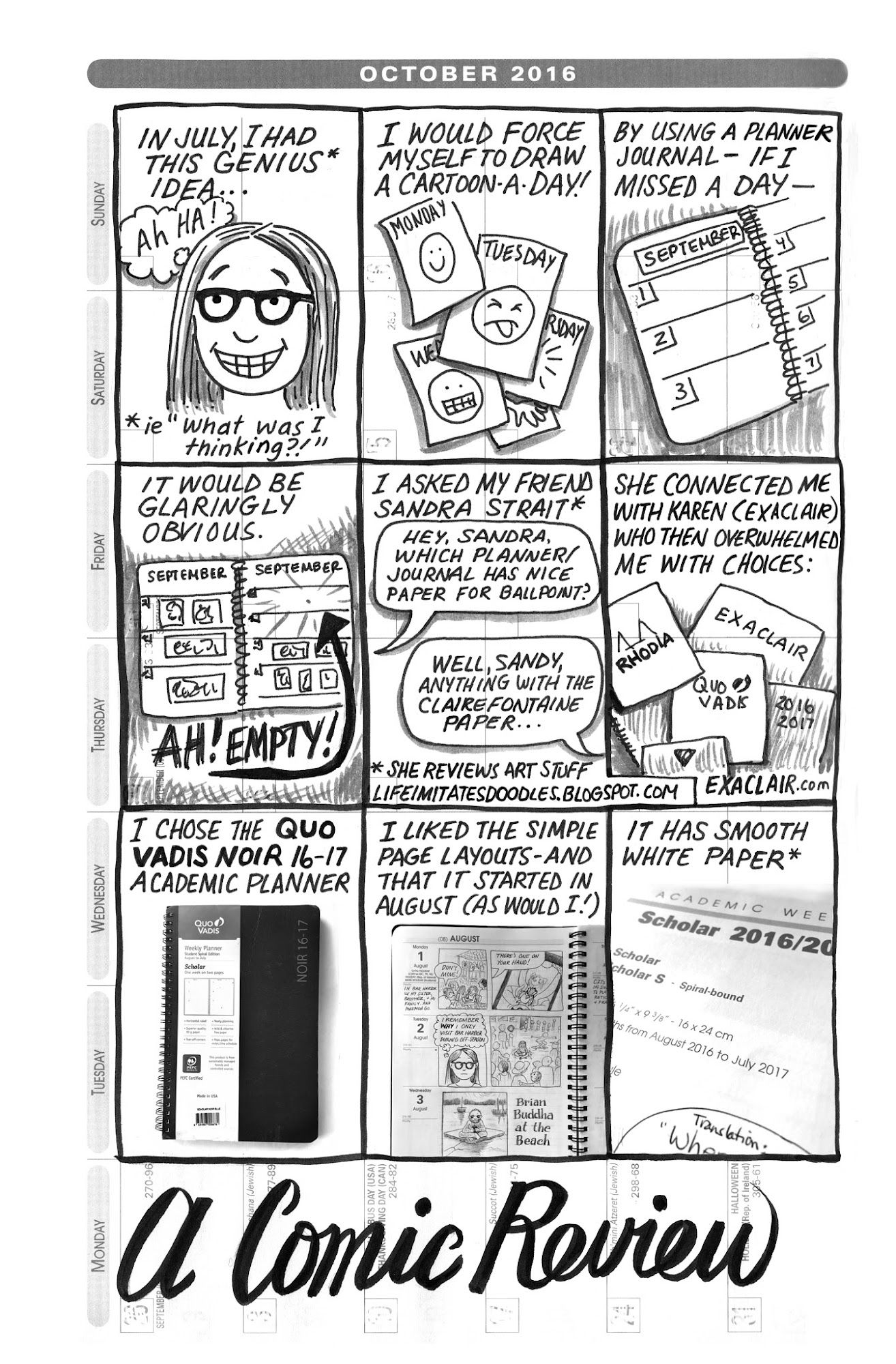 In July, I had this Genius Idea (i.e.: "what was I thinking?!"). I would force myself to draw a Cartoon-A-Day. By using a planner/journal - if I missed a day - it would be glaringly obvious.
I asked my friend Sandra Strait:

ME: Hey, Sandra, which planner/journal has nice paper for ballpoint?
HER: Well, Sandy, anything with the Clairefontaine paper...

(she reviews art supplies on her blog, Life Imitates Doodles.

She connected me with Karen at Exaclair who then overwhelmed me with choices.

I chose the QUO VADIS NOIR 16-17 Academic Planner. I liked the simple page layouts - and it started in August (as would I!)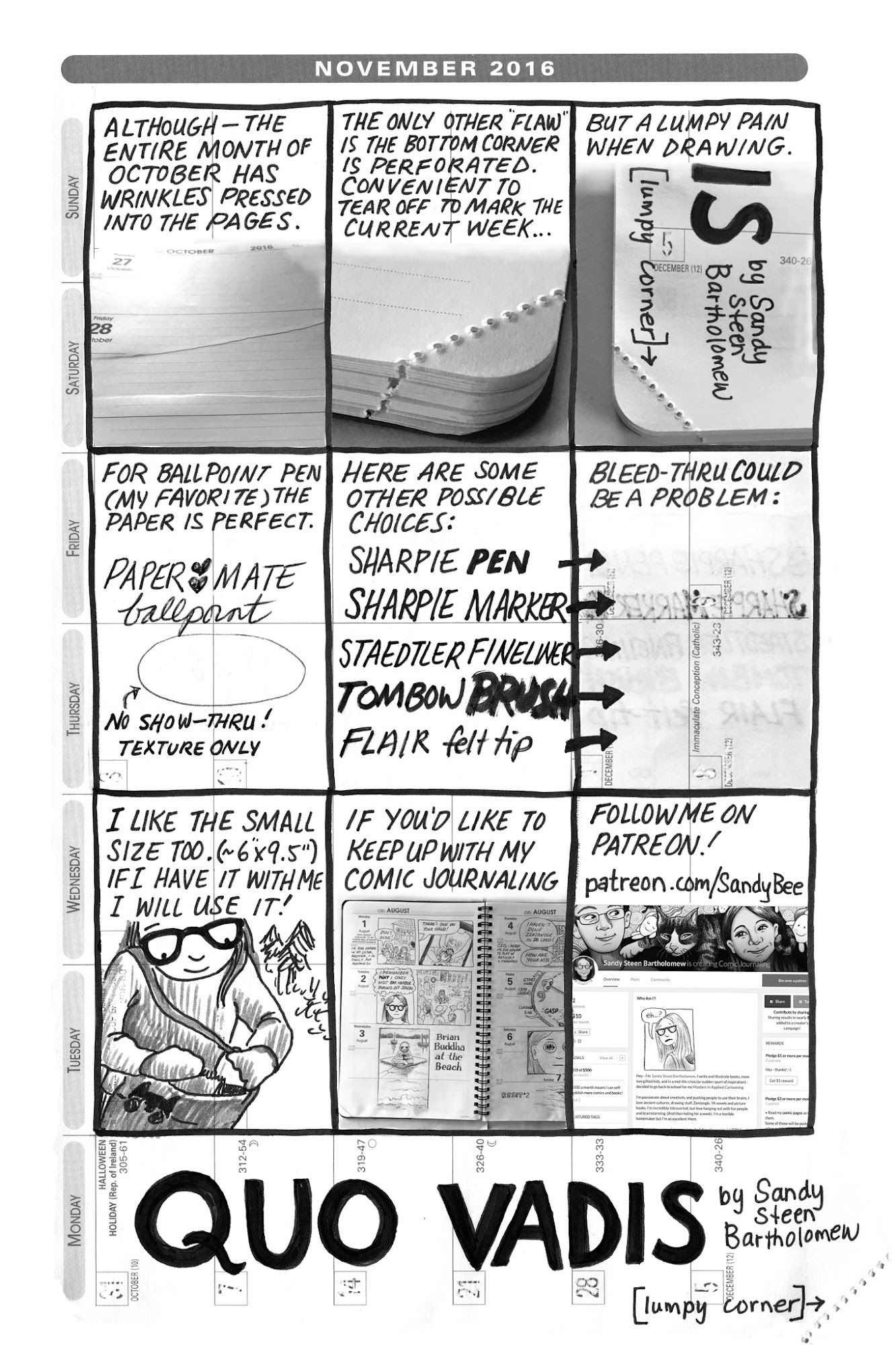 It has smooth white paper. Although the entire month of October has wrinkles pressed into the pages. The only other "flaw" is the bottom corner is perforated. Convenient to tear off to mark the current week... but a lumpy pain when drawing.

For ballpoint pen (my favorite) the paper is perfect. There is no show-through with the PaperMate ballpoint pen except for texture from the pressure put on the pen.

Here are some other possible choices:
Sharpie Pen, Sharpie Markers (these bleed through), Staedtler Fineliner, Tombow Brush and Flair felt-tip -- these all have just a tiny shadow showing through, but not too bad.

I like the small size too. (~ 6"x9.5") If I HAVE it with me - I will USE it!

If you'd like to keep up with my comic journaling, follow me on PATREON (patreon.com/SandyBee)

When I started the comics in this planner, my son (the language expert) told me that "QUO VADIS" means "Where are you going?" (Latin). It's what Jesus said to Peter as he took off... so I altered the title page...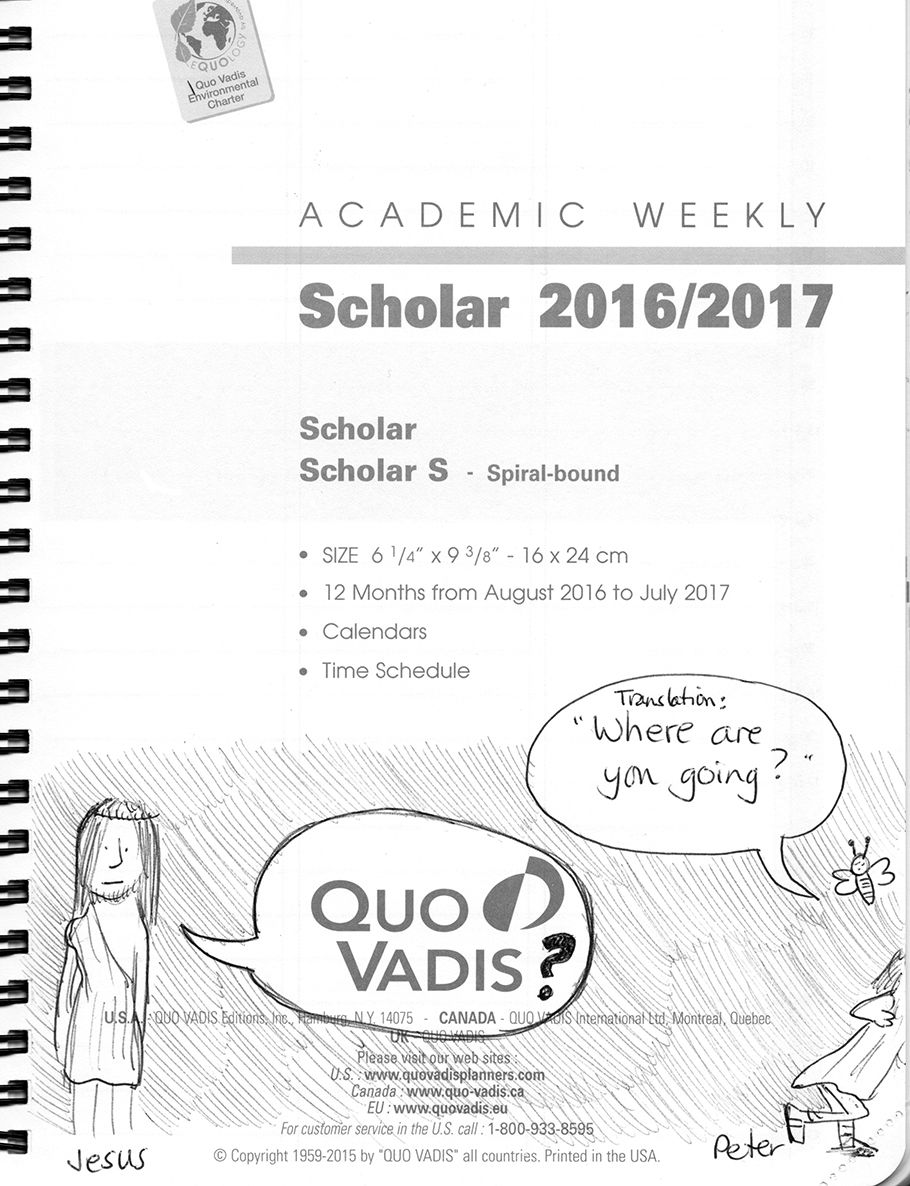 Here are a few of the Calendar Comics from this planner/journal...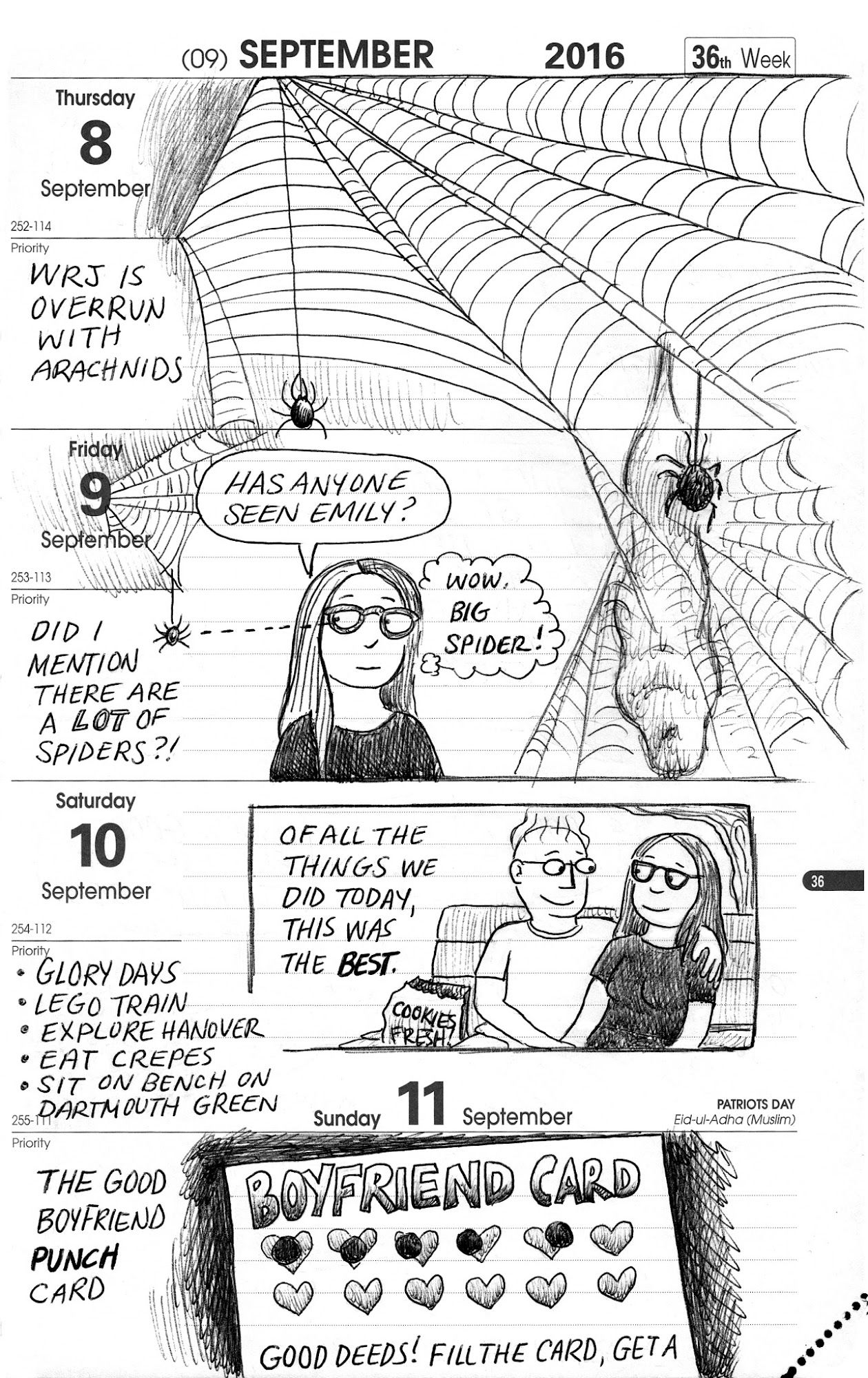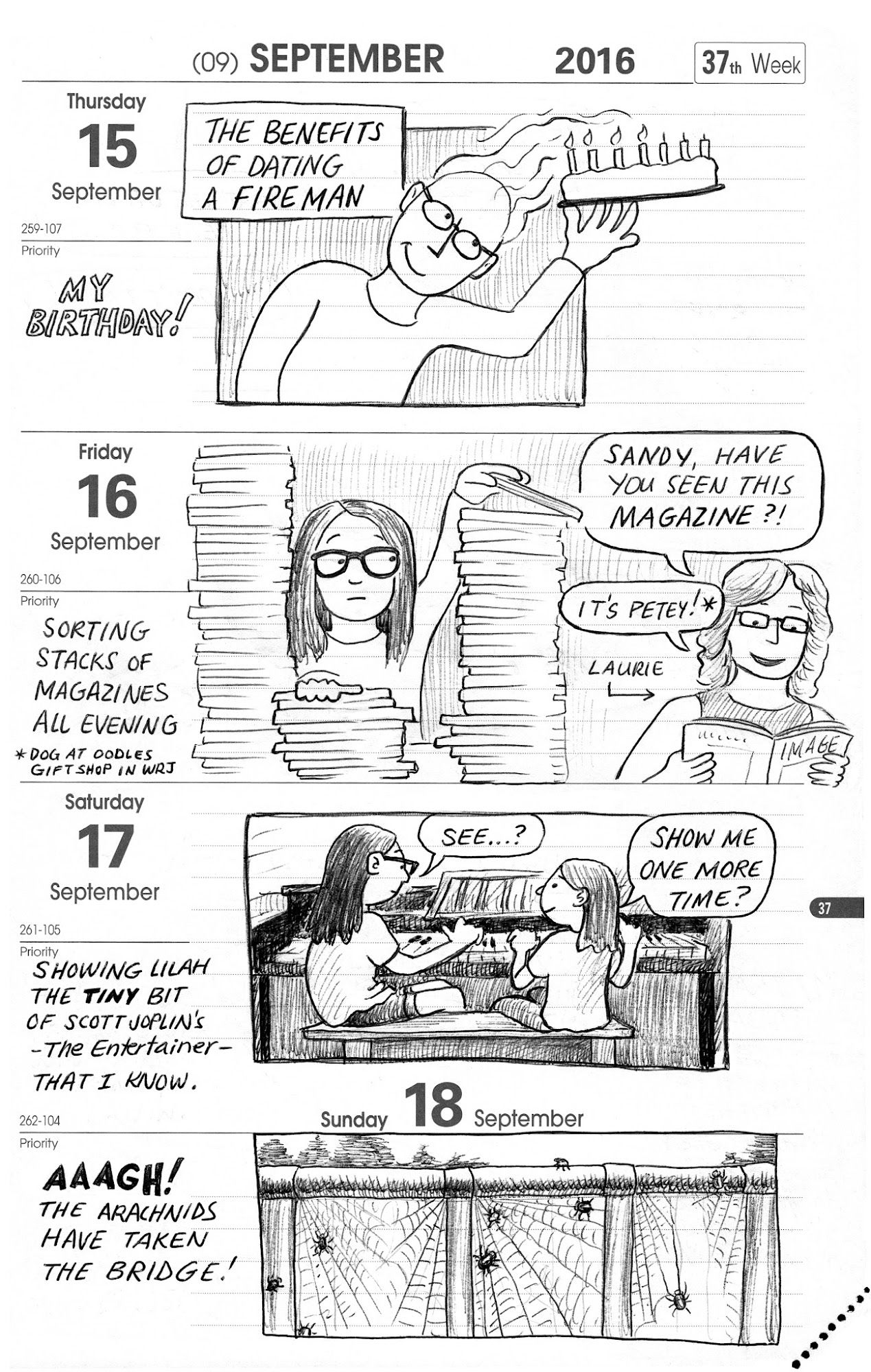 And once again - follow my comic journaling on PATREON (patreon.com/SandyBee)!


SaveSave