My Maine Retreat - Part Two
Where were we?
Ah, yes, my sister went back home and I got to work.
I had done a lot of mermaids during the vacation with the kids, but now I started the actual homework, part of which was constructing a mermaid shaped journal.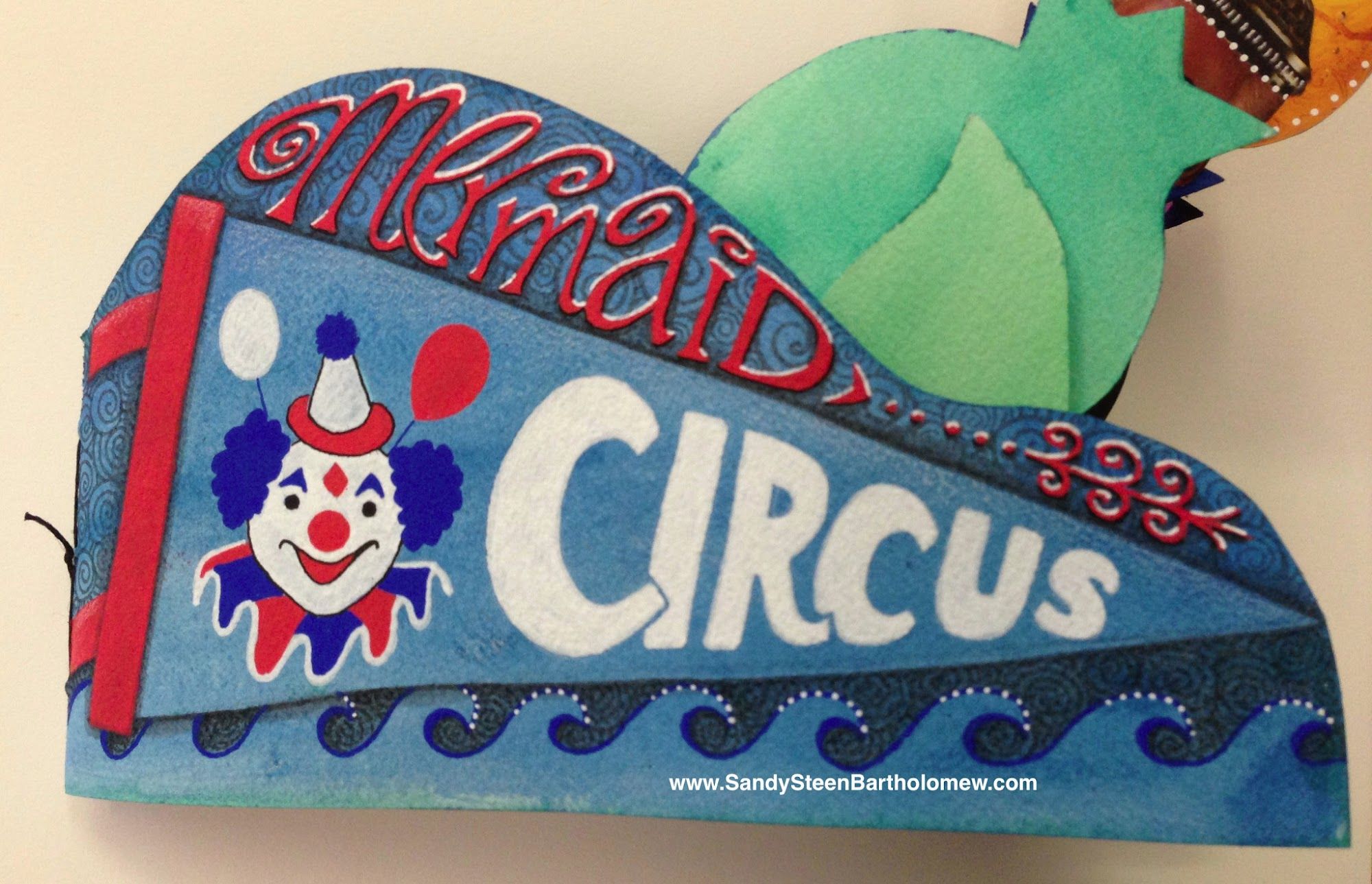 I admit that my interest is more towards the mermaids than the circus. I've always found the circus to be kind of creepy... sinister... and I passionately dislike clowns. But then, the mythology of mermaids is also kind of creepy and sinister... even Disney has some evil mermaids. OK. Maybe I like creepy and sinister? That's probably why taking classes is a good thing - it forces you out of your comfort zone.

I drew a vintage style pennant on my cover. Normally, I would do the cover after I had completely filled the book and knew what the true theme or storyline was. But I'm not sure if I will have a chance to go back and do more creatures in here since I am trying to keep up with the fast pace of this class.

Inside, I did two pages. The first is a steampunk inspired merman. He's more of an eel... the title came to me as I worked. "Serpent of the Sea" - if I'd given him hands, he'd be holding an apple. His form was inspired by a leather ottoman in a fancy catalog. I had to paint in most of it to connect it to his torso. (I'd love to make some kind of a comment here about what I was thinking, but I have been selectively gagged. Who knew there were blog police? You can have fun speculating. ;-) )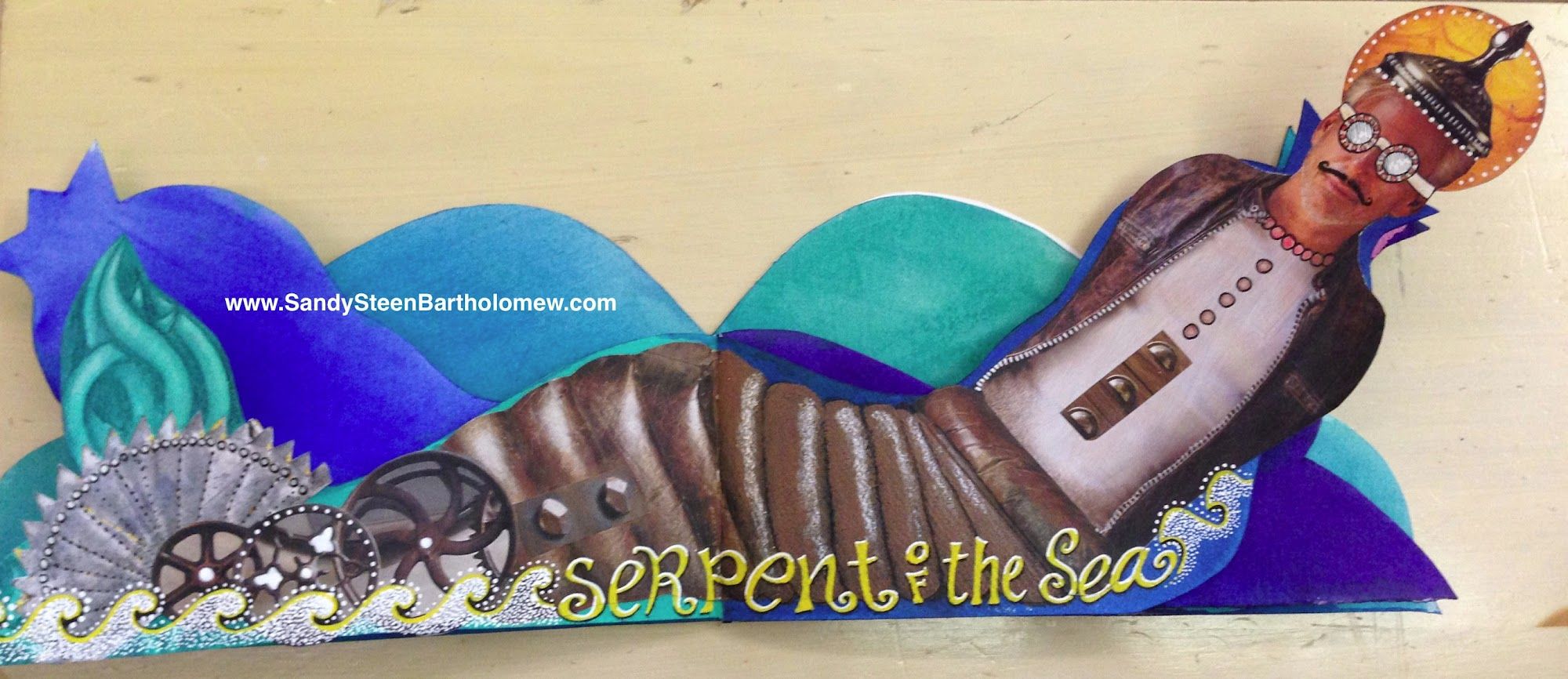 The second mermaid page was built off of a face I had already drawn.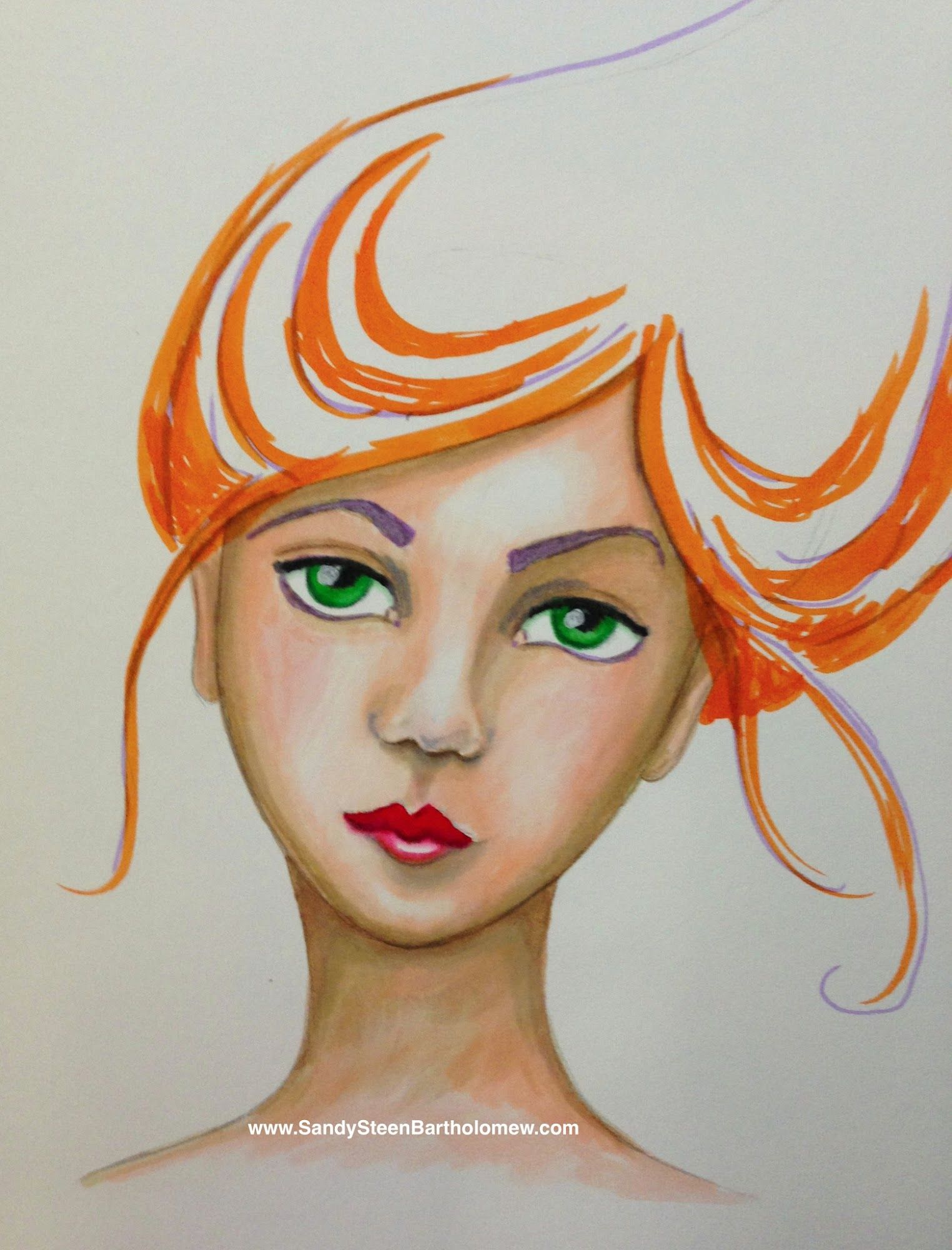 To create her scales, I cut all the little swatches from the bathing suit page of a Lands End catalog into scallop shapes. Then glued 'em down. I am LOVING paint pens!! I've always loved the Sharpie oil-based ones for working on walls and furniture, but now I have been using the poster-paint and acrylic ones to work over the acrylic paint and collage. They are wonderful for adding decoration, details and especially, lettering. My favorites so far are the Sharpies, Molotow and Krink. You already know about my intense passion for Inktense pencils. I also love using the big brush markers from Pitt. They have a new one in white. The Pitt markers are India ink based.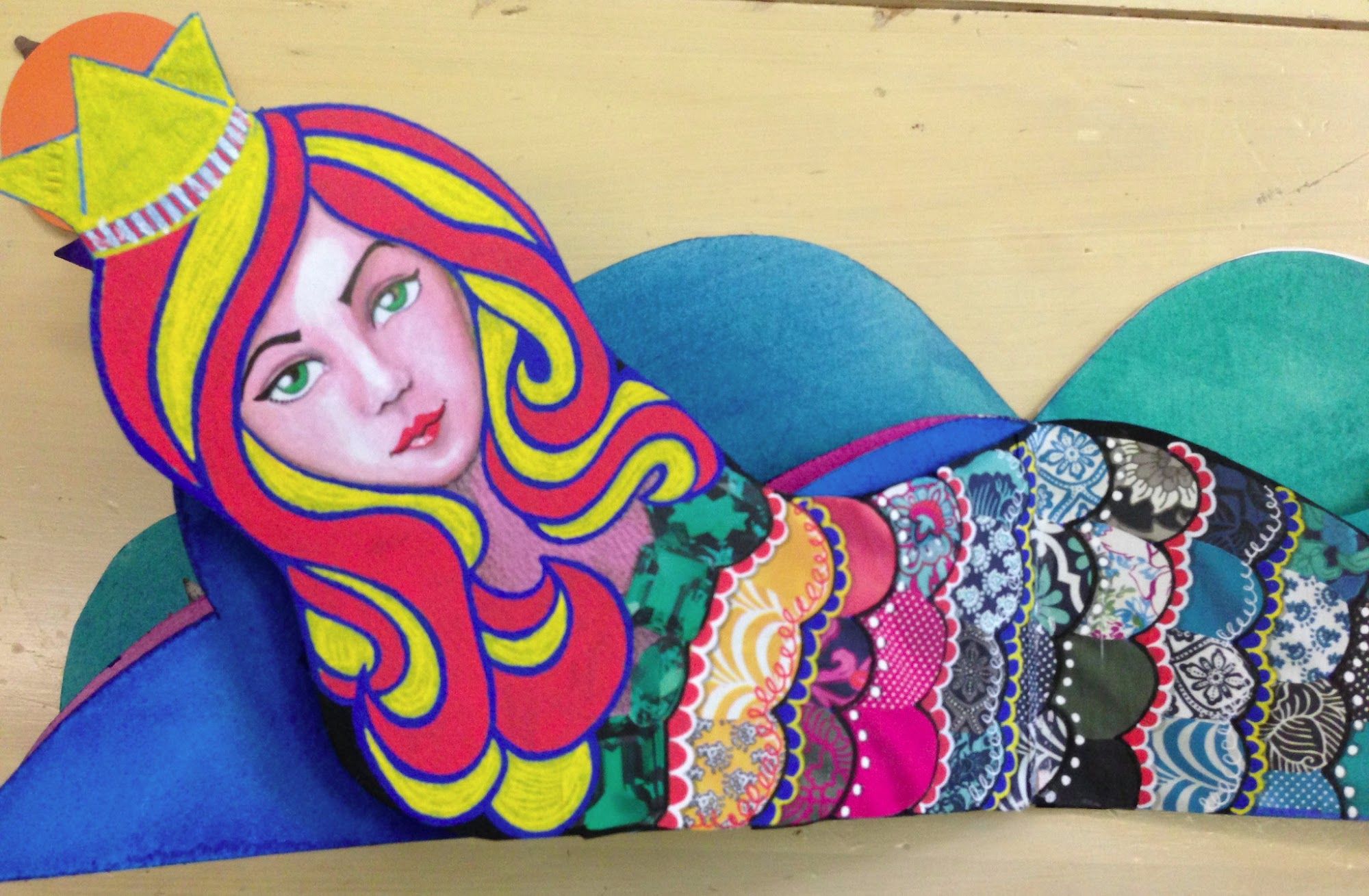 I prefer working in a more standard (un-shaped) journal and I found a fabulous, 11x14 sized hardcover one with thick, mixed-media paper from Strathmore.

Here's a before and after picture so you can see how the collage starts and finishes. Swimsuit models are great for mermaids! I cut the arm off this one and reassembled it, the skirt is part of a chandelier, and her headdress was a lampshade. I painted everything else.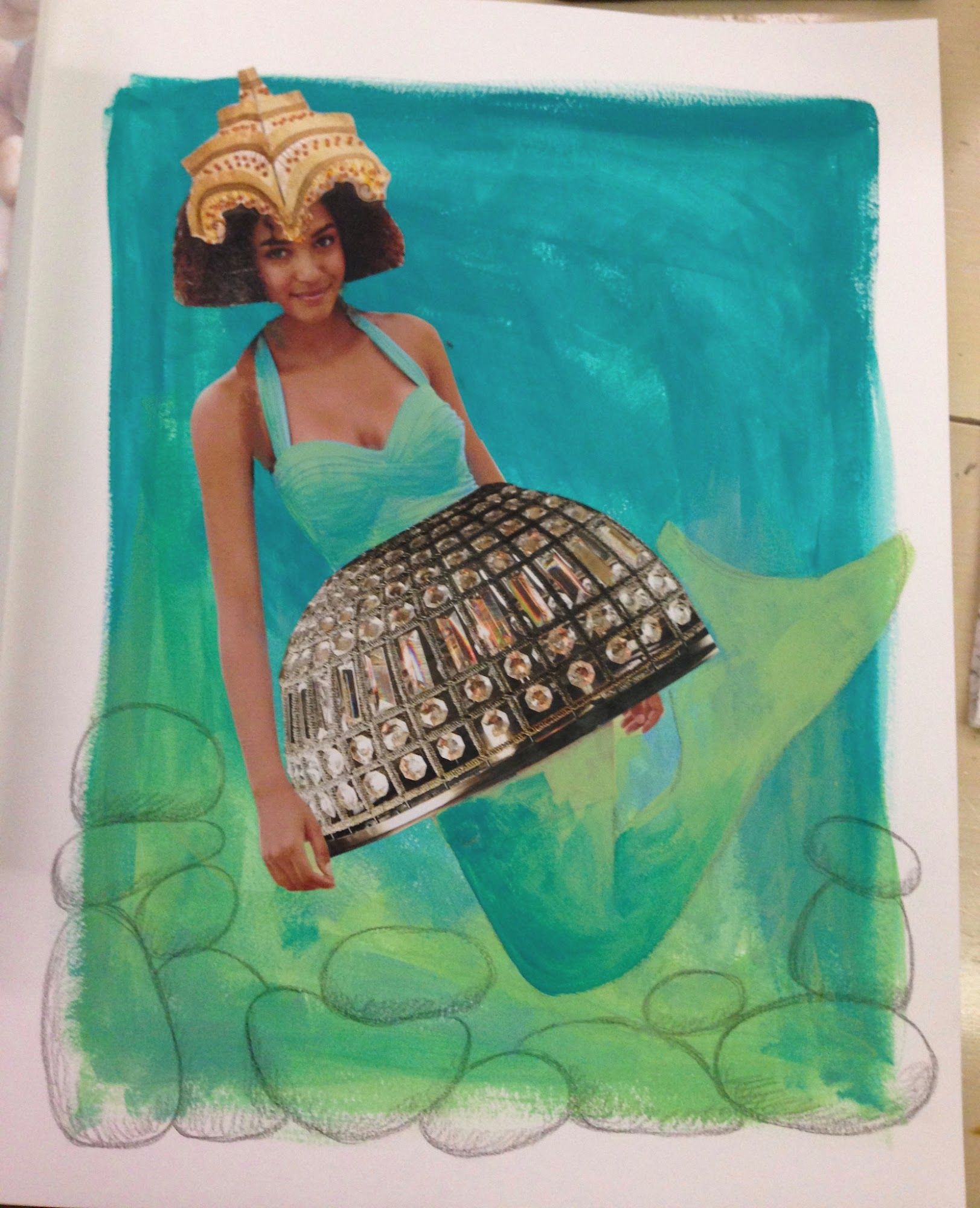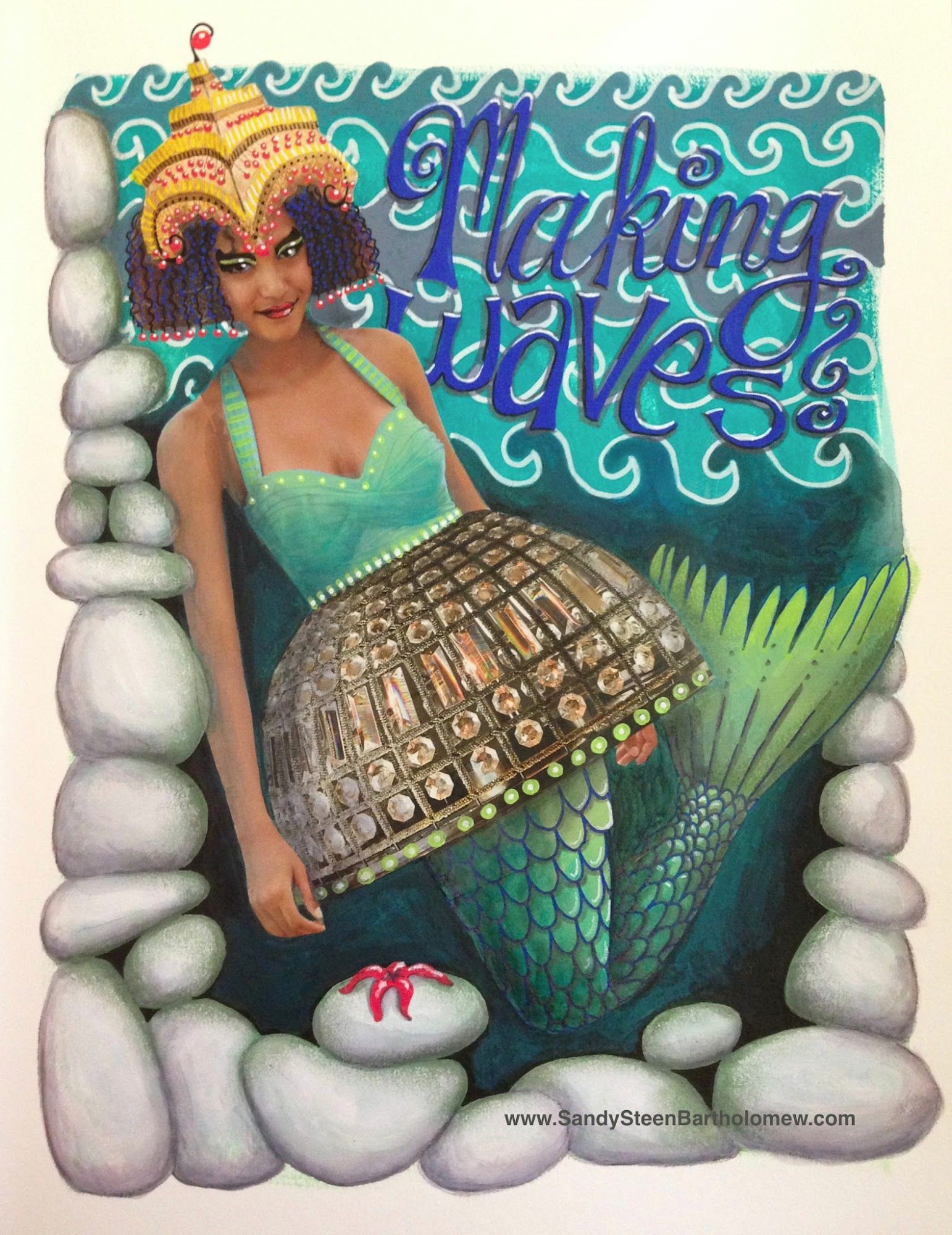 This next one, I'm not quite so happy with - it still needs some work. I do like the baby fish though. I fused the lady's torso to the lobster-y tail and painted in all those bubbles!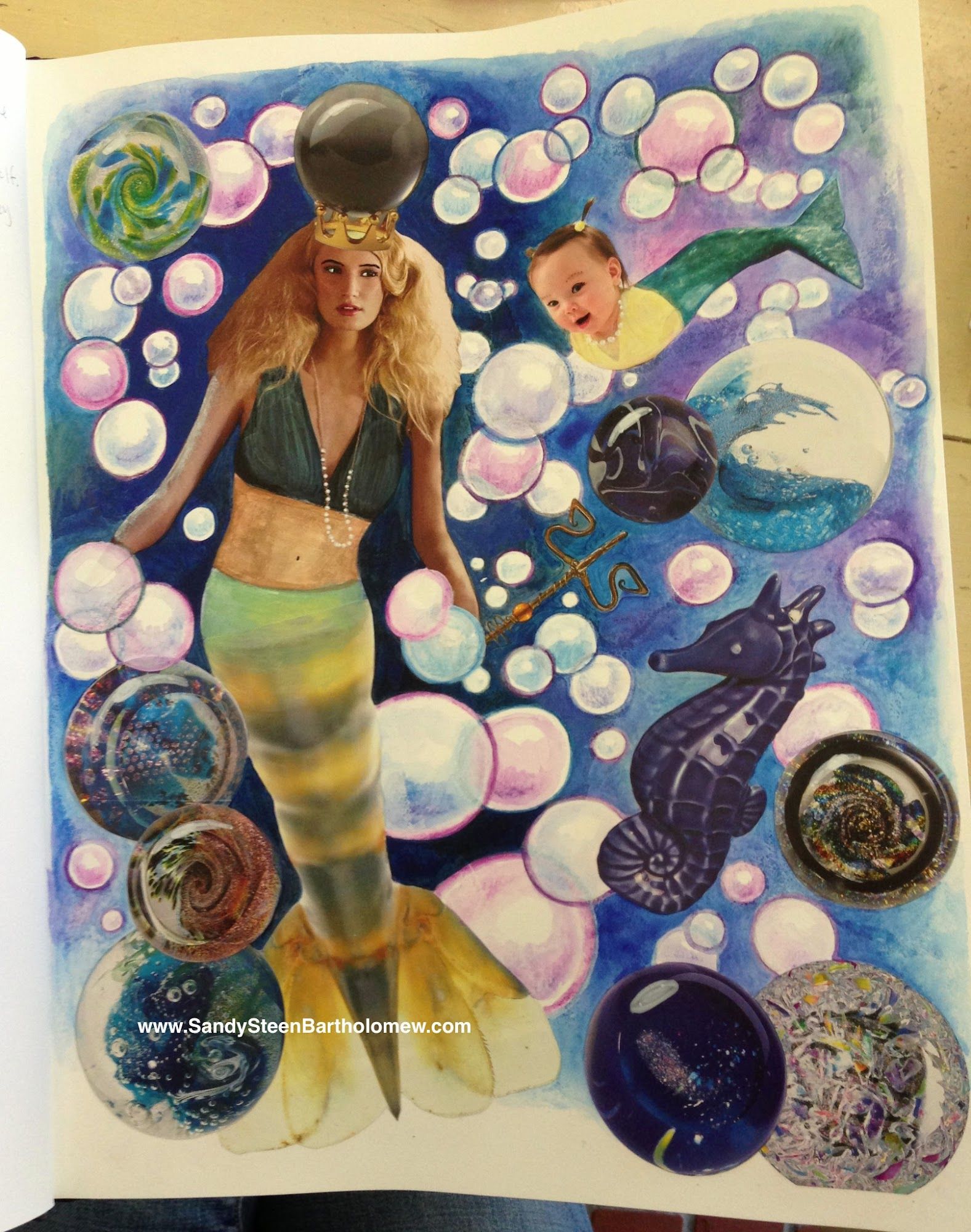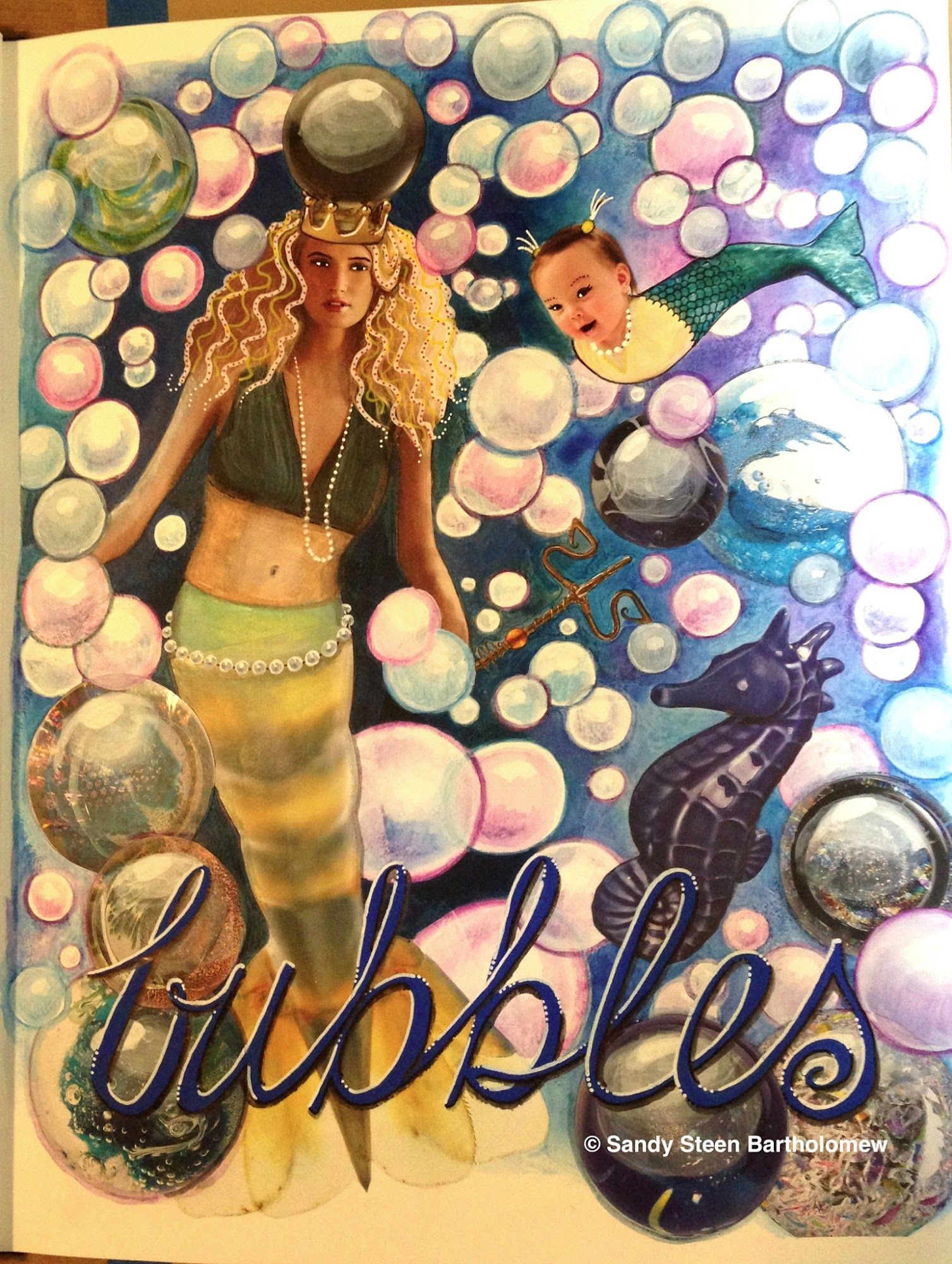 This next mermaid was started on black paper - I decided not to start with a collage element, but just draw and see where it went. Hmmm... another vampire mermaid? I guess I need to let this theme work itself out.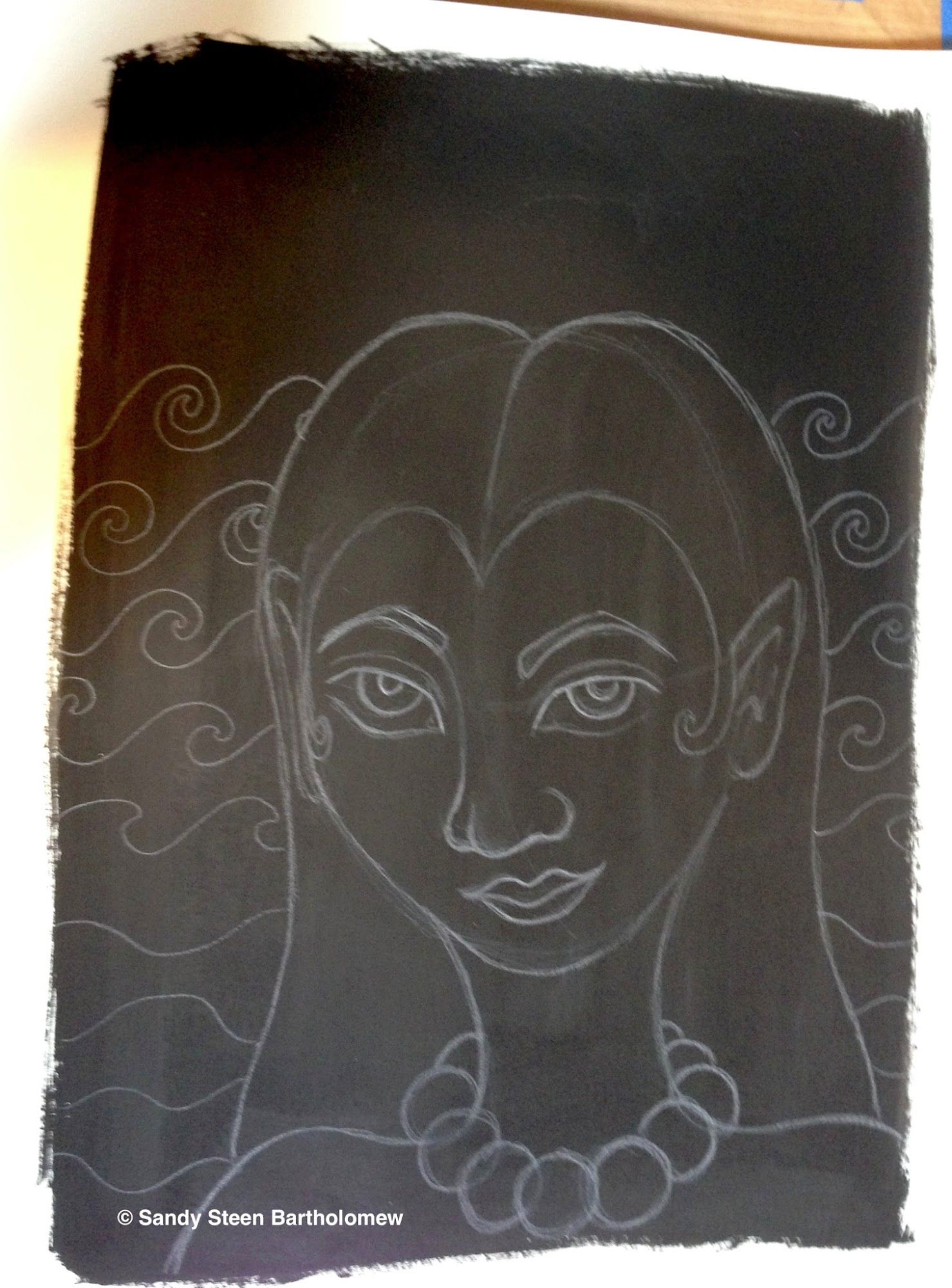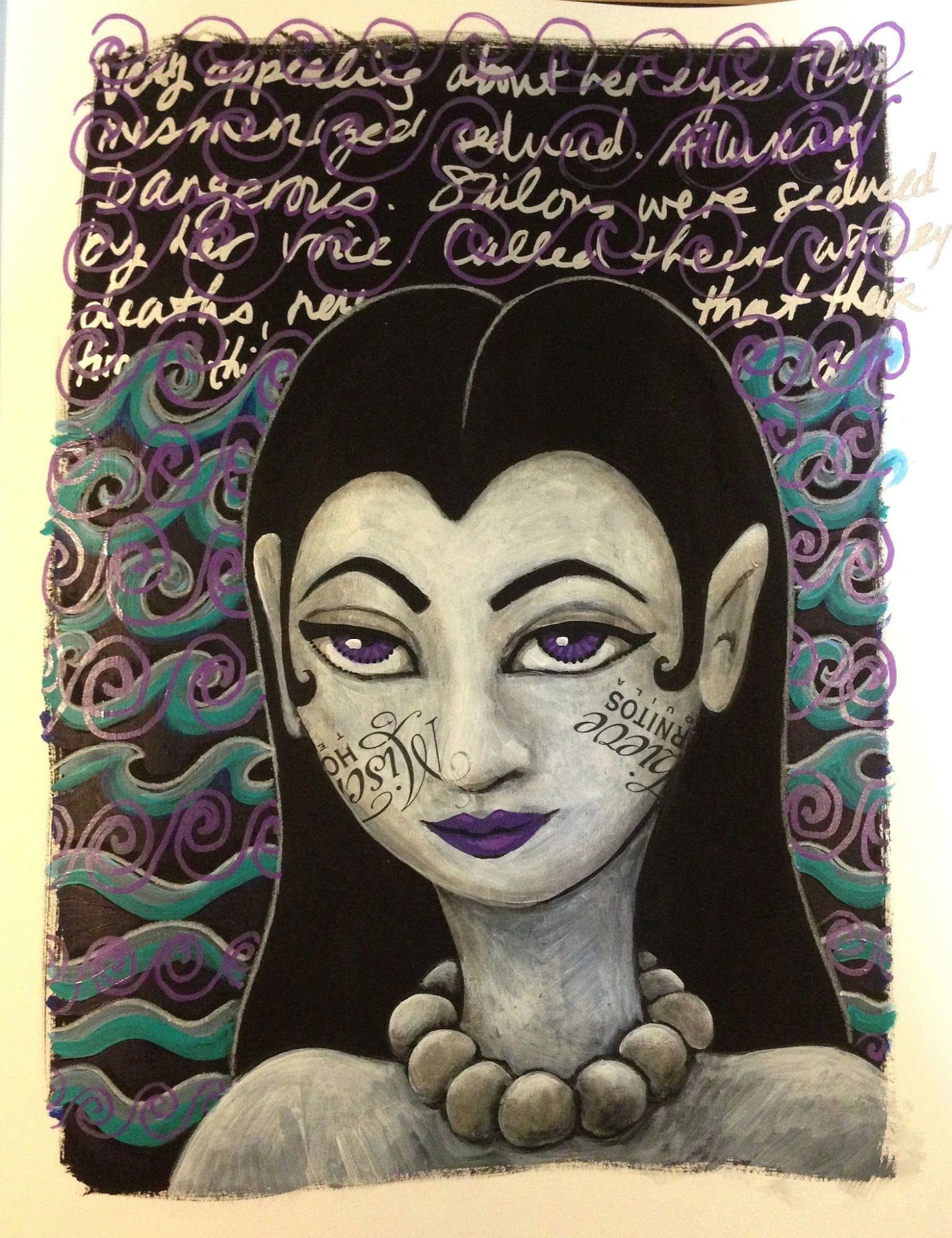 I'm still working on her.

I did a few pieces just for myself - based on quotes I stumbled upon while reading. I have pretty boring handwriting, and never really thought much about lettering, but realized that I have been illustrating with letters all my life!  I'll have to post some of my older illustrations sometime, but the cover of Totally Tangled is a good example. The letters seem to be more alive and full of character than the lady with the funny hair.

These aren't great photos, but I wanted to show you the before and after. I'd like to do prints of these, so I'll eventually show you the better, final images.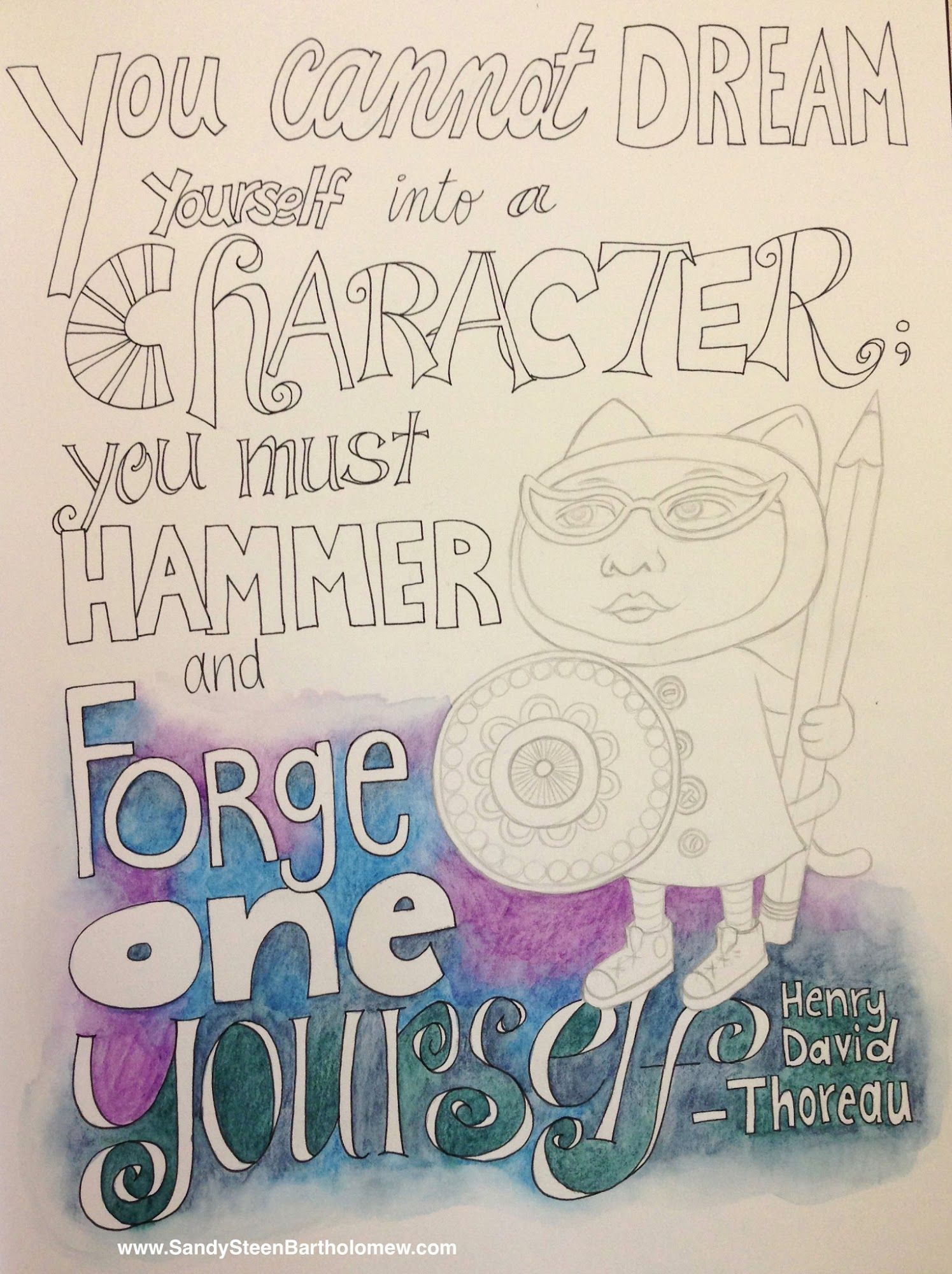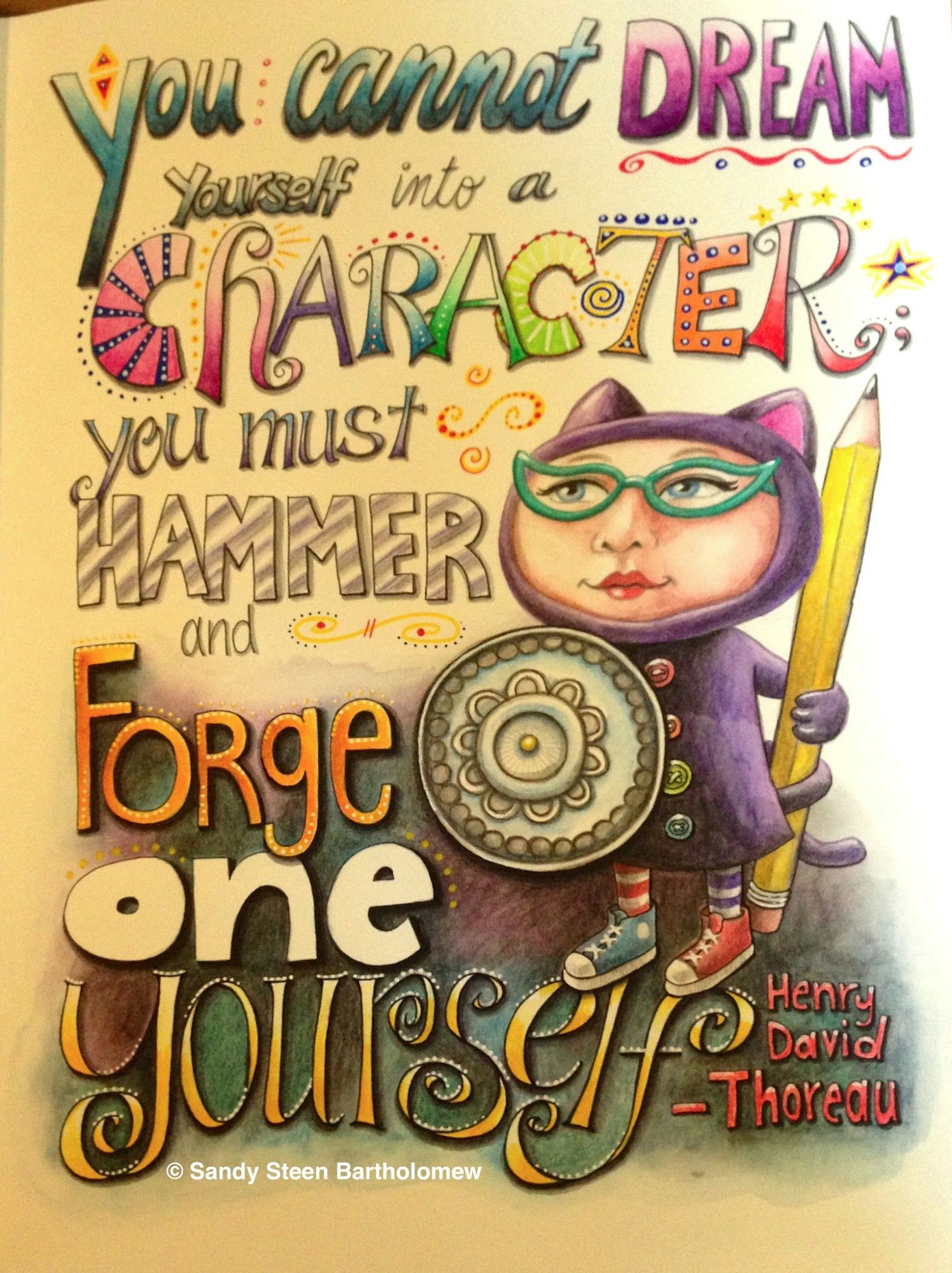 I hadn't realized until I posted these that both quotes start with "You cannot..." Weird coincidence.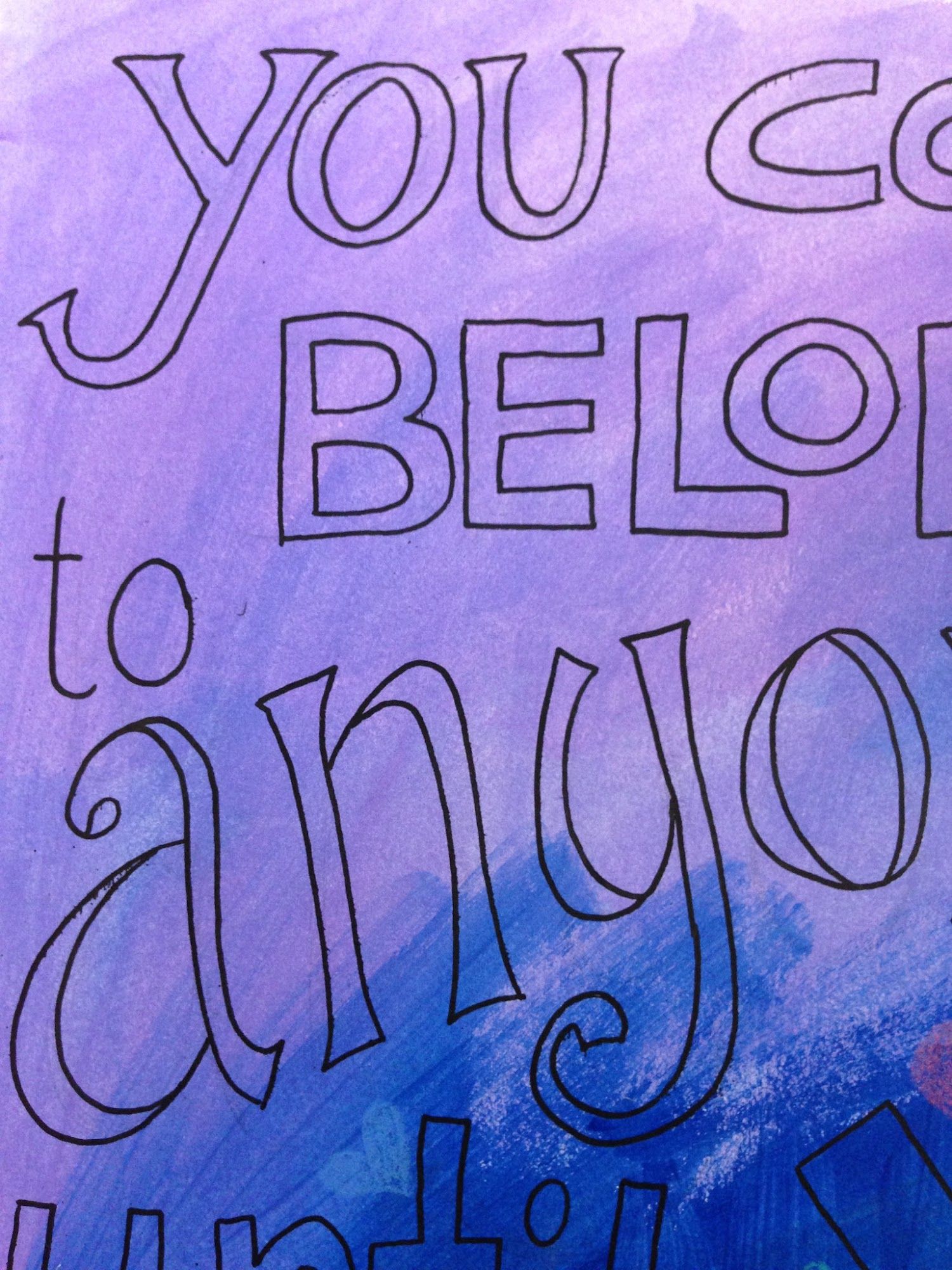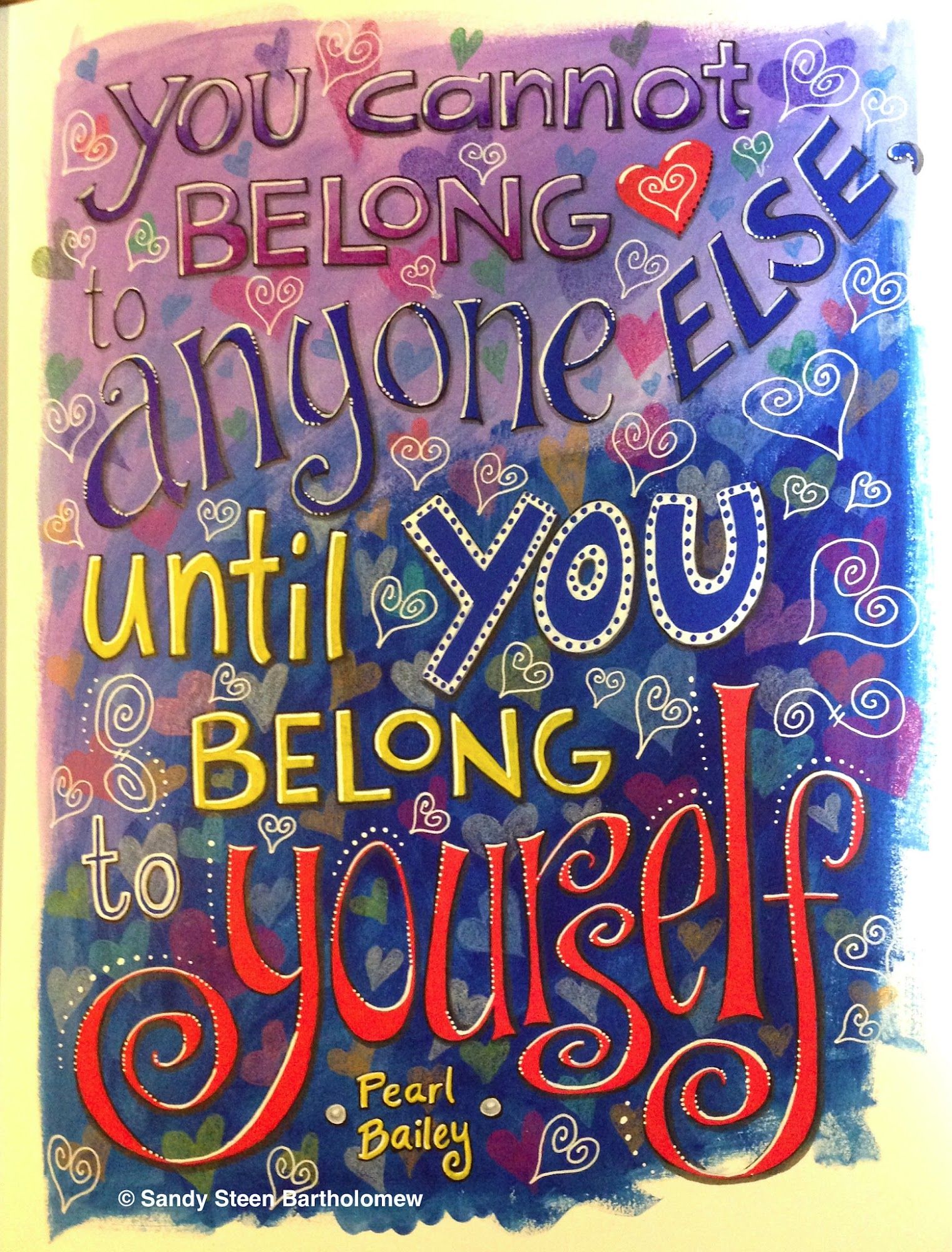 And my MOST weirdest, and favorite-est project...

I was sitting in the living room, staring at one of the cemented rock pillars... the wall sconce was throwing a strange mix of light and shadows onto the rocks.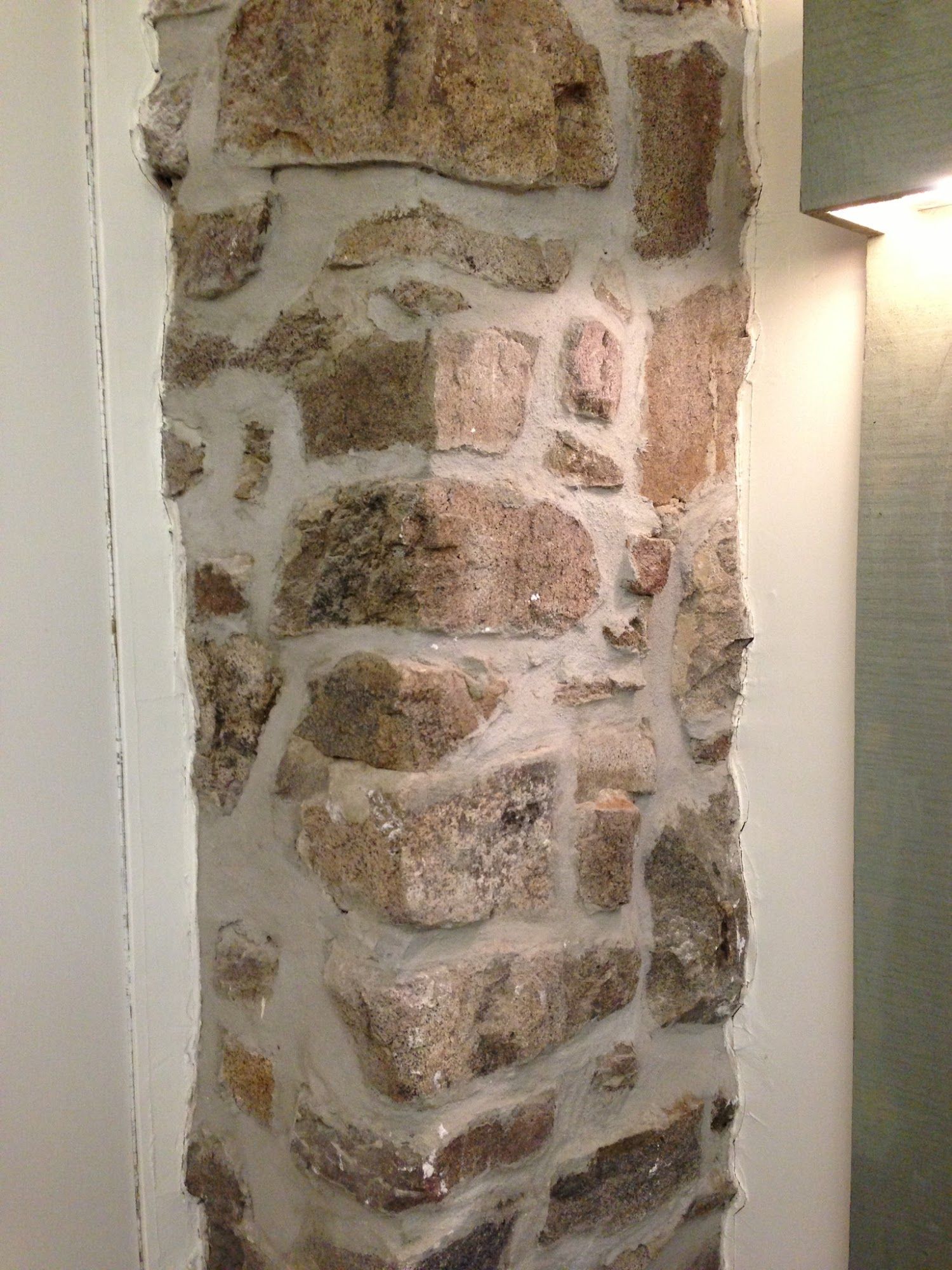 I think I was mesmerized. Images kept appearing and disappearing (no, I don't use drugs!) Then suddenly my left brain chirped "Draw it for goodness sake!"

I was so startled at the idea, that I actually got my sketchbook and drew the strange characters I saw. This is a cleaned up sketch on white paper.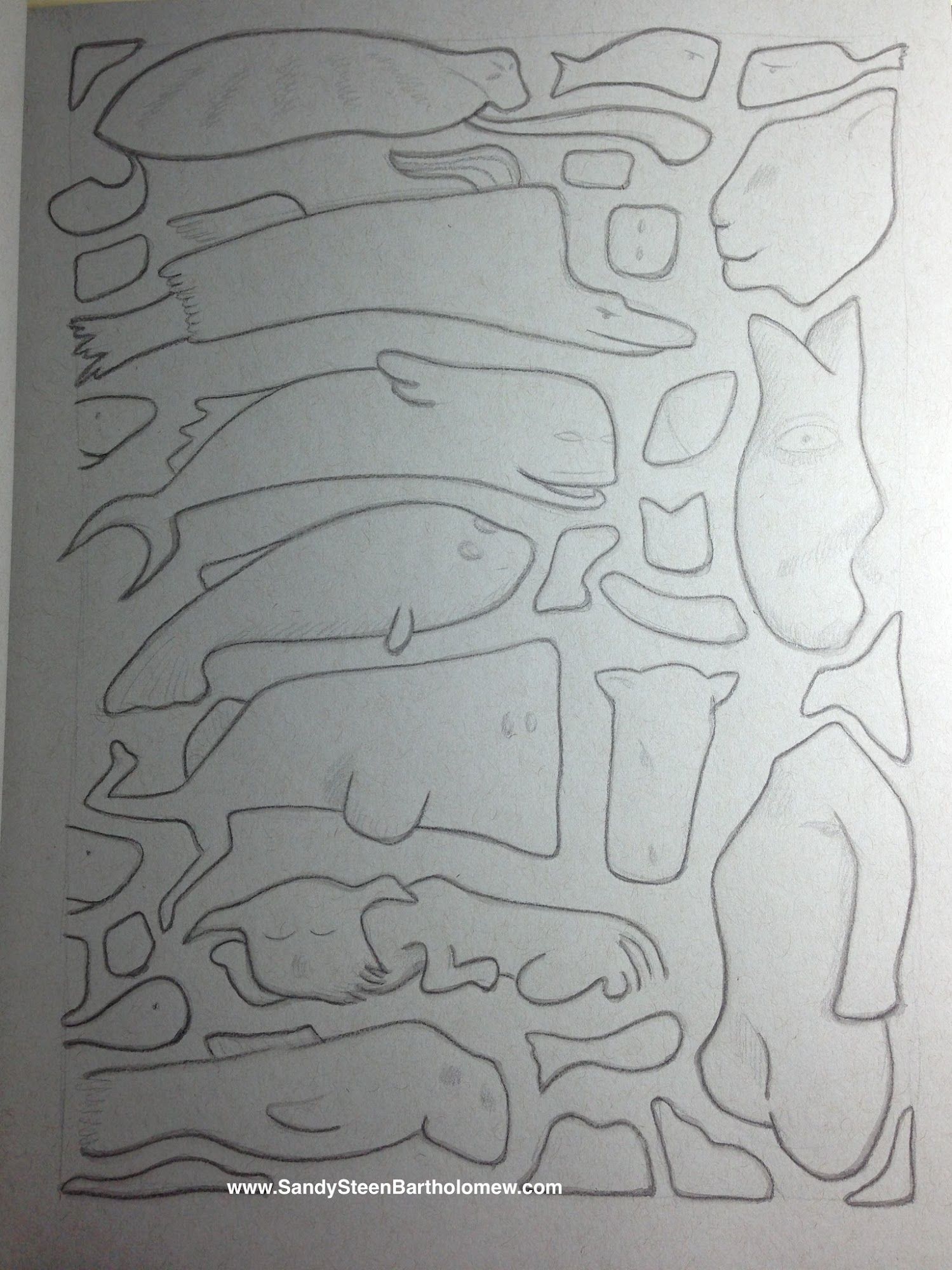 I redid it in my gray sketchbook too. I'm only going to show you a little piece of the final drawing because I want to use it for one of the books. And I'm going to use the sketch for one of my surface design assignments! Most of the other students are posting beautiful patterns based on flowers...  I have freaky monsters I saw in the rocks!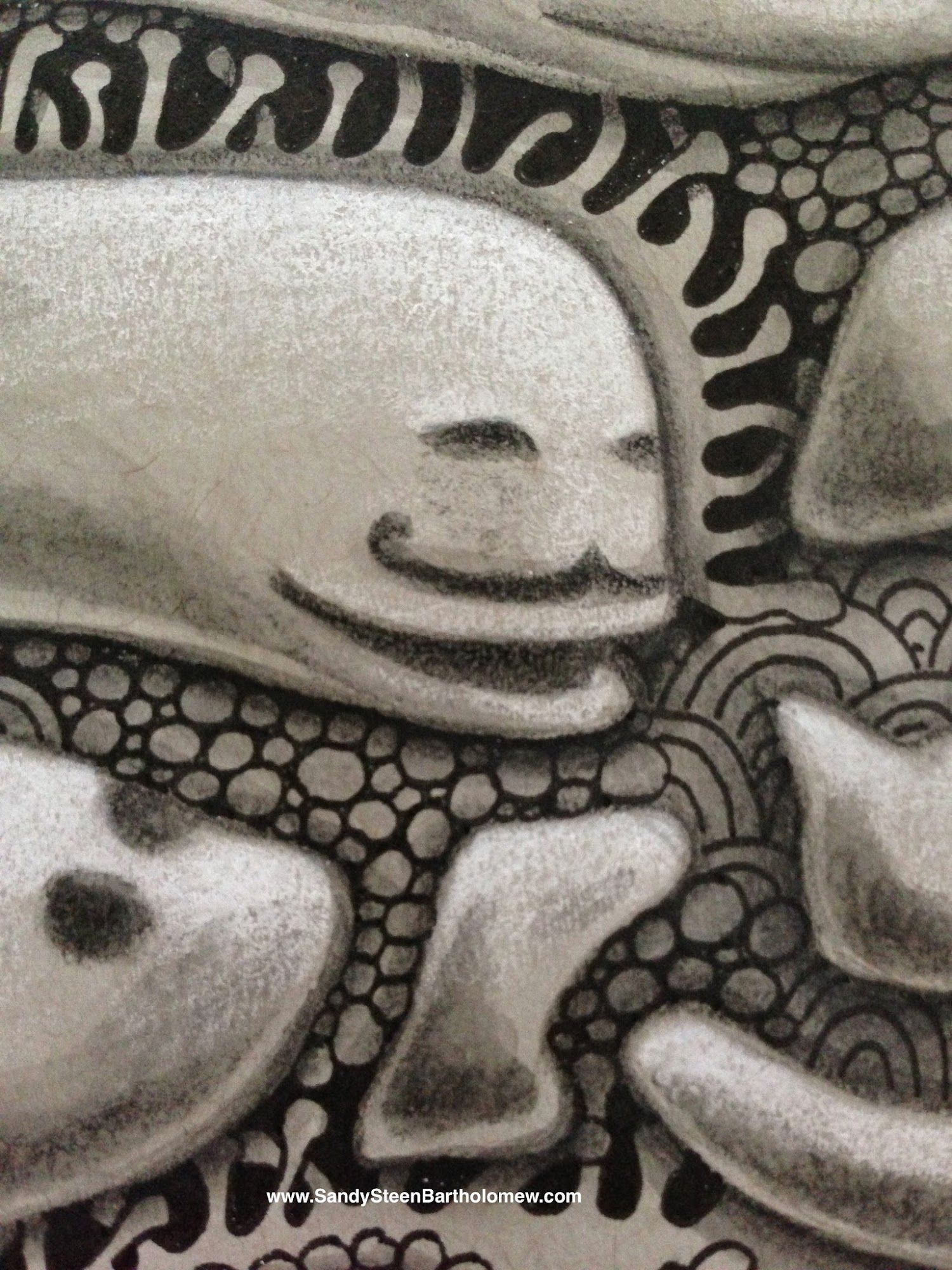 And, finally, I did do a lot of thinking about "real work." I'm working on revising two of the books and planning out a new one. I did do some work on all that. This last picture is just to prove that I did some brainstorming. You know, in case you don't believe me. ;-)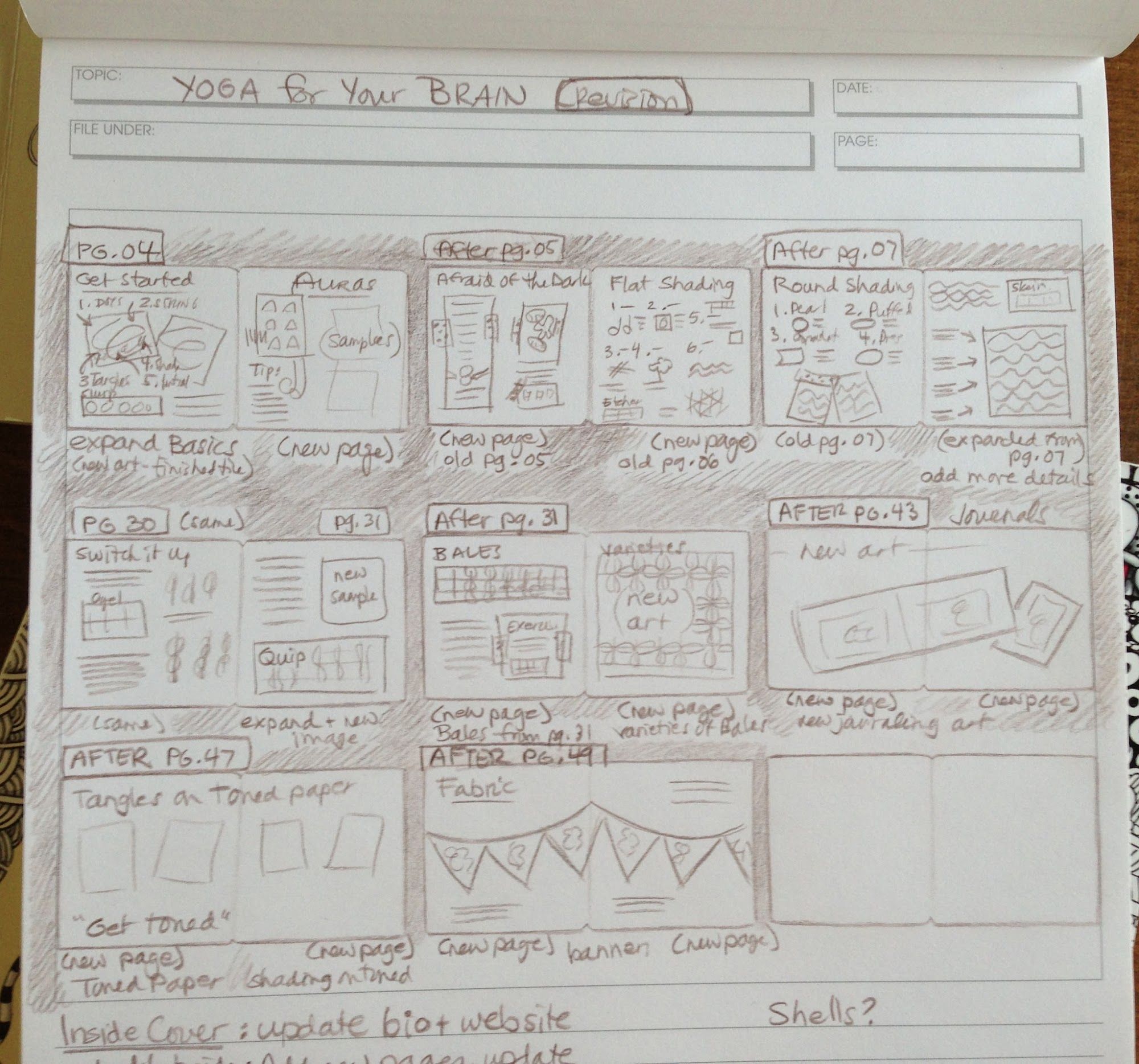 My dad came to visit me the last weekend and I talked non-stop! It is so strange to spend a week by yourself.  I did talk to a few people - stuff like "The dark chocolate ones, please" and "I'd like brown rice with the sweet and sour seafood" and "just leave the towels, that's fine." One evening, I found myself sitting on the floor watching a trail of ants march across the dining room floor. I actually felt guilty after I smashed the whole herd and a little lonely when they were gone. And although I really did miss my kids, and my cat, I find it so much easier to think without all the stuff and drama that seems to be stored in my house. There's a freedom to walking in a different direction every day. Wearing headphones, but smiling at everybody. No one knows your story. It doesn't matter. And everything seems so unimportant when you are standing with the toes of your sneakers in the ocean. Thinking DEEP thoughts... like what kind of crazy person first thought "hey let's stand on boards in freezing cold water and get flipped by deadly crashing waves!?" "Oh, hey, let's try it near those giant rocks!?" It's fun, and a relief, to watch other peoples' drama!

If I could find a way to bring that kind of calm and focus home with me - gee willikers - I can only imagine the stuff I could create and amazing things I could accomplish!