Jessica from cre8it.com posted about my Cloth Paper Scissors article on her blog "Whatever...Whenever". Besides just being really exciting to be talked about (in a good way!) this is a funny example of how things can go full circle.
 In the article I use her product "Sheer Heaven" to make transfers. If you haven't tried it, read my article (!) or visit her website where she has a great video demonstrating the magic stuff. It's a thick, tracing-paper-like, unrippable paper (developed for other purposes) that was, accidentally, discovered to make near perfect transfers onto any absorbent surface. Forget all those messy other techniques! Mostly, the ideas revolve around transfers of inkjet images, but I have had great success with pigma pens and colored pencils too and... Ranger's Adirondack Color Wash sprays. Yep, weird, right? I am a very neat artist - I can paint an entire room with murals and not use dropcloths (my sister has another word besides "neat").
 So these sprays are what I consider "icky-messy" but I love the colors and effects. So, say I want to get these colors and effects in a journal or altered book? What a disaster that would be! But you can put a piece of Sheer Heaven in your sink, spray lots of colors, let them run and splotch, then dry. This lovely artwork can then be transfered with the alcohol spray method into your journal. All neat and easy. Or better yet, die-cut the Sheer Heaven and transfer the colorful shape! Cool!
  And since I am shamelessly promoting Sheer Heaven (because I LOVE LOVE LOVE it!) be sure to explore the rest of Jessica's website - she also offers wonderful classes online. I have taken a few of her journaling classes and her digital photo class too.  I have been drawing and painting and creating altered books and journals since I was born, but I wanted to take her class because (It sounded like fun) I wanted the discipline of having to get my homework done on time. Also I didn't have time to go to a class (I had a new baby). Besides the ego-booster of getting positive feedback from Jessica and fellow students, I actually learned a lot of new, useful and fun techniques. And the photo class was a great way to - discretely- admit that, even with all my years of photography experience - I had NO IDEA how to use my DIGITAL camera. There, now I am out. Since Jessica is an artist, she had great, visual, decriptions of scary concepts like apertures and shutter speeds. Oh, I GET it! So, go sign up for a class. And since she inspires me so, I hope to be able to offer an online Zentangle class - sooner or later!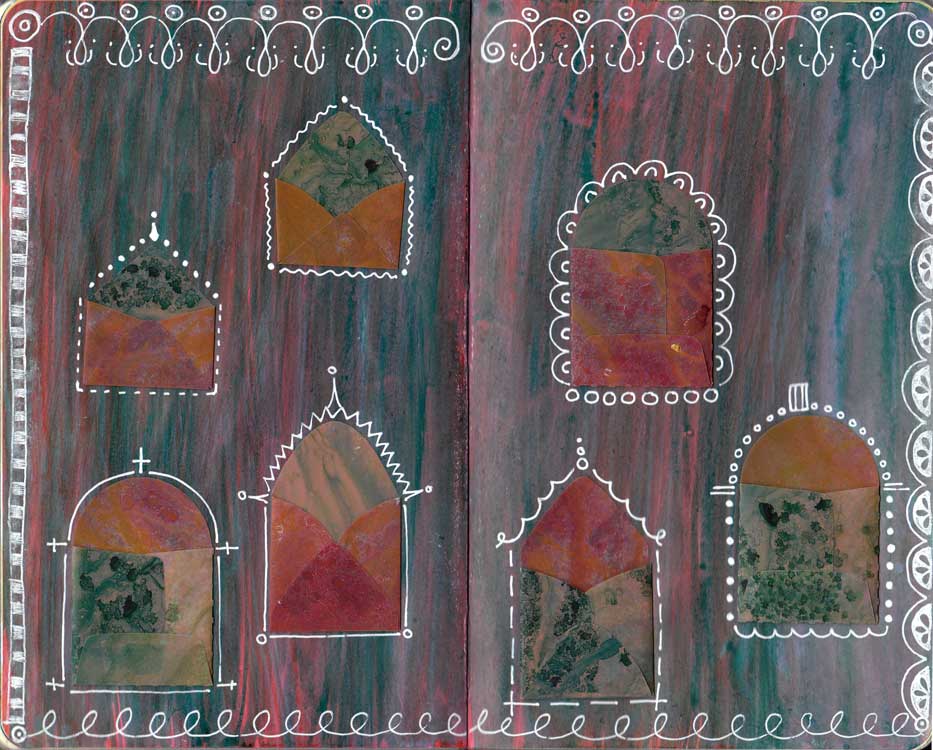 PS - These tiny envelopes were die-cut using Sheer Heaven that has been sprayed with different colors on EACH side!