Guest Tangler - Carole Ohl
I've been exchanging emails with Carole Ohl who is working on a Zentangle for a mural above a piano  (we need to see pictures when it's done!) My fee for all my free advice was that she send me some pictures to post here on the blog. Don't you LOVE it when someone describes themselves in a way that makes it seem like they are a newbie... and then WHAM! ... you see their art and are blown away!
Here's what Carole says about these two pieces: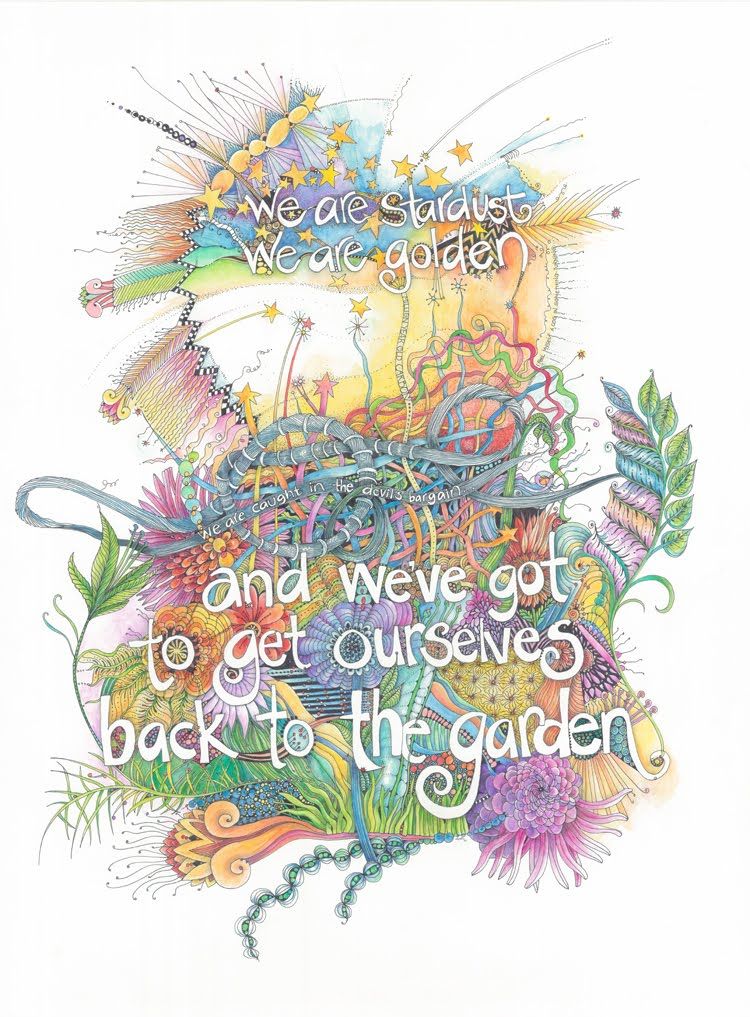 "Attached is a Zentangle-inspired piece i did. it is actually 22x30". I had so much fun doing this, and it was my first attempt at adding color. (Editor's Note: uh-wha!!?) I used watercolor and Inktense pencils. Because I was intimidated by the idea of color. I decided to approach the color the same way I approach a Zentangle: one step at a time, and it was great fun that way. This one is now framed and in a gallery.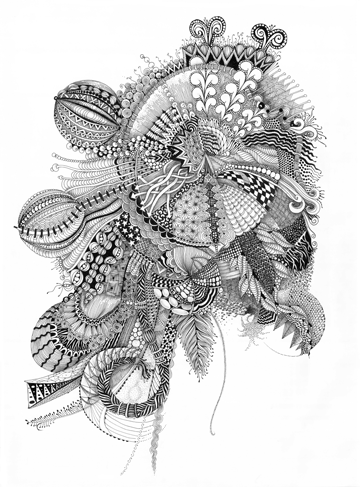 I've also attached a group Zentangle (black and white) that is also 22x30". The string was drawn by me, and shaded by me, but the tangles were made over a period of a couple of months by about six different people. It was donated to a local non-profit."
Carole is a new CZT, too - take a look at her blog, Open Seed Arts for some really lovely new Tangles! I particularly love "Inapod".


As a an aside, Carole mentions Inktense pencils, which are made by Derwent. I've bought gazillions from Dick Blick, and here's a link to the pencils on Amazon, too.
These are watercolor pencils and yet, they are something MORE! As the name implies, the colors get really rich and intense when water is applied to them. But the magic is that they are "ink". So when completely dry - the colors are permanent. That means, You can wash yellow over a dried blue... and they don't blend! Since the yellow is transparent, you will have green where the colors overlap, but the yellow will not pick up the blue and smear it. This can be really useful.
It can also be frustrating, if you don't work quickly - you can't re-activate the dried colors to do additional blending. If you have never tried them... DO! The colors are so freaking gorgeous. BUT - my advice (if you are OC like me!) is to make a swatch chart of each of your pencils (dry to wet), cut out the swatches and tape to the tops of your pencils. The colored end of the pencil is not very accurate. I just made a very quick scan of a few of my pencils so you can see how different the colors are (and how intense!)