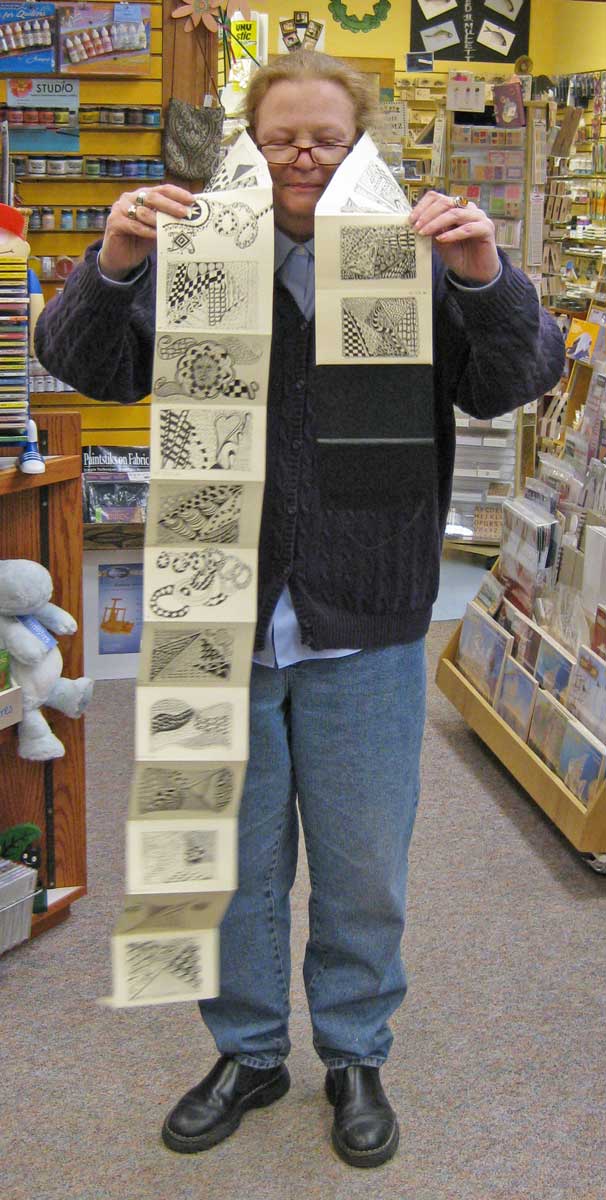 I've never been very good at saying the right thing or even knowing what to say in sad or awkward situations. But a lot of you knew Shelley through Totally Tangled, this blog, or through Wingdoodle. When I asked for Zentangles for her - I couldn't believe how many of you responded. So, you deserve to know that Shelley passed away this morning.
I saw her last on Thanksgiving. I felt guilty when I learned that she was back in the hospital and I hadn't known. I keep getting distracted by... myself. :-( I was also reluctant to visit a hospital - they terrify me. But my mother and I spent a few hours chatting with her and then ate our Thanksgiving Dinner in the hospital cafeteria. She was very swollen from chemo and drugs and I had to stifle my shock when I saw her. But she was still Shelley and she made jokes and was her usual optimistic self. She related, with some pride, the "episode" she'd had the night before which involved her heart and a lot of chaos. I had been worried about what we could talk about, but she was eager to hear stories about the store and my soap opera tales of divorce. I was shocked at one point, that we were actually having fun!

When she talked about her plans to take classes and how she wanted to go to Art & Soul this spring to help me teach - I almost burst into tears. The only thing that seemed to disappoint Shelley about her situation was that the hospital wouldn't let her go home for Thanksgiving. As we left, my mom said that Shelley was in heart failure, and denial. I argued that being positive is not the same as denial. I couldn't argue the heart failure.

She didn't get to go home. But I did hear from a friend that on her good days, Shelley was teaching the nurses and patients how to create Zentangles!!

I can't quite get my head around the fact that she is gone. Just not HERE anymore. I'm glad she is in the book. That sounds so stupid, I know. But Shelley was like a big sister to me - she even scolded me sometimes! She never thought of herself as an artist, but took to Zentangle like a fiend. She pushed me to teach classes... she pushed me into a lot of things! But when she saw her tangles and her artwork in Totally Tangled, she said she'd never expected to be published. That was a knock to the side of the head. Have you ever had a hand in making someone else's dream come true? It's a confidence booster, sure, but it's also extremely humbling.

I  had been thinking of doing a little book, like AlphaTangle, called Tangles for Shelley, with the art that you all sent in. The profits would go to buy Zentangle supplies to use at the hospital. But it seems a little... pointless now that she is gone. I have to do something. That's just my way. But maybe doing a little workbook that the hospitals could actually use with patients...? I have to think on it. But I do welcome input and ideas. I know you all have experience with cancers, hospitals, loss - and recovery too. It is easy to forget when you are steeping in it - that life isn't always about loss.

I DO know that Shelley would have liked to have an art party in her honor. She wouldn't want everyone sitting in pews crying over her. She'd want people making things (Zentangles!) and eating fantastically delicious food and... lots of laughter. Hmmm...

Read more and see some photos here and here.