And now for something a little more upbeat...
Ian, the King of App Developers, and I, the Tangle Princess, would like to announce the newest addition to the Tangle Library App! Dah-dah-DAH... drum roll... ALPHATANGLE! Wooohoo!
As you know -since every single one of you owns my very first Zentangle® book (and THE very first Zentangle book) - AlphaTangle was designed to serve as inspiration only. There are no step-outs for tangles included. In the beginning, folks used it to record the step outs as they learned them in classes. Others tore out the pages and turned them into alphabet posters for their classrooms (now I have posters available, no ripping necessary).

And if you are lucky enough to have one of the original, self-published, adorably teeny, black-cover AlphaTangle books - you possess a cult classic!

For the new IAP (In-App-Purchase), I chose one or two tangles for each letter and created new letters made up of one tangle each. For example, here is the letter P from the book...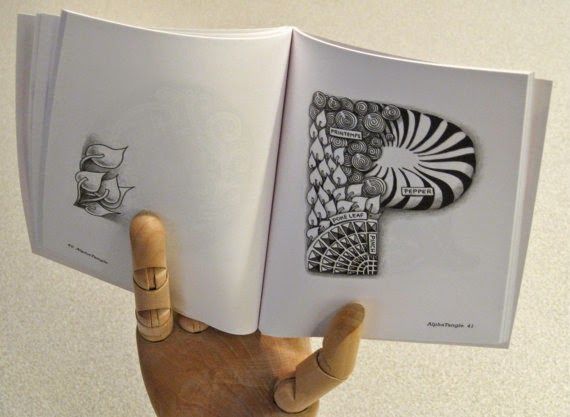 I chose the tangles Pinch and Printemps and created these new pieces with step-outs...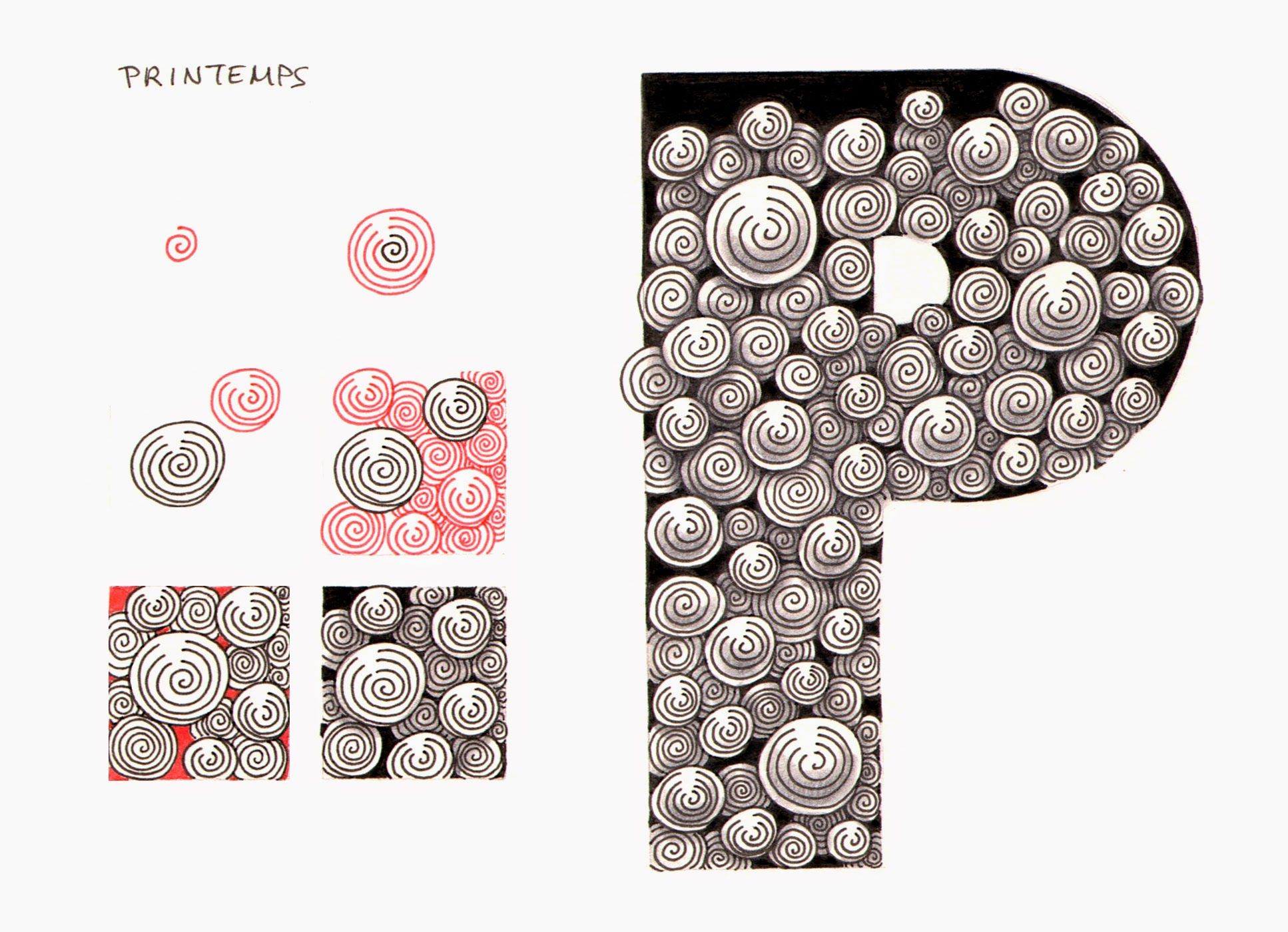 The IAP has 40 new tangles pulled from AlphaTangle. The only duplicate to what is already in the Tangle Library is Zander. This is a slight variation - but there is only one letter Z-tangle in the book. These are all original Zentangle-tangles (yes, I have permission) - but these are not ALL the tangles. You still need to study with a CZT (Certified Zentangle Teacher) to learn the other 70+ tangles. ;-D
I had such a blast creating these and I hope you enjoy them too!
Details and stuff:

Here's a link to the online Tangle Library page:
https://itunes.apple.com/us/app/tangle-library-yoga-for-your/id793008411?mt=8

If you don't own the App yet, you can download it through the iTunes store or on your iPhone or iPad in the App Store. Just do a search for "Tangle Library".
It will look like this...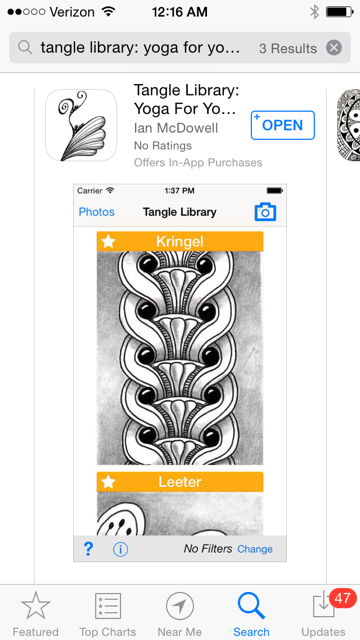 If you already own Tangle Library and want the new IAP - be sure that you have Updated the App first, then open the App and click the little tag icon at the bottom of the screen. You will see the three choices for IAPs. If you have downloaded any, they will be marked "owned".

You do not need to purchase a copy for each of your devices! If you purchase the IAP on your iPhone, next open the App on your iPad (or iPod), and click on "Restore Previous Purchases" (see above screen shot) and the new tangles will appear - like magic.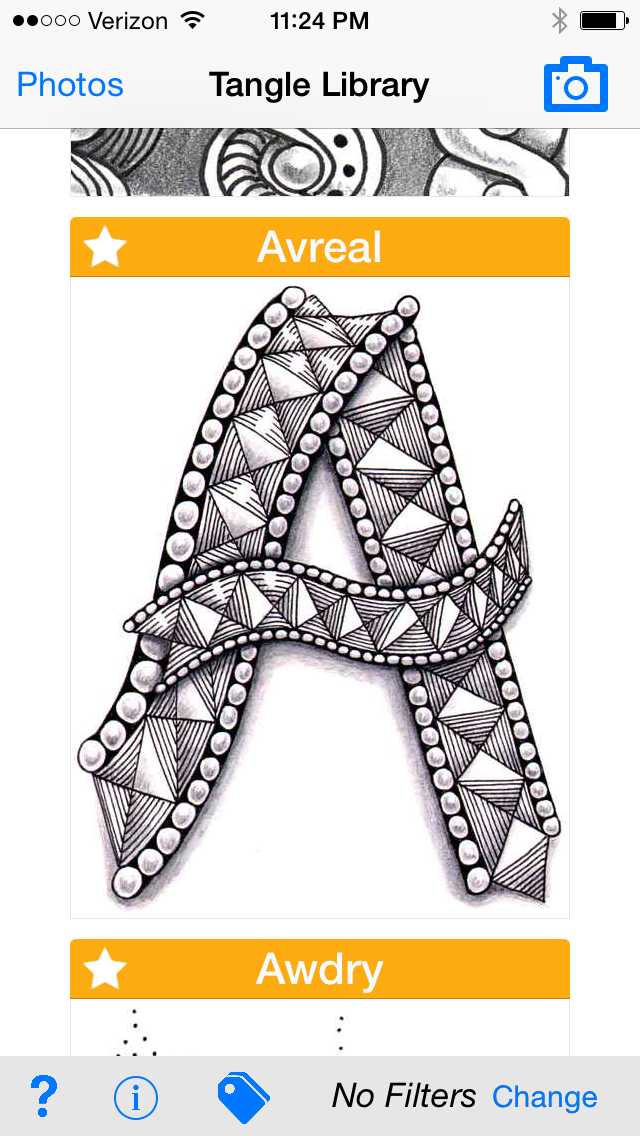 If you only want to see the new AlphaTangle patterns, click on "Change" at the bottom of the screen, next to the word "Filters" - and then click on "AlphaTangle", then "Done"...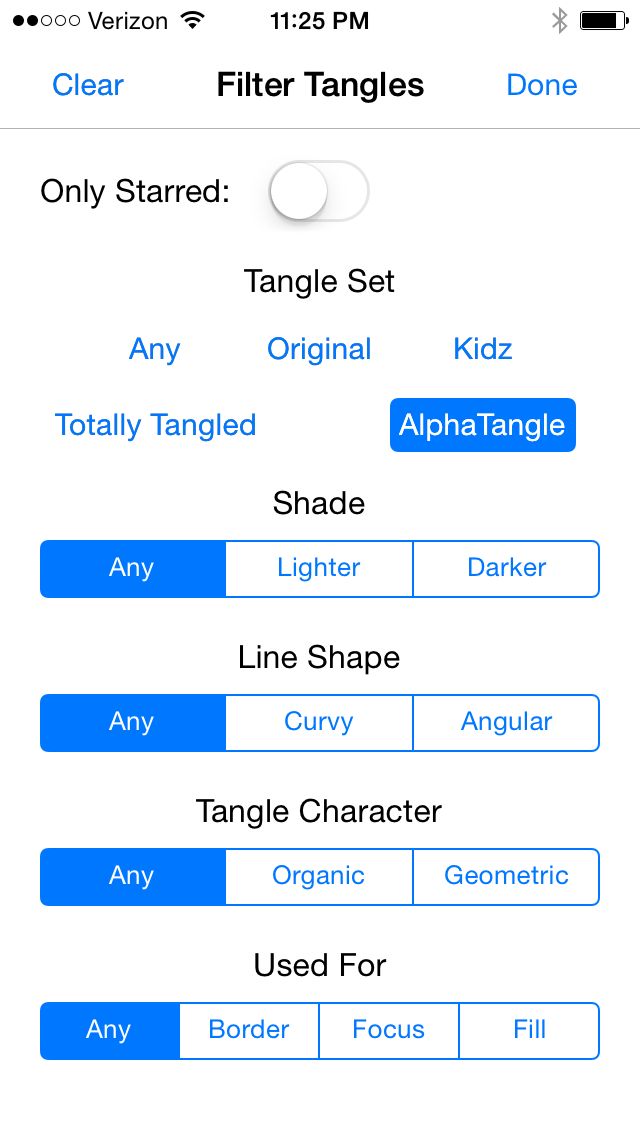 If you are enjoying the App, please do leave a positive review in the App store. Every time a new update is released, the previous reviews get pushed away.

And lastly, you know I am really bad at marketing all this fabulous-ness. I would rather get started on the next project (and I have!) But we need to get this out there. If you know of blogs or magazines where Tangle Library might be appreciated, I would really really REALLY appreciate your help in getting their attention. Ian has secret codes that he can supply for review copies of the App. Just let him know. My dream reviews would be mentions in Cloth Paper Scissors and on Swiss Miss and Design Sponge. Oooo....

The easiest way to reach Ian, or to ask him questions about the App or make suggestions... is on the Tangle Library Facebook page.

(And, no, there are no plans for Android yet. Sorry. If you are an amazing Android Developer, please contact Ian.)