8/28/2014 - Mia and Lilah - the Lilah Bean Comics
[This post was originally published on the Zentangle for Kidz! site.]
This summer I was lucky enough to attend a Comic Camp at the Center for Cartoon Studies in VT. My daughter Lilah visited the classroom every chance she got and spent a lot of time working on her own comics ideas. I posted about our experiences on my Beez In the Belfry blog. Here are links if you would like to read about it:
Pow! Zing! Comic Camp!
Pop-Pop-BLAM! - Comic Camp
Splotch! Ploop! - Comic Camp
Ka-zaAM! - Comic Camp
Zip! Squeeee! - Comic Camp
Blip, Bleep! >Sigh< - Comic Camp

And this is a Lilah Bean comic that uses a "Mad Libs" technique. I had to create a comic that took place in a cave with my character getting arrested for laughing... and saved by a smiling cat.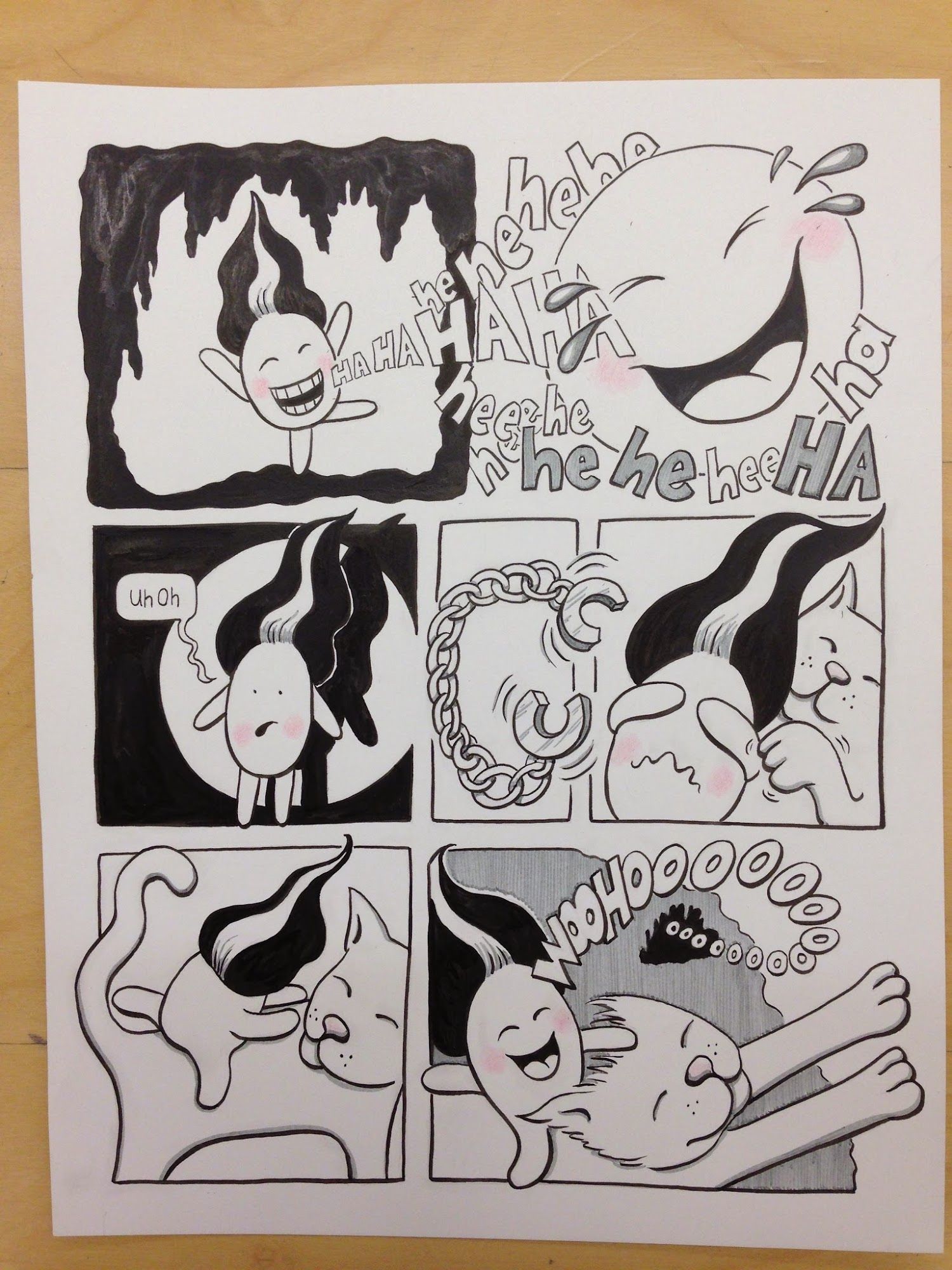 Looks like my comic-camp-adventure had an influence on some of my readers! We received this wonderful Lilah Bean comic from Mia Bonet (daughter of CZT, Elizabeth Bonet)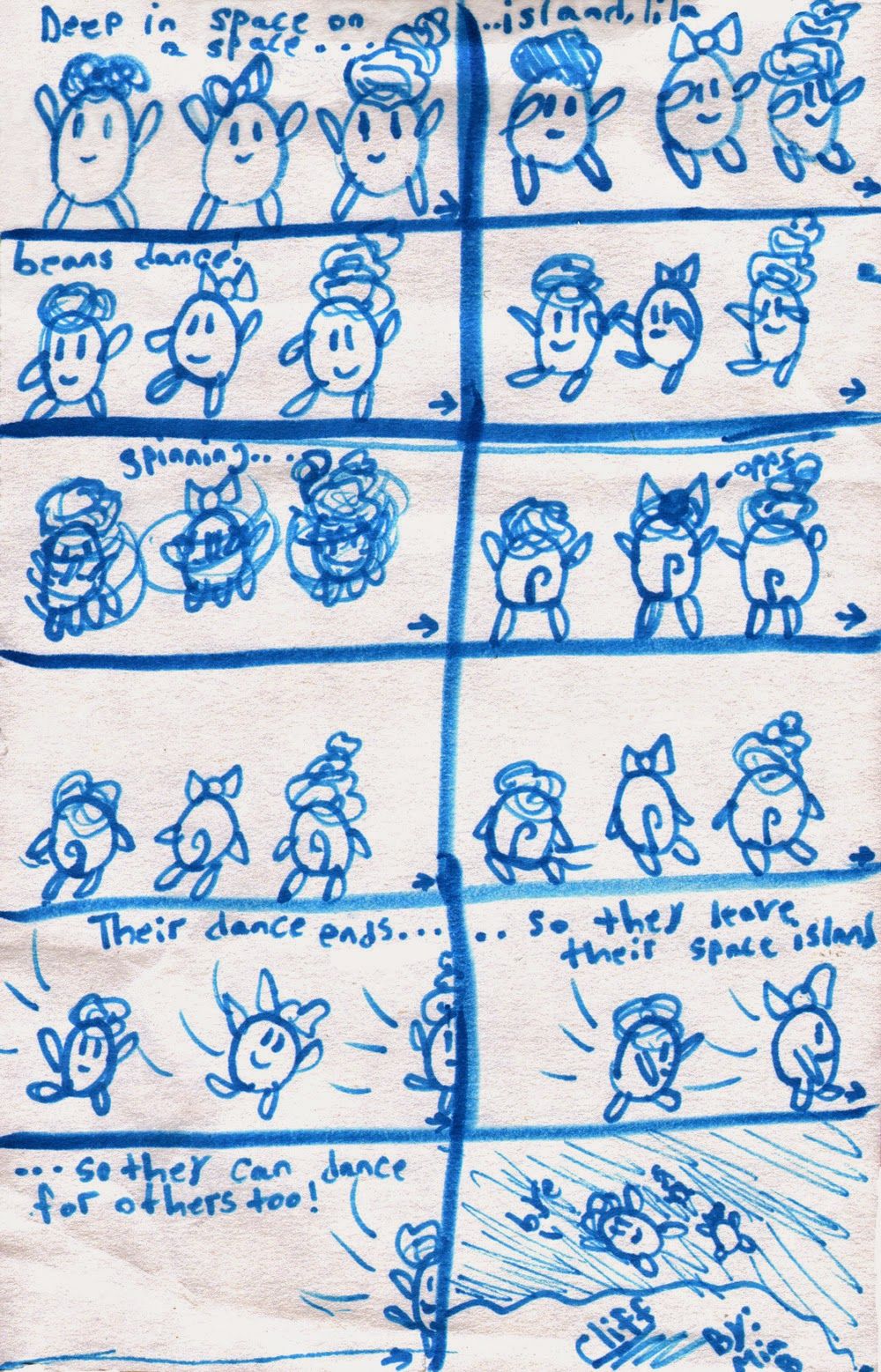 Deep in space on a space...

island, Lila

Beans dance!



(spinning)



Their dance ends...

so they leave their space island...

so they can dance for others too!


Bye

(cliff)

By: Mia B.



My daughter, Lilah, decided to respond with her own comic...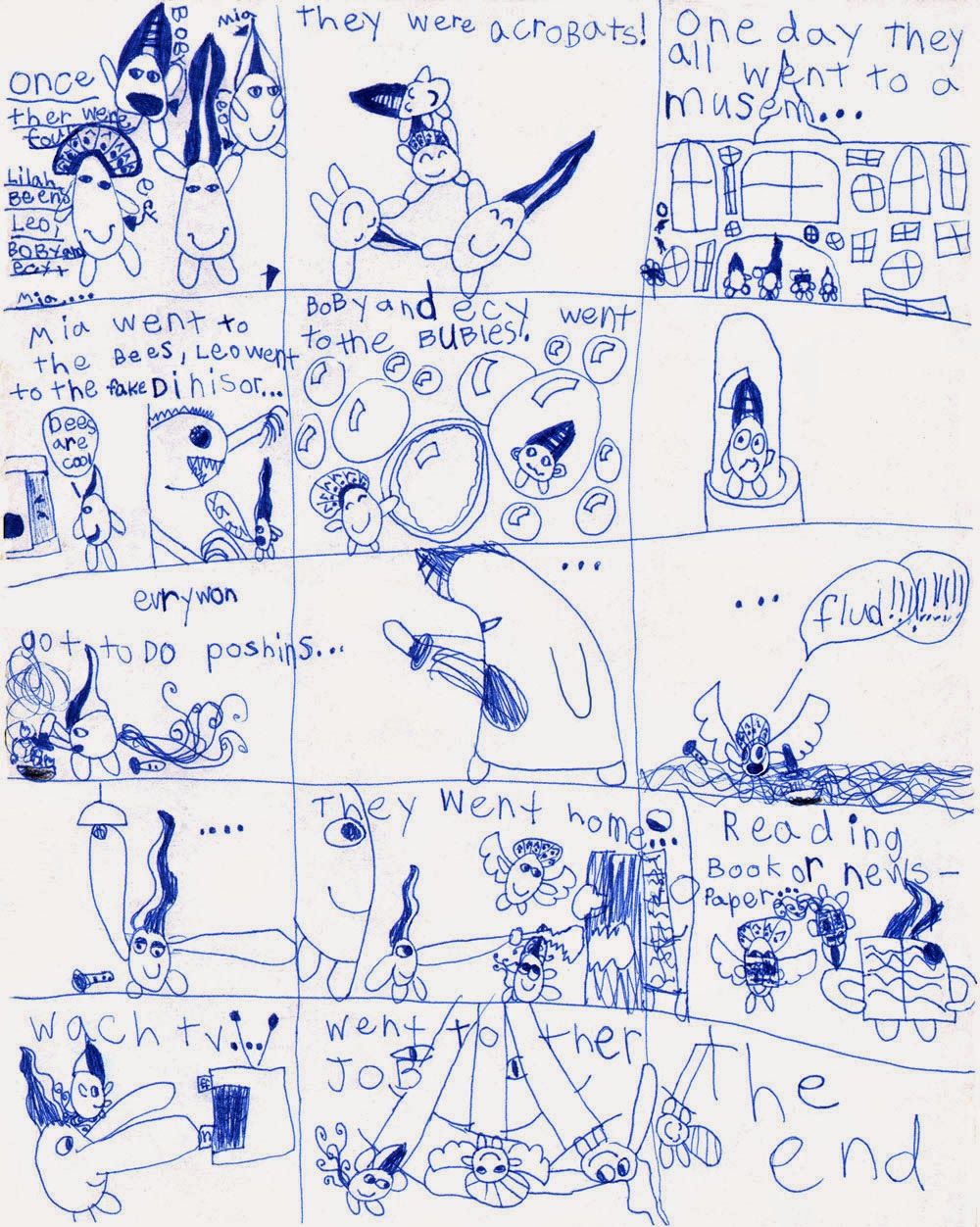 Once there were four Lilah Beans - Leo, Boby, Ecy, and Mia...

They were acrobats!

One day they all went to a museum...

Mia went to the bees, Leo went to the fake Dinosaur...

Boby and Ecy went to the bubbles.

(Boby is trapped inside a giant bubble)

Everyone got to do potions...
(Mia grew a curly tale)

(drinking the potion, Boby grew giant)...

"Flood!"
(Ecy grew wings)...

(Leo grew crazy-long arms)

They went home...

Reading book or newspaper...

Watch TV...

went to their job.
(they are all swinging on trapeze, with the giant face of Boby in the background).

The end.
(By: Lilah B.)

A note: the Museum Lilah mentions is the Montshire Science Museum in Vermont. They have an exhibit right now called A T-Rex Named Sue, and they have permanent exhibits about bees and bubbles (not related). She visited with her Gramma while we were all at Cartoon Camp.

Have you created a Lilah Bean comic? We'd love to share it here!!