I'm the featured Illustrator today in Mira Reisberg's "Craft & Business of Illustrating Children's Books" course! It's a closed group on Facebook and I can't send you to the page, so I made a screenshot of Mira's introduction of me. It made me blush. And giggle "Sandy lives somewhere beautiful with kids and barns." Yup, that's New England... where the leaves are already changing color and I haven't been to the beach yet.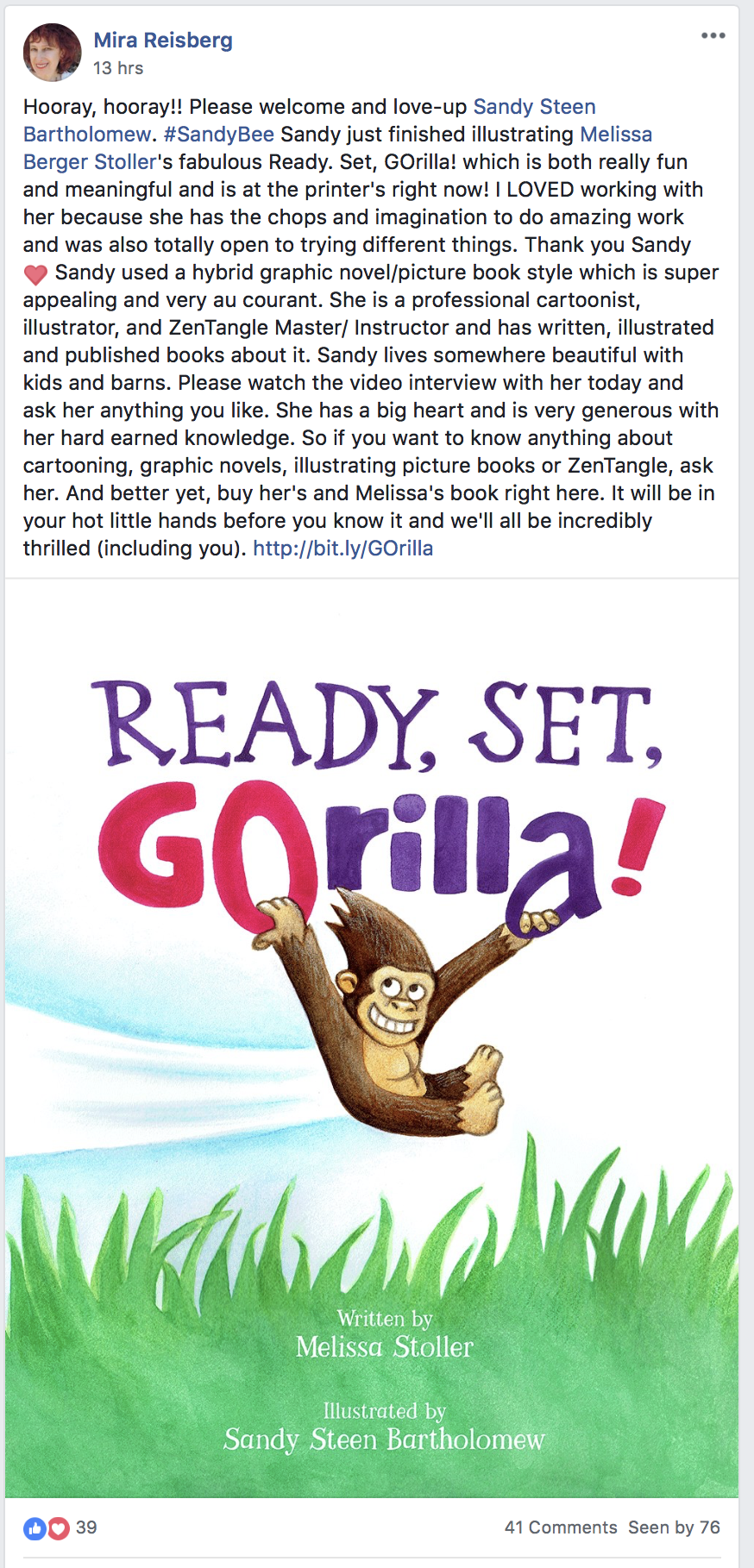 I've been answering questions on the page all day while also cleaning out The BeeHive and hosting an impromptu yard sale in the Studio! I'd be talking to someone about how to use something I had for sale, and my back pocket and laptop would be binging with Facebook notifications! It was surreal.

My plan had been to run into Concord for a few hours, sell a few things people had asked to pick up, throw some more things into boxes, pack them into the car, come home and do the Facebook thing...
I didn't get home until after 9:30pm! I am so tired. I should just save time and have that tattooed on my forehead: "I'm Tired"

Rambling.

Right. Here is the interview that I had with Mira when I finished the Ready, Set, GOrilla! book and she featured in her online class today:



Ready, Set, GOrilla! should be out around November 13th.

You can Pre-order the book directly from Clear Fork Publishing!
Please please encourage your libraries and local bookstores to pre-order - here's the link to share: https://www.clearforkpublishing.com/store/p127/ReadySetGOrilla

You'll also be able to pre-order on Amazon.



There's another short video on YouTube which has a glimpse of a book I wrote and I'm illustrating -  and a testimonial for the Children's Book Academy classes. (Here: https://youtu.be/LT_MzOF7XUI )