I've been venturing out of the house, a bit farther afield - first to Massachusetts, now I'm in Maine. When I get back home, I'll be working on the Studio space - electrician ("Let there be light!"), removing the piano, clearing out the toys, and setting up the work space.
Setting up new spaces, healing, taking risks and Begin(ning) Again - seem well timed for Springtime!

So, in that spirit, I'm revamping my Patreon and would love it if you would consider becoming a Patron!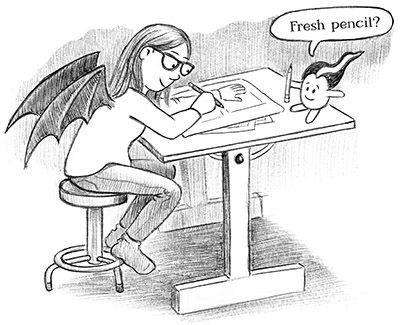 Right now, most of my Posts are Public, so feel free to take a look and see what's been going on. You can click on tags - like Comic or Sketchnote or Lilah Bean! Soon, those posts will be visible only to Patrons.

I've decided to make new posts private so that I can post without worrying about getting into trouble and so I can post content that I don't want finding its way onto social media... such as downloadable PDFs and printables.

Also, I created new tiers so that you can decide what you want to see --- Comics, Sketch-Notes, or Zentangle? Or all three! You can choose what you want to pledge and you can cancel at any time.

I'd like to do more comics about life, mental health, parenting, and joint projects with my kid. I want to post Zentangle ideas I'm working on and tangles from the past, sketches and material from my books too. And I plan to do more sketch-notes! I'll post the scanned, cleaned up versions of the sketch-notes so you can print them out. Also, I can post sketch-notes from classes and conferences that I've completed in the past. Other printables too - coloring pages or other material from books I'm working on!

This is an experiment! I had made all the comics and other material on Patreon available to the Public... and I lost almost all my Patrons.
OK. That was a dumb idea.
Begin Again.
I work really hard on these drawings and sketch-notes, etc. so I'm testing out the idea that people might not mind paying to have first crack at new material or the privilege to see behind-the-scenes and influence a project or even, get exclusive material!

If you've never heard of Patreon, or don't know how it works --- it's a lot like a "subscription" for creative material (artists, writers, musicians). You "pledge" an amount each month and you get content (like comics, essays, printables, video, etc.) Your pledge is charged to your credit card at the beginning of each month and that unlocks the posts. You can cancel your pledge at any time.

You can also "Follow" Creators that you like. In this case, you only see public posts that they make. It's possible to leave Comments on the posts and that creates a sense of community. I really need to build/rebuild my Art Tribe, so that feedback and acknowledgement would be incredibly valuable for me. I often feel like I'm working, alone, in my Belfry with only my Demons, the Lilah Beans, and Minou (the cat) to talk to!

I need feedback and encouragement. Cheerleaders, Art-Tribers, fellow cartoonists, Tanglers, and folks who love reading comics and sketch-notes!

And, lastly, if you need more incentive - you know me - I always overdeliver! ("Anything worth doing, is worth OVERdoing!")

If you'd like to become a Patron, click here: https://www.patreon.com/join/SandyBee?

If you want to take a look at the current posts, click here: https://www.patreon.com/SandyBee/posts
You can Filter the posts according to Tags - on the left side of the page.